The Seattle Seahawks return home for the first time since their 37-18 win over the San Francisco 49ers in Week Three. After coming off a bye week, they host the red hot Atlanta Falcons. There are many things to watch in this game. The Falcons have the NFL's best offenses while the Seahawks have one of the NFL's best defenses. The matchup to watch is Seahawks cornerback Richard Sherman against Falcons wide receiver Julio Jones.
Atlanta's offense is clicking
The Atlanta offense has already gained 2,287 yards in five games played. They are averaging 457.4 yards of offense per game, 333.4 yards in the air and 147 yards on the ground.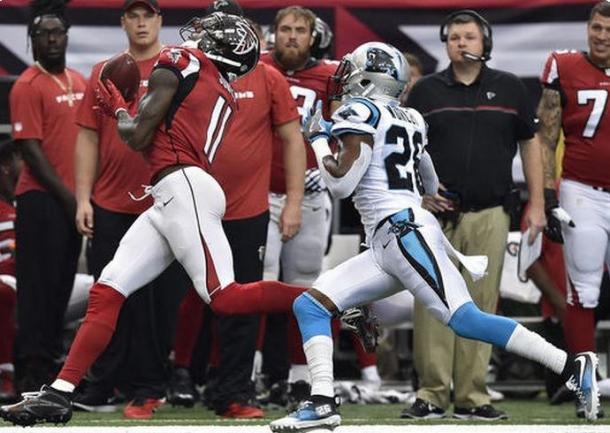 The aforementioned Jones had a career game two weeks ago when he torched the Carolina Panthers defensive with 300 yards on 12 receptions and one touchdown. He is coming off of a two catch, 29-yard receiving day against the Denver Broncos. For the season, Jones has 24 receptions on 41 targets for 517 yards and three touchdowns.
Seattle's defense at the top
Once again, the Seahawks are at the top of the leader boards in regards to total defense. They have given up only 1,056 yards in four games played. They are allowing just 264 yards a game, 183.8 yards in the air (second best) and 80.3 yards on the ground (seventh best).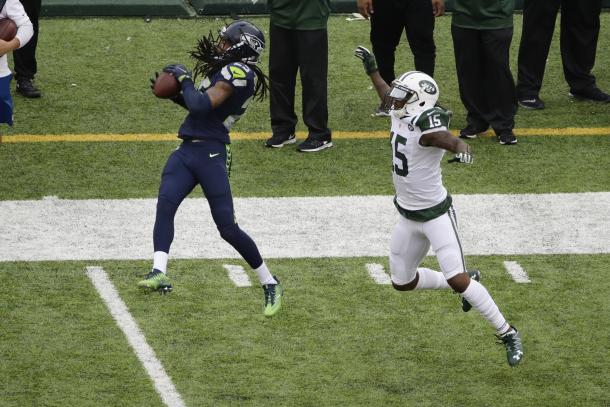 Sherman is coming off of a two-interception game against the New York Jets. After being picked on for most of the game, Sherman stepped up big when it mattered the most. Early in the fourth quarter, Ryan Fitzpatrick went back to the well one too many times. Sherman read the route perfectly and picked up his first interception of the game.
With under six minutes to go, Sherman picked off Fitzpatrick one more time. The ball was severely underthrown and Sherman was able to grab his second pick of the game and of the year.
Jones - Sherman could be epic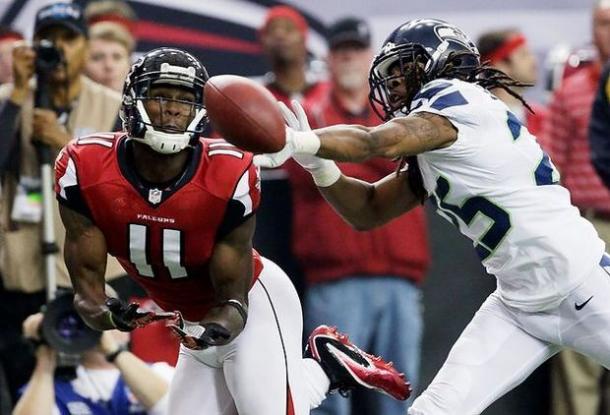 Sherman has been considered a top-five cornerback in the NFL for the last few years. Jones is arguably one of the top five wide receivers in the NFL as well. Something has to give. Seattle doesn't usually give their defensive backs much help when it comes to coverage. They like to play a cover three defense with Earl Thomas playing deep and Kam Chancellor playing inside the box.
Expect a lot of one-on-one matchups between the two. Jones might have the upper hand early in the game but history shows that Sherman knows how to make adjustments and come up big late in games. He has 28 interceptions in his six-year career and usually shuts down an entire side of the field. Expect Sherman to follow Jones around for most of the game if not all of it.