Following a bye week, the Seattle Seahawks are back. Fresh off a week of rest following the team's Week 4 road win against the New York Jets, the Hawks return to CenturyLink Field to do battle with the Atlanta Falcons.
The game will be a test for Seattle, as Atlanta enters with a 4-1 record and consecutive wins over both Super Bowl teams from last season. The Falcons beat Carolina 48-33 two weeks ago while coming away with a 23-16 win at Denver just last weekend.
Seattle will have to contain Atlanta quarterback Matt Ryan, who has been playing some excellent football as of late. The signal caller completed 15 of 28 passes for 267 yards and a score against Denver's vaunted defense. That performance came just a week after torching the Panthers to the tune of 503 yards and four touchdowns while completing 28 of 37 passes.
Run - Pass
Not only will the Seahawks have to contend with Ryan, running back Christine Michael will take on an Atlanta defense that has shown well against the run in recent weeks. Carolina was held to just 49 yards on 15 carries, with Cam Newton accounting for 30 of the team's yards on the ground. Additionally, the Broncos managed just 84 yards as a team as starting running back C.J. Anderson was held to 41 yards on 11 rushes.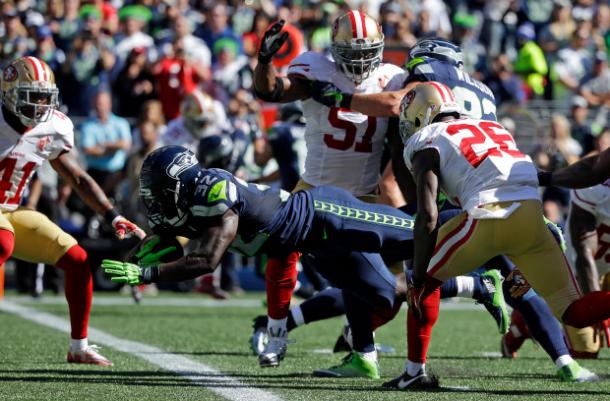 Seattle may find more success through the air. In the Carolina game, Newton and Derek Anderson combined for 329 yards and three scores while Fozzy Whittaker and Greg Olsen both topped 75 receiving yards. Against Denver, Atlanta allowed Emmanuel Sanders to haul in seven catches for 80 yards, while Demaryius Thomas found the end zone.
Russell Wilson and company were particularly efficient through the air in their previous game against New York. Seattle's quarterback accounted for 309 yards while completing 23 of 32 passes. He also added three touchdowns to Tanner McEvoy, Christine Michael, and C.J. Spiller.
McEvoy's score was his first touchdown and catch in the NFL, while Spiller scored in his Seahawks debut. Jimmy Graham also stood out, with 113 yards on six catches. The tight end hauled in six of his eight targets. Doug Baldwin also stood out, with four receptions for 54 yards. In total, Wilson connected with eight different pass catchers against the Jets.
Return of Dan Quinn
Not only is Sunday's contest a showdown between two NFC contenders, it also marks the return of Dan Quinn to Seattle. Quinn was the Seahawks' assistant head coach and defensive line coach from 2009 to 2010. Following a spell at the University of Florida, the coach returned to become Seattle's defensive coordinator from the 2013 season to the 2014 campaign. Quinn was hired as the Falcons' head coach in early 2015.
TV Coverage
The game will be broadcast nationally on Fox.
Kickoff Time
Kickoff is scheduled for 4:25 PM Eastern Time.