The Seattle Seahawks held on for a 26-24 win at home over the Atlanta Falcons to improve their record to 4-1 on the season.
Falcons can't handle first half noise
The first quarter was a slow burner in this one, with not a lot of offense being put up in Seattle, despite the pre-game surrounding the offense, mainly Atlanta's. However, with two minutes left in the opening period the game sprung into life, as Cliff Avril got through to Matt Ryan and from behind forced the ball loose where fellow defensive linemen Tony McDaniel fell on the ball to set-up the Seahawks offense at the nine-yard line.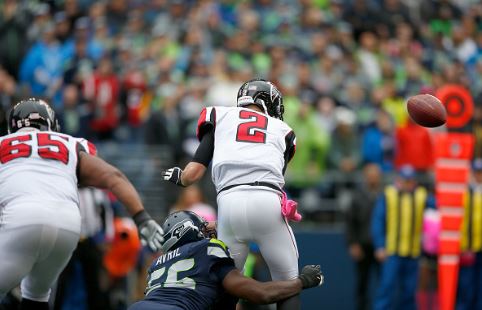 Then, as great teams do, Seattle immediately capitalized on the mistake and Christine Michael ran the ball in for a nine-yard touchdown to give his team a 7-0 lead at the end of the first quarter. The noise from Seattle's 12th man a clear issue for Ryan in trying to communicate with his offense, as well as a formidable pass rush, with Ryan being sacked three times in the first 15 minutes.
Atlanta did slowly start to find their groove at the start of the 2nd quarter and thanks to a big completion to Mohamed Sanu, marched into Seattle's half and into the red zone in fact, but the drive stalled and Dan Quinn's team had to settle for a 33 yard field goal from Matt Bryant to get on the board.
Seattle, though were hardly moving the ball too much on offence themselves until a nice drive in the middle part of the second quarter, where quarterback, Russell Wilson got in his groove and made three nice completion to Doug Baldwin, Jimmy Graham, and CJ Spiller, all for at least 15 yards to set Seattle up at the two yard line. This time, it was rookie running back, Alex Collins who finished things off with the touchdown run.
The Falcons then continued to struggle with the noise in the great Northwest, as they went backward on their penultimate drive of the half, with a combination of false start penalties and a running game not going anywhere. Atlanta had to punt from their own goal line and gave Seattle great field position at the 50-yard line, where they worked the two-minute drill and set-up the first of two made field goals from Steven Hauschka, this one from 42 yards out to give Seattle a 17-3 lead at halftime.
Different half, different Falcons
Clearly Atlanta coach and former Seattle defensive coordinator, Quinn must have said something extreme in the locker room at halftime, because the Falcons produced arguably their best quarter of football all year. The dirty birds received the second half kickoff and made a statement that they were still very much in this game.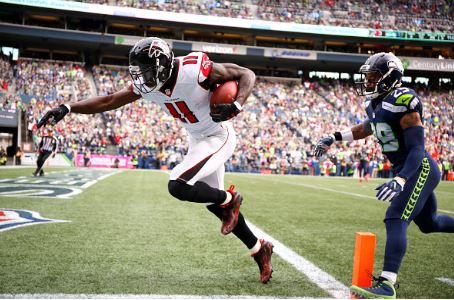 The Matt Ryan and Julio Jones connection that had been terrifying the league had been non-existent in the first half, but they clicked time after time in the third quarter. The most notable play on the opening drive of the second half was obviously the 36-yard touchdown pass on a corner route. Richard Sherman was heated on the sideline after this one, as he covered a guy in the flat, only for his fellow defender to blow coverage in behind and leave Jones wide open.
The Legion of boom didn't have much time to analyze that play, as they were back on the field instantly with the offense going three and out on their first second half possession. The blown coverages continued for Seattle and specifically Sherman, who let Jones get open for a couple of big plays and Atlanta march down to the red zone once more. Then with just a simple out route, Ryan found Mohamed Sanu for a 10-yard touchdown and within 10 minutes Atlanta was level after being down 14.
Seattle's offense would put up a bit more fight on their next drive and worked their way to a 4th and inches just inside the Falcons half. Coach Pete Carroll would turn down the chance to go for it, much to his own annoyance and the Centurylink Field crowd.
Therefore despite some poor field position the Atlanta offense stayed calm and worked their way down the field, the running backs Devonta Freeman and Tevin Coleman playing more of a part as the game went along. Ultimately, though, it would again be Ryan's arm which made things happen, but again helped by a lackluster Seattle defense who left tight end, Levine Toilolo in a ton of space on the left sideline and he went down it to score a 46-yard touchdown to give Atlanta the lead going into the fourth.
Defense fights back to win the game
The offense then ceased for a while as the clock ticked down in the fourth quarter, with neither team finding much space or penetration to do anything. Both running games were pretty dead as Michael finished with only 64 yards on 18 carries and Freeman barely running the ball at all with 40 yards on 12 rushes.
Wilson would ultimately step up in the fourth quarter for Seattle, as he has done so many times previously to become the quickest quarterback to 50 wins in his career. Wilson would not throw a touchdown pass, but did throw for respectable 270 yards and more importantly did not turn the ball over.
Wilson's main target all day was tight end Jimmy Graham, who for the third week in a row really led this receiving core. Graham would make a couple of big grabs on this fourth quarter drive and Seattle would once again make it easy for themselves as they got to the one-yard line. Michael would then put his head down and run it into surely tie the game, but Mr automatic, Hauschka would miss the extra point wide left and leave his team down by one with four minutes to play.
The kicker would get his chance for redemption, though, as when Atlanta took over at their own 20-yard line, they decided to come out throwing the ball instead of running it and killing the clock. It appeared at first to be a wise call as a couple of competitions had them a first down, but then Ryan looked for Jones one time too many and after he tipped it up, a combination of Sherman and Earl Thomas secured the ball and field position for Seattle.
Seattle then moved into field goal range, with Wilson making a clutch shovel pass under pressure to Collins on third and short to keep the drive alive. The Seahawks managed to get the clock down just past the two-minute warning and the stage was set for Hauschka who drilled the 44-yard field goal to give his team a two-point lead.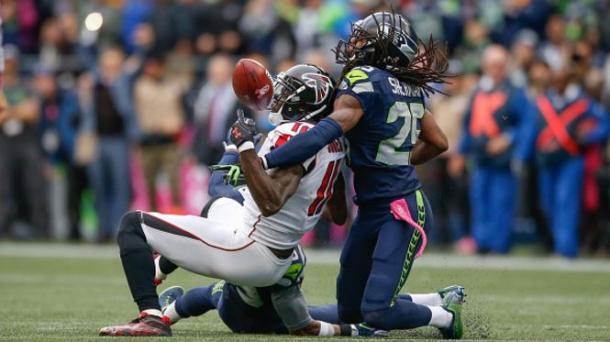 There was still time for one more twist, though, as Atlanta had nearly two minutes and a timeout just to get in Bryant's field goal range. Three Ryan incompletions later and it came down to 4th and 10 from their own 25-yard line. Ryan bought himself down and hurled one into Seattle territory towards Jones who had the jump on Sherman and Thomas, only for the former to clearly interfere with the receiver, but the officials didn't call it and Seattle was able to kneel down for the 26-24 victory.
Seattle now has a two-game lead in the NFC West at 4-1 going into their week seven matchup at the divisional rival, Arizona Cardinals. Meanwhile, Atlanta drops to 4-2 but stay top of the NFC South ahead of a home game against the San Diego Chargers next week.