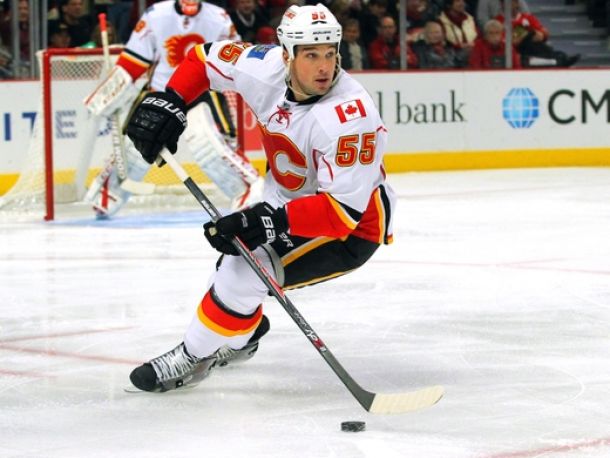 The Florida Panthers added another veteran defenseman Shane O'Brien to their training camp roster on a tryout basis, according to a source within the team. The 31 year-old defenseman has played 528 games in the NHL over the course of eight seasons with six different teams. General Manager Dale Tallon is trying to make the Panthers a team of large-sized players and O'Brien certainly fits the bill at 6' 3" and 230 pounds.
Over the course of O'Brien's career, he has tallied 13 goals and 78 assists. However, he is known for his toughness on the ice with 911 penalty minutes. He has played for the Anaheim Ducks, Vancouver Canucks, Tampa Bay Lightning, Nashville Predators, Colorado Avalanche, and most recently Calgary Flames where he played 45 games for last season. He recorded three assists while averaging 11:18 of ice time per game.
Last year, the Panthers invited goaltender Tim Thomas, defenseman Tom Gilbert, and forward Brad Boyes to tryout contracts and all were signed to one-year deals. Boyes will be the only one to remain with the team this season after signing a 2-year deal back in March. Thomas was traded to the Dallas Stars for goaltender Dan Ellis at the trade deadline last season after the team acquired goaltender Roberto Luongo. Gilbert had an impressive season with the Panthers with 28 points, which led the team for defensemen, but was not re-signed and was signed by the Montreal Canadiens.
O'Brien will have a chance to prove himself in two weeks during training camp. He will have to play hard to earn a spot with the big club or he might end up in San Antonio playing for the Rampage in the American Hockey League. The Panthers currently have six defensemen on one-way contracts. Nevertheless, if O'Brien starts the season in San Antonio, he will likely be called up as one of the first defensemen available. The team could always use some more grit and veteran presence, as they are still an overall young core that is attempting to become a contender in the near future.