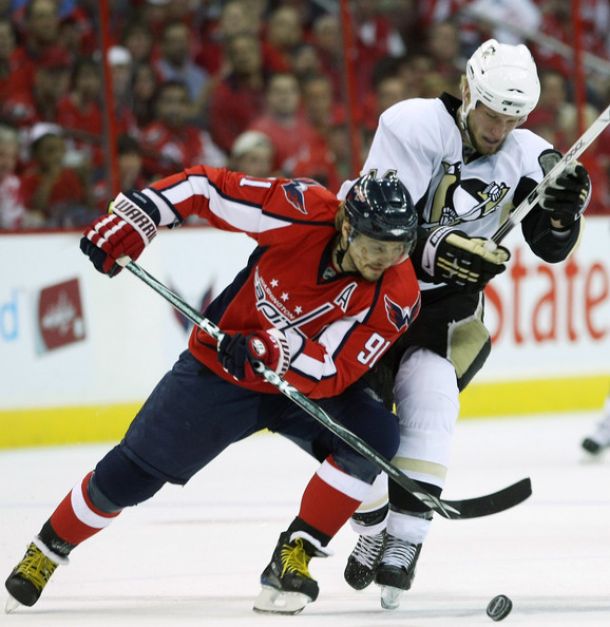 As one season ends in the NHL, another one opens. This time it is all about the Washington Capitals. A team that struggled heavily last season, going (38-30-14) 90 points and missing the playoffs. With that record, any club in the NHL will have a hard time making the postseason and the Capitals encountered that problem. The club finished 5th in the Metropolitan, 9th in the East, and 17th overall in the NHL.
The team took a huge plunge this offseason by losing four top players. Center Mikhail Grabovski left to go to the New York Islanders along with goalie Jaroslav Halak. Left wing Dustin Penner is now a costless agent and defenseman Tyson Strachan went to the Buffalo Sabres. However, even with those guys leaving, the Caps feel as if they got some good talent in return. Bringing in Brooks Orpik, Matt Niskanen, Justin Peters, Chris Conner, Kris Newbury, and Tim Kennedy.
Also, a new addition to the club will be first-year coach Barry Trotz. He last coached the Nashville Predators. Trotz had his most success with the Predators in 2006-2007 leading the club to the second-most points in the Western Conference and third overall at 110. Trotz would go on to lead Nashville to the playoffs where they lost to the San Jose Sharks in the opening round, 4 games to 1. Trotz, however, is well respected around the league. On March 30, 2012 Trotz got his 500th career victory as a coach against the Detroit Red Wings 4-1.
On April 14, 2014, the Nashville Predators had a press conference saying that Trotz would not be returning for his 16th season. (The Predators hired Peter Laviolette nearly a month later on May 6, 2014). Trotz's 1,196 regular season games coached puts him 14th all-time on the coaching list. He went on to be the Caps lead man on May 26, 2014.
The Capitals will enter this season with a good balance between veteran leadership in Alex Ovechkin, Joel Ward, Jason Chimera, and Brooks Laich. That however is not all the leadership this Caps team has. They have young blood looking to get on the ice and they are led by Evgony Kuznetsov, Tom Wilson, and Andre Burakovsky.
One of the biggest, if not the biggest question of them all surrounding the Capitals is how will the influence by Trotz and his staff have on a roster that has underachieved in recent years? That question will be answered on October 9, 2014 when the Capitals will face off against bitter rival Montreal Canadiens.