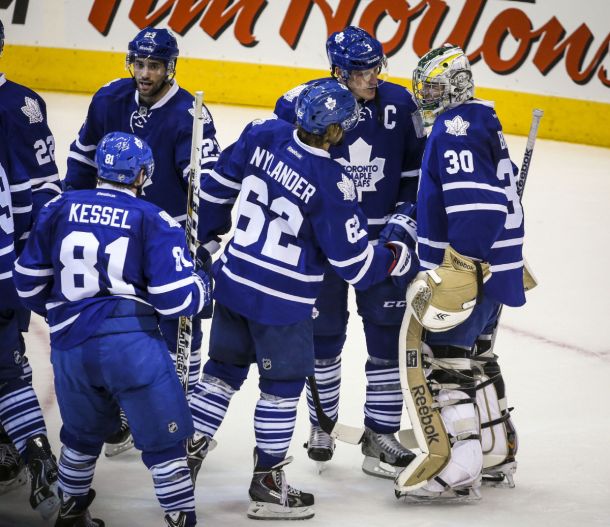 It is the broken records of all broken records. Will this be the season where the Toronto Maple Leafs prove the doubters wrong and make the playoffs without any sort of epic collapse?
Time will tell. Steps (baby steps, mind you) are being taken in an attempt to cure what ails a franchise that has not won a Stanley Cup since 1967, and who only have one playoff appearance in the last 10 years. In that lone appearance, the Leafs collapsed and lost in game seven to the Boston Bruins.
However, what is great about a new season is well, it is a new season. Changes were expected and alas many were made although some were a little more shocking then others.
How last season measured up:
Division: Atlantic GM: Dave Nonis Head Coach: Randy Carlyle
2013-14: 38-36-8 (6th in Atlantic) Playoffs: Did not qualify
Goals For: 222 (14th) Goals Against: 252 (26th) PP: 19.8% (6th) PK: 78.4% (28th)
In a very quick summary of last season's Leafs, they relied heavily on tremendous goaltending from Jonathan Bernier despite awful possession numbers. In case many did not realize, that has become a very popular and important statistic to follow in today's NHL.
Simply put, the Leafs leaned on goaltending far too often and when Bernier eventually got hurt or played at a mediocre level, their success evaporated. The odds, as we all like to put it, caught up to them and after such a mirage like beginning to a very bad year, they fell out of contention quickly.
New additions: LW David Booth, RW Matt Frattin, C Leo Komarov, C Petri Kontiola, D Roman Polak, D Stephane Robidas, C Mike Santorelli, C Daniel Winnik
Key losses: C Dave Bolland, RW Jerry D'Amigo, D Tim Gleason, D Carl Gunnarsson, LW Nikolai Kulemin, G Drew MacIntyre, C Jay McClement, D Paul Ranger, LW Mason Raymond
Looking ahead to this year, what to expect:
As it always seems, out with the old and in with the new. That can be said both for the Leafs players and their philosophy, to an extent. New team president Brendan Shanahan began the off-season in what many considered to be a head scratching move by opting to keep head coach Randy Carlyle in the fold, extending his contract as well. Dave Nonis still stands as general manager, despite Shanahan having a lot of say in what goes on.
Instead, the Leafs gutted their assistant coaches by firing Scott Gordon, Dave Farrish and Greg Cronin and replaced them with Toronto Marlies (AHL) head coach Steve Spott and former Florida Panthers head coach Peter Horachek.
The off-ice changes were not done there though, when Shanahan fired assistant general managers Claude Loiselle and Dave Poulin and replaced them with 28 year old whiz kid Kyle Dubas. Dubas, who was was a revelation during his time as general manager with the Sault Ste. Marie Greyhounds in the OHL, was hired as a fresh face and one who will bring his analytical background to the Leafs front office, something they heavily lacked. Shanahan also quietly, yet efficiently revamped the rest of the management team by bringing in former league salary cap expert Brandon Pridham and ExtraSkater.com founder Daryl Metcalf to head the analytics department. (ExtraSkater was an analytics website widely used and respected by media and the public.)
Moving onto the ice, the Leafs welcomed a handful of new faces and also saw many familiar ones depart. They cut ties with Tim Gleason, buying out his five million dollar contract after acquiring him the year prior, and traded long time Leafs defenceman Carl Gunnarsson to the St. Louis Blues for Roman Polak.
The shore up on defence was not done there. They also signed 37 year-old Stephane Robidas to a three year deal worth nine million dollars. The Leafs are hoping both Robidas and Polak add leadership and stability to their back end, something they have lacked for some time.
Meanwhile, they welcomed back two faces from their past. They brought back forward Leo Komarov, signing him to a four year deal and traded Jerry D'Amigo to Columbus for Matt Frattin, two additions who should be included in their bottom six.
After letting Nikolai Kulemin (New York Islanders), Dave Bolland (Florida Panthers), Jay McClement (Carolina Hurricanes) and Mason Raymond (Calgary Flames) all walk through costless agency, they added F David Booth, C/F Mike Santorelli, C Daniel Winnik and signed Finnish forward Petri Kontiola as depth replacements.
The Leafs top six has not changed at all compared to last year. Their problem was not scoring goals, as their top line generated tons of points all season long. Phil Kessel, Tyler Bozak, and James Van Riemsdyk all made solid contributions.
They will be looking for David Clarkson, who was their prized costless agent signing two years ago, to make a much bigger impact than last year. Clarkson should have a shot to compete in the top six along with Joffrey Lupul and Nazem Kadri. It remains to be seen, however, if one of the new additions will replace him there. It is all up to Clarkson.
Finally, the Leafs decided to bring back all of their restricted costless agents who needed new contracts. They extended D Jake Gardiner to a five-year, 20.25 million dollar deal and opted to bring back G James Reimer on a two-year deal. Reimer will once again be Bernier's back up heading into this year.
Meanwhile, D Cody Franson was also signed to a one year contract, while centerman Peter Holland also signed a two year deal.
2014-15 Toronto Maple Leafs projected lines:
LW James Van Riemsdyk C Tyler Bozak RW Phil Kessel
LW Joffrey Lupul C Nazem Kadri RW David Clarkson
LW Leo Komarov C Peter Holland RW Mike Santorelli
LW Joshua Leivo C Daniel Winnik RW Matt Frattin
Extra: RW Carter Ashton
Injuries: David Booth (foot)
Defence:
D Dion Phaneuf D Stephane Robidas
D Jake Gardiner D Cody Franson
D Morgan Rielly D Roman Polak
Extra: Stuart Percy
Goalies:
Jonathan Bernier
James Reimer
Players to look:
D, Morgan Rielly
Rielly is the youngest of the group on defence but has the most upside by far. He is only 20 years old and enjoyed a successful rookie campaign. While the dreaded sophomore slump has trumped many, Rielly could prove to be a very valuable commodity on the power play and could emerge as their top puck moving defenceman sooner rather than later.
RW, David Clarkson
Clarkson has had a very rough start to his Leafs career. After being suspended twice last year, dealing with injuries and of course only putting up five goals, he desperately needs a spark. It remains to be seen where he gets slated, but Clarkson should have a shot at some PP time. It cannot get any worse, so expect better.
C, Nazem Kadri
Kadri has quietly been effective since the lockout shortened year. He is electric when he needs to be and is definitely one of the Leafs most talented offensive players. If Kadri puts it all together in his second full (technically third) season in the NHL, look for a breakout. It would help immensely if he got the top line time he deserves.
Top prospects 2014-15
1. C/F, William Nylander
Nylander's name has been everywhere since he was taken eighth overall in this year's draft. He immediately becomes the Leafs best prospect due to his incredible skill offensively. Nylander is terrific with the puck and is still playing in the pre-season. He most certainly will be sent back to Sweden for development, but stranger things have happened.
2. D, Matt Finn
Finn is at the top of the list as far as defenceman go. His great all around game served him well last year with the Guelph Storm, where he put up terrific numbers. Finn will now make the jump to the AHL, looking to make a solid impact in the top four.
3. LW, Josh Leivo
Leivo is ranked third because of his great showing this season at camp and pre-season. He is a very skilled forward with size and speed. There is talk that he will earn a spot in the bottom six but could even see top six time if he is lucky. He has been very good as of late, and it seems as if his time in the NHL could be now.
4. D, Stuart Percy
Percy, like Leivo, could grab a spot in the Leafs bottom four. After Cody Franson injured his knee in a pre-season game and team tryout invitee Henrik Tallinder hurt his shoulder, Percy has been sticking around. If Franson cannot go come season opener, Percy will get a shot. Even if Franson plays expect Percy to be their seventh defenceman.
5. RW, Andreas Johnson
Johnson has risen significantly since he was drafted in 2013. The Swedish forward scored 15 goals in 44 games last year with Frolunda of the Swedish league, and has already gotten off to a good start this year (four points in seven games.) He also won SHL player of the year last season beating out impressive young players. A tremendous start to his hockey career, Johnson is still a few years away but is getting serious attention.
Other notable names: C, Frederik Gauthier, RW, Connor Brown, D, Petter Granberg, G, Antoine Bibeau, RW, Carter Verhaeghe, D, Viktor Loov, D, Tom Nilsson