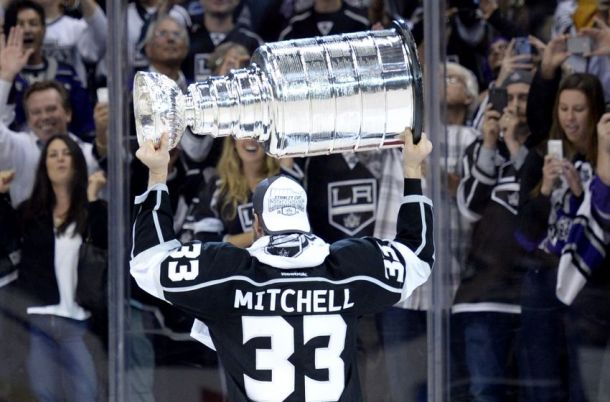 After going winless throughout preseason, Florida Panthers owner Vinnie Viola took the team on a trip to West Point, New York to build his team's chemistry and help the players bond with one another. After all, the Panthers are entering the 2014-15 season with a new coaching staff and numerous new players. When the Panthers finished a hike to the top of one of West Point's numerous mountains, Gerard Gallant decided to inform the team of their new leader for the upcoming season: Willie Mitchell.
On Monday afternoon, Coach Gallant informed the team that defenseman Willie Mitchell will be given the "C" for this season. Willie Mitchell, at thirty-seven years old, is the team's sole gray beard. After winning two Stanley Cups in the past three seasons with the Los Angeles Kings, general manager Dale Tallon was able to convince Mitchell to join the Panthers on a two-year, $8 million deal. With the signing, the Panthers added a player with two Stanley Cups and a tremendous amount of experience. He has played for the New Jersey Devils, Minnesota Wild, Dallas Stars, Vancouver Canucks, and Los Angeles Kings throughout his fourteen year NHL career. Mitchell has served as captain of the Wild in January of 2006 as part of Minnesota's rotating captaincy that season, as well as serving as alternate captain during his time in Vancouver. Mitchell will be tasked with leading a young Panthers franchise that has been searching for a leader ever since Ed Jovanovski was bought out by the team last summer. Mitchell has accumulated 30 goals and 165 points over 795 games. While Mitchell has the ability to chip in on the score sheet, his main specialty is playing hard-nosed defense and shutting down some of the NHL's most dynamic offensive players. He will surely be a great leader for the Florida Panthers.
In addition, the Panthers have named their alternate captains for the upcoming season. While they have named two alternate captains that played in every game in the past, that is certainly not the case for this season. For all home games, Dave Bolland and Scottie Upshall will wear the "A" and for all away games, Brian Campbell and Derek MacKenzie. This method is very interesting, as the Panthers will have different players wearing the "A" during home and away games.
At the end of the day, Willie Mitchell is not the Panthers captain that Panthers fans wanted, but the captain that the team needed.