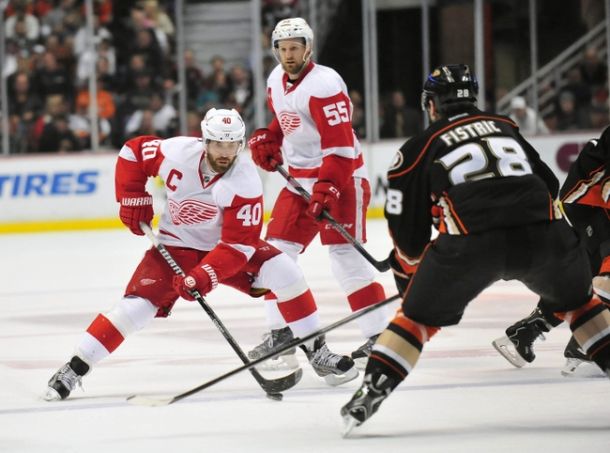 Tonight's game will feautre two teams who are coming in with different mentalities.

For the Red Wings, they want to build from their 2-1 victory over Boston on Thursday, where keeper Jimmy Howard made 26 saves and right winger Johan Franzen added two assists while playing superb hockey on the first line. The Ducks defense looked porous and lazy in their 6-4 loss against the Penguins, giving up 6 a total of 39 shots. Despite Corey Perry's hat-trick, the Ducks defense was unable to contest shots and keeper John Gibson was under fire early and often, as the Penguins scored three goals in the first period.

For Detroit, the defense looked strong, anchored by Erickson and Kronwall, who figure to make a solid starting defensive duo once again this year. The Red Wings go-ahead goal, which game later in the 2nd period, was off of a beautiful set up from Johan Franzen, who found youngster Gustav Nyquist for a one-time shot near the net. Speedy left winger Abdelkader scored earlyier in that period, and it would be enough for the Red Wings to clinch an opening game victory. Detroit finished 8th in the eastern conference last season, barely edging out the Capitals in 2013. They were lifted from the post-season by the Bruins in five games, an early exit than we are accustomed to seeing from this franchise.

The Ducks, last season, won the pacific division with 116 points but would fall to the would-be-champion Kings in seven games during the Western Conference smi-finals. They certianly expected a better start from the 2015 season, and will look to rebound tonight at Joe Louis Arena in Detroit, Michigan.