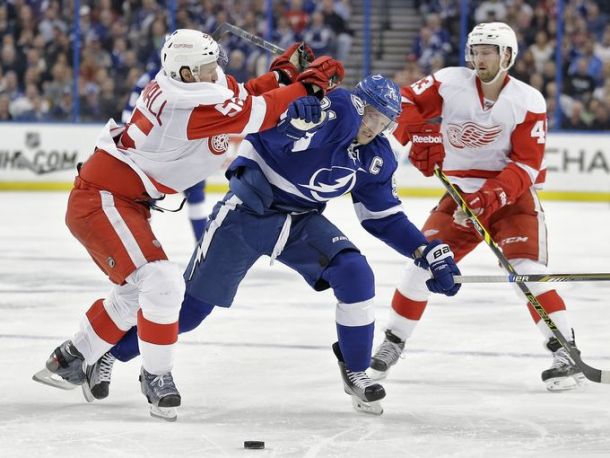 The Tampa Bay Lightning have been rolling since the season started, and after taking down temporary number one seed Detroit, they will regain their spot atop the Eastern Conference, sending the Red Wings back down to second in the division. While the Lightning haven't been the number one team in the NHL according to the point totals, they have been the best in the East, and are undoubtedly one of the best teams in the NHL when healthy. Steven Stamkos is now a perennial all-star, and he's got an excellent supporting crew. Every night it seems someone else steps up to help the Lightning win, or keep it close.
Tonight that would be Cedric Paqquette. He ended up with a Hat Trick in the game tonight, providing the home team and fans a serious spark. Tampa Bay clearly outplayed the Wings tonight, who's only goal came from Darren Helm in the 1st period. The other goal scorers for the Lightning were Stamkos on the Power Play, and Barberio. One of Paqquette's goals also came short-handed.
In what has become an inter-division rivalry game, these teams are connected on many levels. After serving as a player and the captain for 22 seasons with the Red Wings, Steve Yzerman would go on to have a role in the Red Wings front office, where he helped select multiple future Red Wings at the time, including in his last draft with the team, fan favorite Tomas Tatar. He is the current General Manager of the Tampa Bay Lightning, and is now major rivals with his former longtime team who he was with for a combined 25 years in the front office and as a player before leaving to sign with Tampa Bay. Yzerman is still seen as a Red Wings hero, and he always will be regardless of where he ends up. It's a good story on how rival teams can have so much hatred and aggression or energy on the ice, but be good friends off of it.
The next meeting between these two squads is March 20th in Tampa Bay, and then they meet the 28th in Detroit in what could very well be a very entertaining playoff preview. The next game for the Red Wings is a Saturday afternoon game - the Metropolitan-Leading New York Islanders at home, while the Lightning take on the Columbus Blue Jackets at home Saturday night at 7:30 Eastern Time.
Both teams are actively fighting for a playoff spot against each other, and many other teams in what should be an exciting road to the end of the year. Neither team is taking a game off, and you can almost always expect the Red Wings and Lightning when healthy to have a good game.