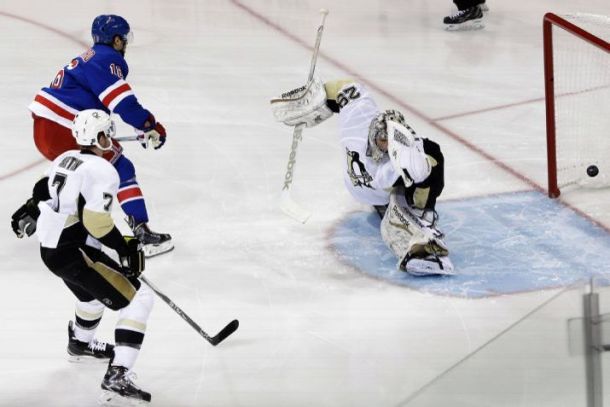 The Rangers have beaten the Pittsburgh Penguins 2-1 to take a 1-0 series lead. The Rangers played well all night long at Madison Square Garden. The Penguins were outplayed all night long.
The Rangers got on the board first 28 seconds into the game when Rick Nash shot it and Marc-Andre Fleury gave up a juicy rebound that Derick Brassard put past him. That is 1 second shy of tying the franchise record for fastest goal to start a playoff game since Ed Hospodar scored 27 seconds into the game vs. the Los Angeles Kings on 4/09/81. The Rangers also got a goal from Ryan McDonagh on their 3rd power play, which would be their only score on the power play, 1-4.
The 2nd and 3rd periods were much less action packed. The only goal for the rest of the game would come, 6:15 into the 2nd period, when Blake Comeau beat Henrik Lundqvist to make it a 1 goal game. That's as close as the game would get however, with both Henrik Lundqvist and Marc-Andre Fleury standing on their heads. The Penguins took the momentum after that though with the Penguins taking lots of shots on Henrik Lundqvist. The Rangers defense stepped up though and prevented both Sidney Crosby and Evgeni Malkin from getting on the scoreboard.
A scary moment happened in the third period for the Rangers, when a puck went up and hit Dan Girardi in the cheek. He left and did not return. According to Rangers coach Alain Vigneault he is seeing a dentist. The Rangers have now won 4 straight games in the playoffs - the Penguins, with the comeback last year.
The Rangers and Penguins play again in Game 2 on Saturday at 8:00 pm at Madison Square Garden. After the game the Rangers tweeted, "Win #1 for #NYR #Changetheending" with a picture of this year's Stanley cup puzzle, like last year's puzzle, where after they won a game, they would put another piece in the puzzle, to symbolize the 16 wins necessary to win the Stanley Cup, and the subtracting number with every win.