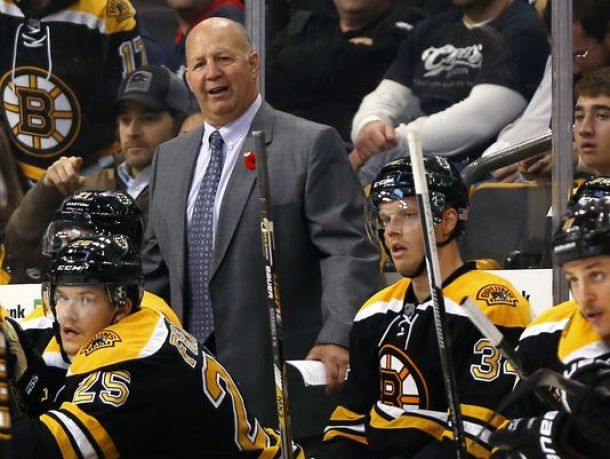 The Boston Bruins had a down year this past season despite having high expectations. They were supposed to be a top eastern conference contender, but instead they missed the playoffs this season. They made changes in the front office by firing Peter Chiarelli and replacing him with Don Sweeney. One thing that will not change is the person behind the bench. Sweeney confirmed today that Boston Bruins head coach Claude Julien and the rest of the coaching staff will be returning to Boston for the 2015-16 season.
Entering his ninth season as Boston Bruins head coach Julien has a record of 351-192-79 with Boston winning a Stanley Cup in 2011. He became the longest tenure head coach with a single NHL team after Mike Babcock left Detroit for Toronto this offseason. They have made the playoffs every season under Julien expect for this season. That is a good record for Julien as he has been a great head coach of the Boston Bruins for nine seasons.
There are a lot of things to like about Julien. He is a coach that knows how to win games. He also knows where to put players on respective lines and defensive parings. This season was just a bad season and everyone has them. This writer expects Julien to bounce back next season and have a good season making the playoffs.
This was the right thing to do in Boston as there was nothing wrong with Julien or his style of coaching. It was just a season full of injuries. Julien is the guy that can lead this team to another playoff push and to another Stanley Cup. Keeping him is the smart thing to do. You have something special with him so why just get rid of him after one bad season. Maybe if he has another bad season then maybe he might be fired.
Boston has a great team to make it back to the playoffs mainly because they have a good offense. All they really need is defense since that was the biggest weakness for Boston this season. There is a lack of experienced defensemen besides Dougie Hamilton and Zdeno Chara. Chara is getting old so you need younger defensemen that could get some pressure off him. If they can get a young top defensemen and maybe a goal scoring winger then Boston will back on top of the Eastern Conference next season.