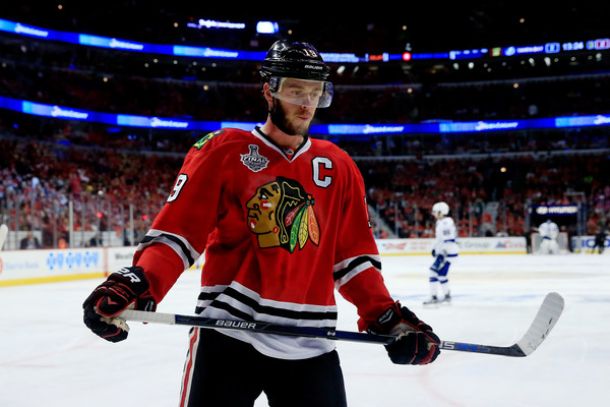 Third period (:00)- IT'S OVER! THE CHICAGO BLACKHAWKS ARE STANLEY CUP CHAMPIONS! This has to be the worst feeling for the Lightning, just still on the ice watching the Blackhawks celebrate before the handshake line. No surprise that Duncan Keith will be awarded the Conn Smythe Trophy. The Stanley Cup was delayed in getting to the arena, but it is here, but for now the Conn Smythe will be awarded. He is the first defenseman to win the Conn Smythe since Scott Niedermayer for the Ducks in 2007. After being given the Cup, Jonathan Toews hands it off to Kimmo Timonen whom Toews told to do the ceremonial skate around with the cup. What a great year of hockey, we'll be back in October!
Third period (:17)- Icing called, faceoff will be in the Chicago zone.
Third period (1:27)- Penalty is killed, just 87 seconds separate the Blackhawks from the Cup.
Third period (2:48)- 1:09 left on the penalty kill, Bishop is out of the net. Six on four for Tampa.
Third period (3:22)- What a great save by Crawford! He stonewalls Palat twice to keep this a two goal game.
Third period (3:39)- Tampa gets their first power play. Andrew Desjardins guilty of a trip, will go to the box.
Third period (5:14)- GOAL! Patrick Kane finally gets one! Brandon Saad took it up, Brad Richards looked like he'd take the shot but he passed to Kane who drilled it past Bishop. First multiple goal lead of the series.
Third period (6:10)- It looked like a trip on Tampa Bay, but it wasn't called. Fans upset.
Third period (9:32)- Another odd bounce off the boards, Bishop comes up with another save.
Third period (13:35)- The clock can't tick fast enough for the players on the Chicago bench.
Third period (16:01)- Icing on Chicago.
Third period (18:47)- Penalty killed.
Third period (20:00)- We're underway in the third!
Second period (:00)- We go to intermission with Chicago up 1-0. They are 20 minutes from their third cup win in the last six seasons.
Second period (:07)- Brent Seabrook hit the post! It would have been the first two goal lead of the series.
Second period (:47)- Ondrej Palat called for elbowing. Chicago will get their third power play.
Second period (2:47)- We have a goal! Duncan Keith puts it in! Bishop blocked the initial shot but gave up a big rebound and Keith followed the shot and put it in on the second chance. Chicago is 11-1 when scoring first and Tampa Bay is 3-10 when the opponent scores first this postseason.
Second period (5:24)- I thought this would be a shootout, but the defenses have done such a good job containing these potent attacks and the goaltenders have stood tall.
Second period (9:04)- What a shift for the fourth line of Chicago! They generated about six chances on that shift.
Second period (12:13)- A 2 on 1 for Chicago once again is a missed opportunity, Patrick Sharp shoots and it was wide, bounced off the boards and nearly snuck behind Bishop and into the net.
Second period (13:58)- A great chance for Chicago on the other end, a 3 on 1 but the pass for Andrew Desjardins was too long and Chicago couldn't get a shot away.
Second period (19:01)- We're off in the second, Stamkos had a great shot on a breakaway but he was stonewalled by Crawford.
First period (:00)- The first is over and we have no score. Chicago outplayed Tampa in that first period, including in the faceoff circle where Chicago has won 12 of 16. Steven Stamkos almost put one in the net, but it hit the crossbar.
First period (1:21)- Jason Garrison had a great shot with Crawford out of position that he couldn't convert on.
First period (4:07)- Lightning kill off another penalty. Shots are 11-4 Chicago early on.
First period (5:51)- What a save by Bishop! Toews had a wide open net but Bishop made a great pad save to keep this game scoreless.
First period (6:07)- Brian Boyle is now headed to the penalty box for roughing. Blackhawks get another power play. Patrick Kane is causing problems early on.
First period (7:13)- The Blackhawks have had multiple good chances so far, and Paquette had a good shot after coming out of the box. But still no goals.
First period (9:25)- Lightning have killed the penalty.
First period (11:25)- We have our first power play, Cedric Paquette off to the sin bin giving Chicago the man advantage.
First period (13:26)- Brandon Saad flattened Victor Hedman.
First period (14:59)- Andrej Sustr just body checked Kris Versteeg as he was leaving the ice. Should have been a penalty for roughing and for too many men on the ice, but no power play for Chicago.
First period (15:34)- Shots on goal are 3-0 Chicago.
First period (20:00)- We're off in game six! Kucherov is active and they dressed 12 forwards--Drouin is in and Nesterov is out.
I thought we would get a real shootout in this series, and we haven't quite gotten it yet. Game two at 4-3 was almost there, but I'm thinking this one will take five or more goals to win. I also think this goes to overtime and I think the Lightning force game seven. They've been a great road team all postseason, and they're going to have to give it all they have to force game seven on Wednesday night.
For the Blackhawks it comes down to one man—Corey Crawford. When he plays well, they win. In the three games they have won in this series, he has had a save percentage of over 96%. In the two losses his save percentages were .833 in game two and .906 in game three. For the Lightning, they simply need to find ways to get on the board. They were the highest scoring team in the regular season, and are not built to play low scoring games. Steven Stamkos has not scored in this series after being second in the league in regular season goals with 43.
An odd trend in this series has been that the team that has taken fewer shots in every game has ended up winning. Will that trend hold true in game six?
Who could the hero of this game be? For the Blackhawks, I would look at Andrew Shaw or Patrick Kane. Shaw has 12 points this postseason, five goals and seven assists, so he can make plays. So much emphasis has been placed on shutting down Kane that it has allowed the depth players the chance to succeed. Kane has seen a lot of Victor Hedman, and so far Kane only has one point in this series—an assist in game four. He played his lowest total of minutes in game five, only on the ice for 15:48. Knowing his ability to step up in big games, I think Kane needs at least 20 minutes tonight. For the Lightning Tyler Johnson has been quiet in this series, with just two points. He has 23 for the playoffs and needs to get on a roll tonight.
For the Blackhawks, it has become a mystery who they will dress as their 5th and 6th defensemen. They let Kimmo Timonen play in games four and five, and he played well in the shifts that he got. I figure Trevor Van Riemsdyk will play, likely leaving Kyle Cumiskey on the outside looking in. Cumiskey played well overall, but I would go with the fresher Timonen myself, his experience will be valuable in this one.
For the Lightning to get to a Game Seven in Tampa Bay, I think they need to ditch the seventh defenseman. They need to play 12 forwards, even if Nikita Kucherov can't play. After suffering an upper body injury in game five he will be a game time decision. Jon Drouin has played well in the games he has been active in this series. He needs to play tonight, and I would even consider playing Vladislav Namestinkov if Kucherov can't go. Namestinkov has not played in this series despite playing in the Eastern Conference Finals. However, Katie Strang of ESPN tweeted that Kucherov took part in the morning skate. So with that in mind, I expect that he will play.
All three games that the Blackhawks have won in this series have been 2-1 games. Every game in this series has been a one goal game, all going right down to the wire. The thing we haven't had in this series is an overtime game, which I think we will get tonight. It's a stark contrast to the trend that had been set, where in each of the last three finals before this one the first two games of each went to overtime.
Tonight the Stanley Cup will be in the building as the Chicago Blackhawks look to win their third title in six years as they come into Game Six up 3-2 on the Tampa Bay Lightning. If the Blackhawks win, it will be the first time they have won a Stanley Cup clinching game in Chicago since 1938. The past three cups they have won (1961, 2010, 2013) were all won on their opponent's ice. With one more win they can cement themselves as a dynasty, just over 11 years after being named the worst franchise in professional sports by ESPN. After going 49 years without winning a Stanley Cup to win three in six years would be an unprecedented accomplishment. In the 49 years between wins, the Blackhawks lost in the finals five times. The only longer Stanley Cup drought belongs to the New York Rangers, who went 54 years between winning Cups (1940-1994). Currently the Toronto Maple Leafs are in a 47 year drought, soon to be 48, last winning a Stanley Cup in 1967.