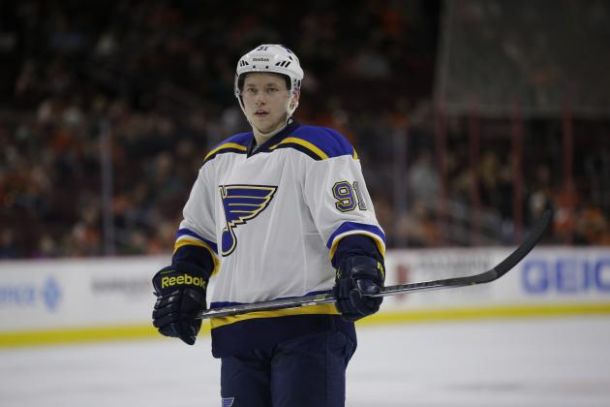 Last season, the St Louis Blues had big expectations of being a Stanley Cup contending team. They did make the playoffs only to lose in round one to the Minnesota Wild. One bright spot for Blues was a break out star Vladimir Tarasenko, who was a big part of the offense last season. He has been rewarded for his success in 2014-15 as the team and Tarasenko agreed on a contract extension eight year deal worth 60 million dollars with a cap hit of 7.5 million.
Tarasenko scored 37 goals, recorded 36 assists, with a plus-minus of plus-27 in 77 games played. Tarasenko proved last season that he has potential to become one of the best goal scorers in the league. At only 23 years old, there is no stopping him from getting better and the Blues will be looking to build around their Russian star.
There are a lot to love about Tarasenko, he has an amazing shot, he is a great passer, he is also pretty good defensively, and his plus minus in the twenties means that opponents do not score as often while he is on the ice. He is a 1st line goal scorer who can give you 30 plus goals a season. If he continues from his breakout season last season, the Blues have another solid scoring threat for many years to come.
St Louis is doing a smart thing by locking up Tarasenko, he is most definitely someone you want to build your team around. He is getting paid a lot but with the production he has been putting up, it will be worth it. Put him on the first line and he will be producing big numbers alongside David Backes. Now with T.J Oshie being traded, Tarasenko is legitimately the number one winger in St. Louis.
There are now big expectation on Tarasenko with him getting paid like an elite player, he will have to preform like one as well. He will need to keep up with at least the 30 goal number from last year while pushing for 90 to 100 points. If he can produce those big numbers, he will be looking to cash in for an even bigger deal when this one ends at age 31.