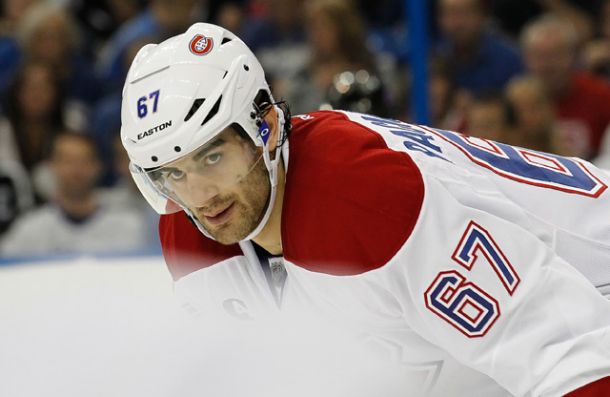 Regular season is just a couple of months away and players are getting in shape in time for training camp. Sometimes we see players get injured during the offseason that is what happened to Montreal Canadians forward Max Pacioretty. The team announced today that Pacioretty has suffered a knee injury during off ice training in Florida; he is expected to be out 12 weeks and but could be ready for the start of the season for the Canadians.
Last season for Montreal Pacioretty scored 37 goals, 30 assist, with a plus minus of plus 38, in 80 games played. He was the star of the offense he was a big reason why Montreal made it to the playoffs, with a top 2 seed in the eastern conference. He is most likely the franchise player for Montreal on offense, with the numbers that he puts up every season.
There are a lot to like about Pacioretty he is one of the best pure snippers in the league, he has a great shot, he is a fast skater, he can also play defense seeing from his plus minus being over thirty. He is someone that you can build your offense around. He is a 30 goal scorer every season; put him on the first line then he will produce big numbers for the team.
This is a big blow for Montreal they will be missing a big part of the offense in Pacioretty, for most likely the start of the season. Pacioretty will have awhile to rehab from the injury since the regular season does not start till October. But even having him not on the ice during training camp and getting some ice time in the preseason is a big loss for Montreal.
In Pacioretty's absence, players like Brendan Gallagher and Alex Galchenyuk has to pick up the slack left by Pacioretty injury. This will probably not be a problem since those two are already big time playmakers for Montreal. But they will have to step it up the locker room and become leaders, until Pacioretty comes back and is 100 percent healthy.