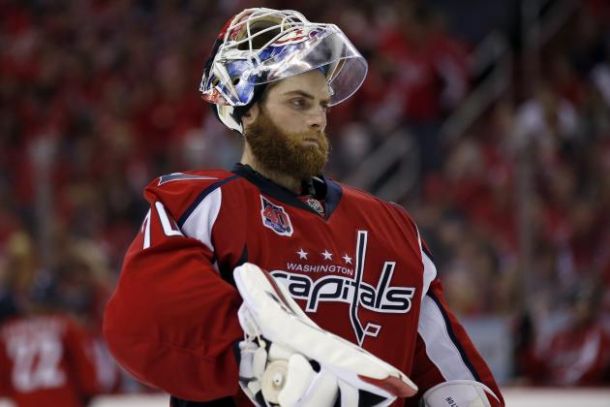 After some debate, Braden Holtby finally signed a new deal with the Washington Capitals, signing a five-year deal worth $30.5 million. He was a restricted free agent there were rumors that they were not going to get a deal done.
Holtby, 25, had a breakthrough season last year and had career high's in wins (41), shutouts (nine), goal-against average (2.22), save percentage (.973), and games played (73).
He was a big part of the Washington Capitals success last season, as they made the playoffs once again. Despite being eliminated by the New York Rangers in the postseason, Holtby was great as he put up a superb goal-against average of 1.71 and a save percentage of .944.
Braden Holtby is an underrated goalie, who has potential to become an elite goalie. As a fourth-round pick, Holtby has had to prove himself.
"With last year it was trying to prove yourself for a contract. This year, you're trying to prove the contract you got. Obviously, it's going to be a new set of challenges. The low points of seasons are going to be a little harder to get through because of the added pressure," Holtby said.
This deal came a day after an arbitration hearing in Toronto. The Capitals and Holtby were on different terms on salary numbers. Holtby and his representatives wanted $8 million and Washington was offering $5.1 million. Luckily for them, the two sides came to a long-term agreement and avoided a decision that would've been made on Saturday.
Now that Holtby is locked up long-term, he has to continue to proof his worth, something he's done his entire career. The Capitals have had the talent to contend for a Stanley Cup but continue to fall short. With an excellent goalie in place for years to come, the Capitals have a nice window of opportunity as they continue that chase for the Stanley Cup.