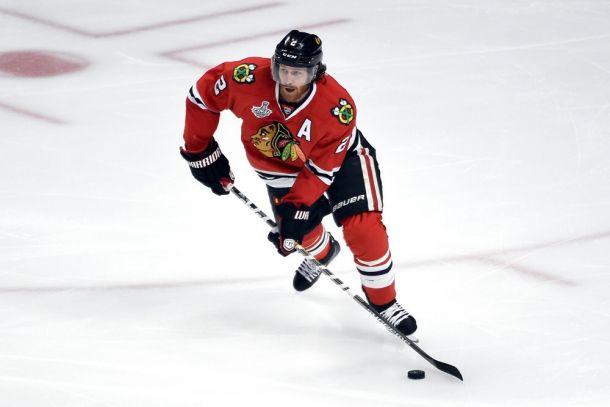 The Chicago Blackhawks have won three Stanley Cups in six years. That's a feat for any team, especially in the new Salary Cap Era where every player is replaceable by a cheaper younger version. Duncan Keith isn't replaceable, at least not anytime soon but the Blackhawks will have find a way to deal with out him.
Keith will be on the sideline for at least four weeks while he recovers from surgery on a meniscus tear in his right knee. An extended absence isn't going to ruin the Blackhawks season, but it won't make it any easier after a short summer after a grueling playoffs. At a long term guess, Keith could be out for six weeks, if so, that's 18 games without the undisputed number one defenseman on the roster. Now in his 11th season, Keith has miss a total of 20 games throughout those seasons.
It's not going to be easy to fill the void left by Keith's absence, and no one expects anyone in Chicago to be able to do what he does on a night in, night out basis. The blue-line is pretty shallow in Chicago, they're going to need everyone to step up and try their best to be a stop-gap for the time being. Guys like newly acquired Trevor Daley, and the youngster Trevor van Reimsdyk are going to have to find another gear in the coming weeks. With guys like Brent Seabrook and Niklas Hjarlmarsson in the lineup, and already taking a good portion of the weight, they should be able to find a way through these turbulent waters.
The estimated time Keith will be out of the lineup means Chicago could put him on the IR, giving them leniency in going over the salary cap to look outside the organization in finding a band-aid fix. Guys like Lubomir Visnovsky and Jan Hejda were with the team in training camp on a tryout basis and could be a decent fit for now.
Duncan was averaging 24:21 of ice time in six games before going down with the injury, he collected two assists in those games as well.