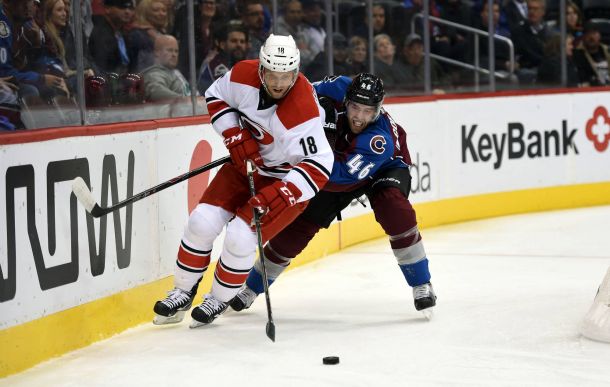 There wasn't much scoring in tonight's game in Denver. The Colorado Avalanche hosted the Carolina Hurricanes with the hopes of gaining some momentum on their short homestand before hitting the road. Unfortunately for the Avalanche, this didn't happen.
The game was scoreless through regulation, but that's not because there wasn't a fair share of powerplays. There were nine minor penalties in the game, meaning there were plenty of powerplays to go around. Cam Ward and Semyon Varlamov kept everything out of their respective goals. Both were good for their teams tonight and both were one of the three stars of the game. Ward (26 saves) was the first star since he was the victor and Varlamov (18 saves) would receive the second star. There were some chances throughout the game, but it didn't get too excited until the overtime period.
This was the first time either team had been in the new three-on-three overtime format so it was bound to be exciting. Three-on-three really opens up the ice and creates scoring chances left and right.
The Avalanche opened up overtime with a great chance for Jarome Iginla off of a nice pass from Matt Duchene. Iginla had a breakaway against Ward, but wasn't able to get the puck to cross the goal line. It nearly trickled in.
Duchene would have liked to pick up the assist here because he has been struggling to get points so far this season. In six games played, Duchene has only one point and is a minus five. That's not much to show for perhaps the best player on the Avalanche and Olympic gold medal winner from 2014.
It makes sense that the Avalanche miss a breakaway attempt and the Hurricanes end the game on a breakaway goal. Victor Rask received the puck from Ryan Murphy in the neutral zone and took it into the Avalanche zone, beating his defenseman and finishing the play on his backhand to end the game.
Varlamov couldn't do much about this one and it was an overall great performance by him. There has been some goalie controversy early on in the season for the Avalanche, so it's good to see Varlamov showing he's still the number one guy.
This was the first time the Hurricanes defeated the Avalanche in Denver since February 16th, 1996. Back then they were called the Hartford Whalers.
Next on the schedule for the Hurricanes are the Los Angeles Kings (2-3, four points) in Los Angeles, and the Avalanche host the Columbus Blue Jackets (0-7, zero points) on Saturday night before heading out on their roadtrip. The Avalanche and Blue Jackets could be a fun one with two hot head coaches in Patrick Roy and the newly hired John Tortorella going at it for the first time this year.