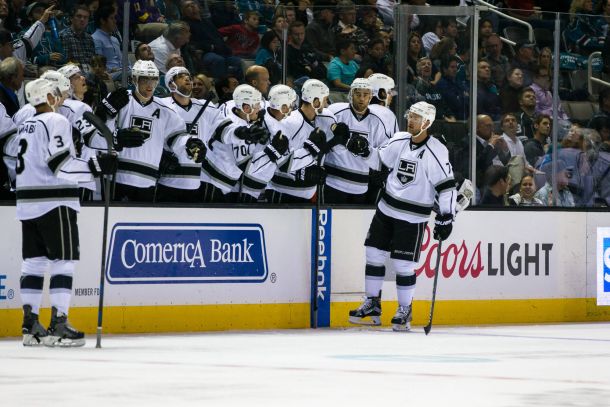 The last meeting between these teams saw the San Jose Sharks dominate the Los Angeles Kings and skate to a 5-1 victory. It was a different story tonight as the Sharks were at the losing end, and the Kings leave San Jose with a 4-1 victory to feel good about.
Jeff Carter was the star of the night. He was in on every one of the Kings' goals, adding four points to his season point total. Carter often gets overlooked on a team that features Anze Kopitar, Drew Doughty, Jonathan Quick, and Marion Gaborik, but he is one of the best players in the NHL. He's got one of the quickest shot releases in the game and a knack for scoring.
Tyler Toffoli opened up the scoring for the Kings midway through the first period with a nifty move around Sharks' goalie, Martin Jones. In the last minute of the first, Milan Lucic scored his first goal as a King with a deflection on the power play, leaving San Jose in a 2-0 hole at the end of the first. Carter had secondary assists on both goals.
About three minutes into the second period, the Sharks caught a bad break in the offensive zone, leading to an odd-man rush led by Carter. Carter showed how his release was one of the best in the game by beating Jones five-hole. After this goal, the Sharks seemed to be out of the game and never really put up a good effort to get back in the game.
Joel Ward did finish a nice pass from Joe Pavelski later in the second period to get the Sharks their lone goal, but it didn't do much.
Halfway through the third period, Mike Brown was sent to the box for interference. This gave L.A. another power play, and it took them three seconds to capitalize. Carter scored again off of a fluke bounce from behind the goal that somehow ended up going off Jones and into the goal. That was all she wrote for any chance the Sharks had at coming back in the game.
The Sharks were without Paul Martin and Logan Couture again, but there's no excuse for the lack of effort they displayed. Joe Thornton was shaken up in the first period, and it looked as if the Sharks' injury situation was about to get even more disastrous. Luckily, after taking some time in the locker room, Thornton was able to come back and finish the game.
The Sharks take on the Carolina Hurricanes on Saturday night after the Hurricanes face the Kings on Friday night. Both the Sharks and Kings will be looking to scrape a win from the weaker Hurricanes.