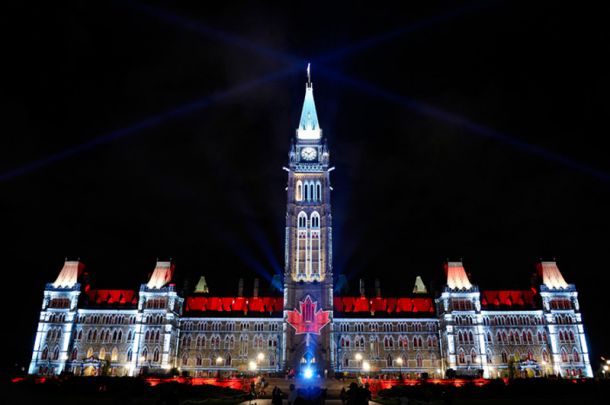 The trend of outdoor games, from Heritage Classics to Stadium Series, have flooded the NHL. Its become a saturated market and the luster has worn thin. The NHL scaled back on its outdoor games this year in an attempt to bring the novelty back. Well Ottawa Senators GM Eugene Melnyk has a better idea. He's not just pushing for a Heritage Classic game in Ottawa, he is actively pursuing to put a temporary stadium up on the southern banks of Parliament Hill in 2017. What a sight that would be. The Centennial Flame flickering in the background, Parliament Hill lit up, as the players skate up and down the ice, battling until the bitter end. The atmosphere would be pure magic.
For what started as a dream, has started to materialize and become a real possibility. Melnyk has been in talks with Evenko, a Montreal based company owned by Geoff Molson, the owner of the Montreal Canadiens. Evenko put up a 80,000 person "pop-up" stadium for the band U2 in 2011 on the empty Blue Bonnets Raceway in Montreal. The event brought in more than 160,000 fans and garnered positive reviews.
They have the support of the federal government thus far, although they would be looking at a lesser set-up than the mammoth event the NHL is used to holding. For the NHL to have the event bring in sufficient revenue and be financially viable, they would need a figure close to 30,000 and 40,000 people. With the support of the millions of Canadians at home watching, and everyone else who tunes in around the world, it could be very profitable.
If an agreement is reached with Evenko being contracted to do the job, it seems like the Montreal Canadians would be a reasonable assumption to play against the Ottawa Senators, seeing as the first ever NHL game was also played outdoors and the participating teams were, you guessed it, Ottawa and Montreal back on December 19th 1917.