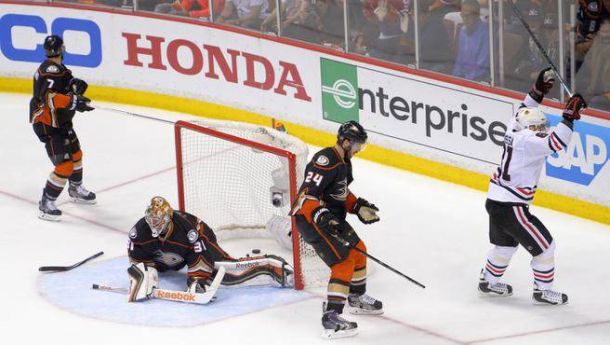 These Ducks, aren't so mighty. For a team praised for smart contracts and being dominant on a budget, they sure have fallen from grace. The 2015-16 Anaheim Ducks seem to have forgot to swim. On paper they look to have improved, adding to what wasn't a stellar blue line the likes of Kevin Bieksa. He added something they didn't have a lot of on the back end, grit. Bieksa makes you work to get around him and can be one of the most punishing blue-liners in the game right now. The Ducks have weapons upfront in Corey Perry and Ryan Getzlaf. These two are praised for being one of the highest scoring pairs in the NHL. In eight games, they have combined for one assist each. The Dallas Stars goalie, Antti Niemi , has the same amount of points in five games. No one on the team has scored twice, or has more than two points. They have already been shutout more in eight games this year (5), than they did in all 82 games last year(4).
Despite a great performance last night against the defending Stanley Cup champions, taking them into overtime tied at zero, the Ducks may just have to part ways with coach Bruce Boudreau. If things don't turn around soon the hole will be too big to dig out of. A prime example is what happened with the Columbus Blue Jackets, they already changed coaches to try and shake up the roster. Their turn around hasn't been immediate but they finally won their first game of the season with new coach John Tortorella behind the bench after going 0-8-0 to start the season.
In the midst of this scoring drought, Fredrik Andersen has been standing on his head, posting a GAA of 1.71 and a .940 save percentage but nothing in the win column. On the opposite end of the spectrum Cam Fowler, the Ducks stud defenseman, is posting a -9 +/- with 1 assist. They need more from their top players, they have to perform for the team to have success. If in fact Boudreau is on the hot seat, how much longer will management let this go on before they make a trade or look for a new coach to take his spot. This team is too good to struggle this bad. Their schedule isn't doing them any favours either. They play guest to the high scoring Dallas Stars tonight, then off to Scottsdale Trade Center to play the St. Louis Blues. After that road trip they come home and host the, Nashville Predators, Florida Panthers, and the Columbus Blue Jackets.
To get this season turned around they are going to have to do the little things well. Go hard after loose pucks, chip it behind the others teams defenseman and force them to work it out of the zone. The Ducks are a big physical team and need to use that size to their advantage. They are going to have to take some chances offensively to try and get their scorers going. Fowler and Bieksa among others are going to have to lock it down in their own zone, play smart, simple hockey.
A lot of times when you get in lulls like this you try and think to hard, grip your stick to tight. Corey Perry has had tons of chances, the pieces just aren't falling right now. If he keeps getting these chances the puck will go in, he's a natural goal scorer. Tonight might be the night it all comes together, Dallas is a team that their skills could match up in their favour. The Stars defense is smaller, and plays a puck moving brand of offense. They work best off the rush and if Anaheim gets into the corners and leans on the Stars defense, it could force them into turn overs, or bad passes.
This season has been full of surprises so far and with under ten games in, there will be many more twists and turns to come.