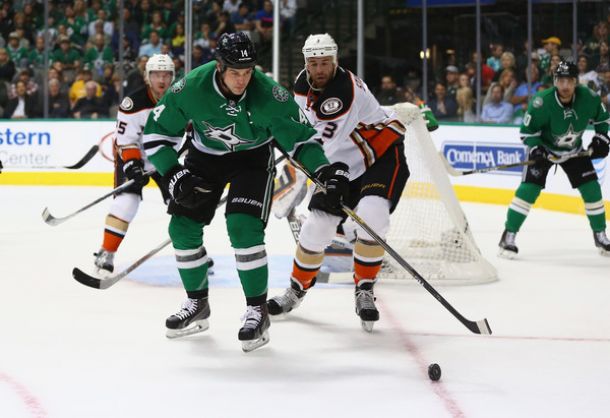 Coming off a hard fought 1-0 loss in overtime last night, the Anaheim Ducks survived an early push by the Dallas Stars to then fire three goals past Antti Niemi in a span of 4:26. The scoring got started with just over five minutes left in the first on a Ducks power play when Mike Santorelli fired a wrist shot on net through traffic that bounces of Jordie Benn and past Niemi for his second goal of the season. Shortly after that, former Dallas Star Shawn Horcoff finished a nice passing play started by a Johnny Oduya turnover for his first goal on the year. Just 14 seconds later, off of another Stars turnover, Carl Hagelin scored his first of the year as well.
Sloppy play killed the Dallas Stars in the first but they came out roaring in the second. Outshooting the Ducks 11-9 and it was the captain Jamie Benn doing what he does best. 7:30 into the second Jamie gets a pass from Jason Spezza below the circle and feeds the snake bitten Patrick Sharp in the slot who slaps the puck past Fredrik Andersen to cut the lead down to two. That is when the crowd came alive. Stars applied steady pressure until Sharp got call for tripping at 14:30 of the period. Roughly a minute into the penalty kill Jamie Benn and Cody Eakin enter the zone with Eakin scoring on a wrist shot that fooled Andersen.
With the lead cut down to one, neither team wanted to make a mistake. Dallas knew they needed to tie and wanted to make that happen before intermission. Que the captain. Benn and Tyler Seguin traded passes and Seguin sent a pinching John Klingberg a cross ice feed for a tap in with just under three minutes left.
The third period was all Stars. They outshot Anaheim 17-2 in the period. 11 of those shots within the first 10 minutes. Despite all the pressure and the barrage of shots they couldn't solve Andersen. Vernon Fiddler had a partial breakaway he couldn't bury, Sharp had a couple good opportunities in tight. Seguin had two slap shot one timer chances on a power play but didn't get it by the goalie. Clock winding down and back to back overtime looming for the Ducks, Fiddler races down the ice, puts a shot on net that rebounds to Antoine Roussel who chips it over the goalie with 1:28 remaining in the game. That would end as the game winner with Jamie Benn putting up three assists on the night, and the Ducks dropping another game. Held to just one win on the year, they fall to another Western Conference team. Anaheim's captain Ryan Getzlaf didn't play, he was in hospital for an appendectomy.