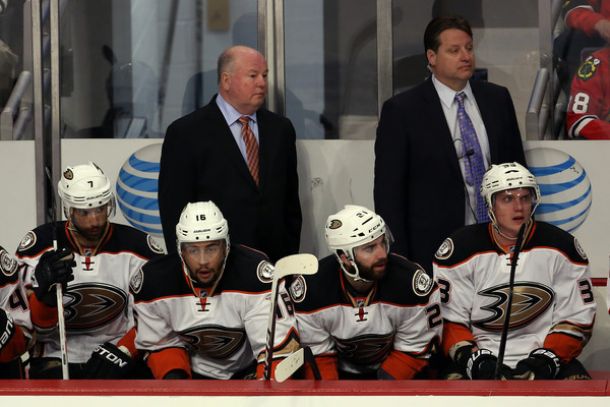 While its not easy making a coaching change in the middle of a season, you need to know when to hold 'em and when to run. The Columbus Blue Jackets making the first coaching change just seven games into the season. That change has sparked some change for them having them go 2-1-0 in their next three games with new coach John Tortorella. There are a lot of teams struggling so far that weren't expected to. Probably the worst case being the Anaheim Ducks.
Coming into the season many people had them winning the Western Conference, right now, they're just trying to score goals. This has many speculating the job security of head coach, Bruce Boudreau. His team is currently sitting tied for last in the NHL and souly at the bottom of the Western Conference. They have only one win in their first 10 games of the year. If they can't find a way to put the puck behind goalies, its going to be a short season for Mr. Boudreau.
Another coach whose job could be getting handed to someone else is Pittsburgh Penguins bench boss, Mike Johnston. With such a high powered offense and the addition of sniper Phil Kessel they were expected to do some damage this year. With the third cheapest blue line in the NHL, and a middle of the road goalie in Marc-Andre Fleury, they have floundered. Fleury has stepped up this year and held his team in at times but if your top guns aren't scoring, it doesn't matter. Ask Carey Price about last year.
Johnston plays a more defensive, structured type of game that this writer doesnt feel meshes very well with how the team is built. Phil Kessel is not a defensive asset. The Penguins were at their best when the defense was sound, the goalie was good...enough, and the offense could free wheel and have freedom. Sidney Crosby plays the game two steps ahead of most and loves the freedom to do so. In this current system, he doesn't have such luxuries and both him and Kessel's point totals have suffered.
While year is still young and teams don't want to overreact, its hard to stand by and watch your team sink to the bottom of the standings, or seeing your top players not produce. The Calgary Flames weren't going to have the same season as a year ago, they overachieved. That is great, but now the expectations have grown and fans are wondering what's wrong.
They went out and grabbed defenseman Dougie Hamilton in a trade with the Boston Bruins in the offseason. That bolstered their already solid blue line into one of the best in the league. It's just to bad they haven't been playing like it. A coaching change isn't needed in Calgary but maybe just a bit of patience. Hold onto some players, let their stock grow and then deal from a point of strength for a roster shake up if you need it. They have blue line depth, and every other team needs it. That's where they will deal from, there is no need to panic in Calgary.