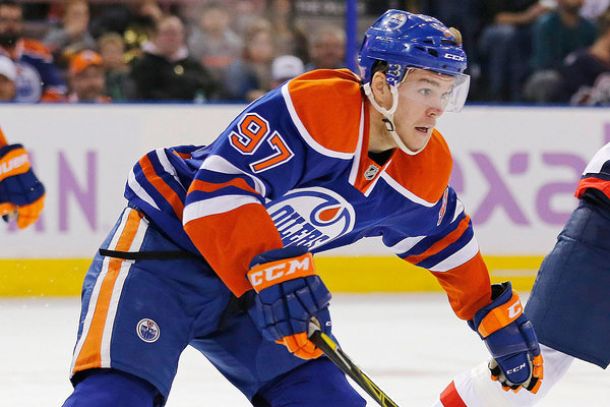 Connor McDavid, who was just recently named Rookie of the Month for October, is out with a shoulder injury long-term according to Edmonton Oilers' bench boss, Todd McLellan. In today's game against the Philadelphia Flyers, McDavid awkwardly slammed into the end boards with all the impact appearing to be on his left shoulder. The Oilers went on to win 4-2, but they surely felt like it was a loss with the injury to McDavid.
There is no greater loss for the Oilers than McDavid, and if McLellan is saying it's long-term then that's probably at least 2-3 months minimum. This pretty much zaps all hope out of the Oilers and their fans, but it may not be as drastic as the media surely will make it out to be.
Yes, McDavid is their future and the best young player in hockey, but the Oilers do have other young players that can step up during his absence and should be expecting Jordan Eberle back in the lineup soon. The key younger player that could fill McDavid's role while he's out is Leon Draisaitl. He's had seven points in the three games he's played this season. Last season, he had nine points in 37 games and looked out of place in the NHL. After a little seasoning in the AHL, he's looking like the player the Oilers thought they drafted with the third overall pick in the 2014 Entry Draft. If Draisaitl keeps up half of this production, then the Oilers will be in good shape.
Once McDavid comes back from his injury they will be that much more deadly in the offensive zone and will have an even more seasoned Draisaitl. Scoring has never been the major issue of the Oilers anyways and this writer doesn't expect it to be this season either. Defense and goaltending have always been their downfall so it will be interesting to see what the loss of McDavid actually does to the team.
The lack of McDavid on the ice is a bigger loss to the entire hockey world, versus just the Oilers, because he has brought so much excitement to the game that hasn't been seen since Sidney Crosby joined the league in 2005. Get well soon, Connor, and the hockey world hopes you have a speedy recovery and are back turning heads in no time.