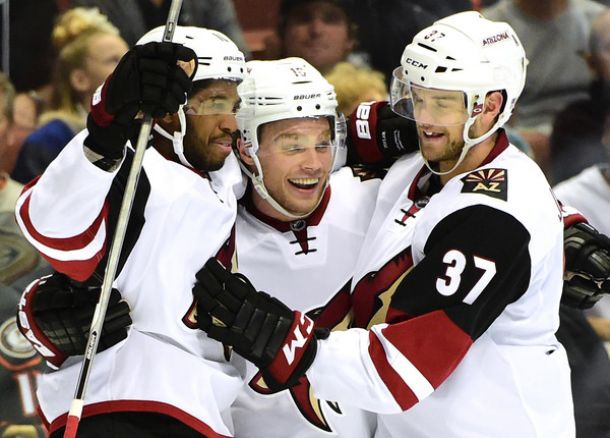 The Anaheim Ducks had their four-game winning streak snapped tonight with an overtime loss to the Arizona Coyotes. The Ducks are not where everyone thought they would be in the standings at this point of the season. They were projected to be in first place for practically the whole season and win the Pacific Division. It remains to be seen if they can get back to those standards.
Anaheim had the first two goals of this game, though. In the first period Chris Stewart had a power play goal that was only separated by about a minute from Ryan Kesler's first goal of the season. That's a huge monkey off the back for the former 41-goal scorer who has only five points now in 15 games. Stewart's goal was his fourth of the season.
A sloppy second period by the Ducks led to three unanswered goals by the Coyotes. The dynamic rookie duo of Anthony Duclair and Max Domi had all three goals. Duclair's goal was on the power play less than three minutes into the period. Domi's pair came towards the end of the period with his second coming in the last eight seconds of the period to grab the lead for the Coyotes.
Sami Vatanen tied the game up for the Ducks midway through the third period. This would conclude all the scoring in regulation time. The game went to the newly structured, and increasingly popular, 3-on-3 overtime.
It was only fitting that the game ended on a sloppy play by the Ducks' captain, Ryan Getzlaf, as a turnover led to Mikkel Boedker ending the game on a breakaway. It's not a good sign for the Ducks when their leader gives the game away like that. Getzlaf finished with the game with no points and was a minus two. Corey Perry had identical stats for the Ducks.
The Coyotes slide into third place in the Pacific while the Ducks keep their fifth place spot. The San Jose Sharks occupy the fourth place spot in between the Coyotes and Ducks.
The Coyotes get back to work against the Los Angeles Kings tomorrow night at Staples Center. They'll be looking to sweep the Southern California rivals. The Ducks take on the Connor McDavid-less Edmonton Oilers at home on Thursday night. A win against the inferior Oilers will be essential in proving they are the hyped up team that they were in the offseason. A turnaround by the Ducks will have to involve increased production from Getzlaf and Perry.
Getzlaf has no goals and only five assists to go with a minus five. Perry has only two goals and six assists to go with his minus five rating as well. Their team will go as far as they are willing to take them and currently they are taking them into the ground.