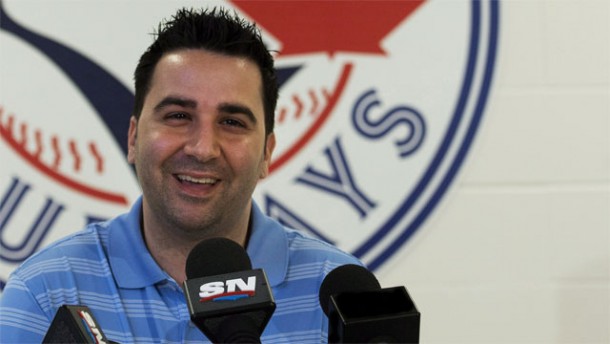 The Arizona Coyotes are said to be looking to bring aboard former GM of the Toronto Blue Jays, Alex Anthopoulos, according to a report from Steve Simmons of the Toronto Sun.
The original report was first brought up on Sunday night as speculation had quickly risen regarding his status for the future.
It is said that at least two sources have confirmed that the club has reached out to Anthopoulos, as they are reported to be showing little interest at the time.
The news comes with the hopes of which he would consider a senior position or a consulting position in Arizona.
As noted by Simmons, the first call was made immediately following his exit from the city of Toronto after both sides agreed to part ways once Anthopoulos rejected a five-year contract extension offer.
Anthopoulos has never been involved in any level of hockey previously, however, he does know the team's assistant GM John Chayka.
The call to Anthopoulos was one of the first of many he has received inquiring about his future after choosing to walk away from the Jays. Anthopoulos has heard lots from several sporting teams and media outlets concerning his future plans.
As many are waiting for an answer, he is not set to give one until late December or early January as he is unsure if he is interested in taking up the opportunity.
Once the Blue Jays made the news surrounding Anthopoulos official, he told the Toronto Star, "I just didn't feel like this was a right fit for me going forward."
The news occurred less than a week after the American League East champions were eliminated from postseason play, as well as the arrival of new president Mark Shapiro who was hired on the 31st of August.
Details as to what exactly took place ahead of the big news were not released immediately and as of now there currently isn't much new information, however, the split is not thought to be due to financial terms.
The two sides are said to have started discussing the matter surrounding a potential contract extension after having fallen to the Kansas City Royals in the American League Championship Series.
During Toronto's season-ending news conference, Anthopoulos said that it was his decision not to negotiate during the playoffs. He also added, "All I can say is I love being here, I love Toronto, I've always maintained that, and that's probably as far as I'd go with that."
Anthopoulos had been a key part of the organization from the start, after Pat Gillick picked him to take his place as he made a strong effort to turn this team into a contender after 22 loosing seasons dating back to 1993, which was the club's last playoff appearance.
During the five years in which Anthopoulos spent in Toronto, the Blue Jays held a record of 489-483.
Key acquisitions made by Anthopoulos during his tenure include those of third baseman Josh Donaldson, alongside the 2012 blockbuster with the Miami Marlins which brought right-handed pitcher Josh Johnson, shortstop Jose Reyes and left-handed pitcher Mark Buehrle, as well as knuckle ball right-hander R.A. Dickey with two catchers in Josh Thole and Mike Nickeas from the New York Mets.
The latest ones to date would be when Troy Tulowitzki and David Price were traded from their respective teams in the Colorado Rockies and Detroit Tigers, which sent right-handed pitcher Jeff Hoffman and prospects to Denver and left-handed pitcher Daniel Norris to the Motor City.