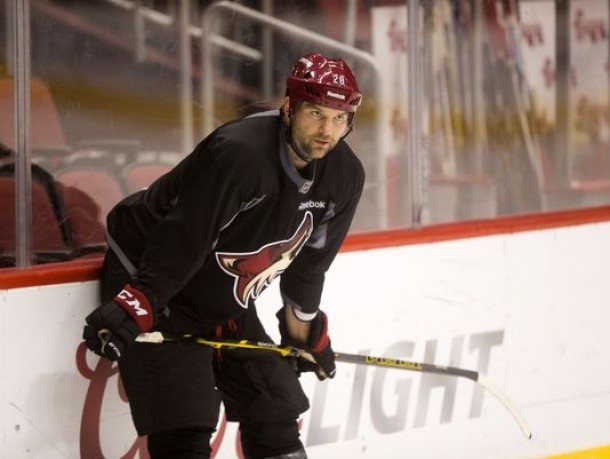 When people think of an All-Star fan vote for a sport, they usually think of the players that bring the most excitement to their teams and cities. Usually, this excitement comes from dominating their respective sports. NHL fans have taken a different route this season and through the first few days of the All-Star vote being open, the leader is the notorious face-puncher from the Arizona Coyotes, John Scott. Scott has one assist and 18 penalty minutes in six games played so far this season. The most ice time he's had in one game this season was 8:11 minutes and the least in one game was 3:42 minutes.
The All-Star game received a new format this season with a 3-on-3 tournament between each division. The only thing that the league has left the same for this year's All-Star festivities is the fan vote. Each ballot has four player selections, one per division. The top vote-getter from each division will be the captain of their respective division's 3-on-3 team during All-Star weekend.
NHL fans are used to seeing the likes of Sidney Crosby, Carey Price, Patrick Kane, and Alex Ovechkin occupy the top spots on the voting leaderboard, but this year is different. Fans have been complaining about how pointless and irrelevant the All-Star game is for years now, and it seems that in an attempt to boycott All-Star weekend fans are voting John Scott into the All-Star tournament.
When the NHL came up with the idea of a 3-on-3 All-Star tournament, they were hoping that it would be fast paced and entertaining hockey from start to finish. With John Scott playing they will certainly get some entertainment, but will be lacking that fast pace that they long for. It will be interesting to see if Scott keeps pace and stays at the top of the leaderboard, but there could be a chance that the league makes some rule up that inhibits Scott from participating. There could potentially be a mandatory eight minutes per game average minimum for all players participating in the All-Star festivities. Scott certainly would not meet that requirement.
Scott seems to have started a trend when it comes to undeserving players climbing the All-Star voting leaderboard. Rob Scuderi of the Pittsburgh Penguins has been climbing substantially up the leaderboard in the last day. Currently, he is 37th and sitting right behind Colorado Avalanche forward, Nathan MacKinnon.