Carey Price has been praised for his performance. Over the past couple years there isn't a headline out there about a goalie without Carey Price being the focus. Rightfully so, as he's broken records and put up monster numbers. His team's success last season heavily relied on how he played. Taking home multiple trophies at the awards show this past year directly relates to that. But behind all of that, there is another goalie who is also doing things for his franchise that shouldn't be overlooked.
Braden Holtby has been a huge part of the Washington Capitals' success over the past few years, but even more so this season. His numbers have been stellar and his on-ice performances have been highlight-worthy. There are not many goalies playing on his level right now, and the fact his team is sitting just four points out of first place in the league, behind the Montreal Canadiens and Dallas Stars, shows that the Capitals are not to be taken lightly.
Over the past five years, Carey Price, Pekka Rinne, and Henrik Lundqvist have been praised as the best goalies in the world. Let's take the goals against average (GAA) for five goalies and put them in a graph. Collected data is from 2010-11 to 2015-16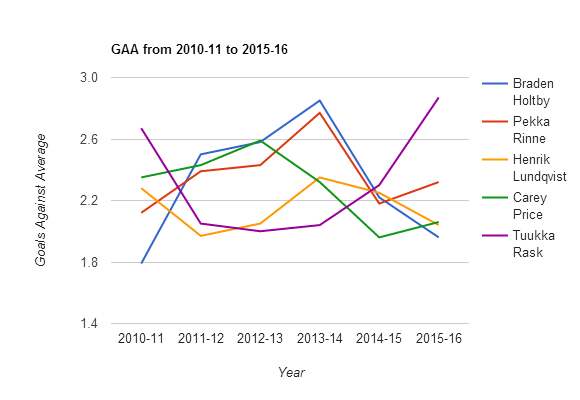 If you look at the blue line, you can see that Braden Holtby has numbers comparable to Pekka Rinne and actually had seasons better than Price, Lundqvist, Rinne, and Tuukka Rask. Let's look at the save percentage (Sv%) of the same five goalies over the same period of time.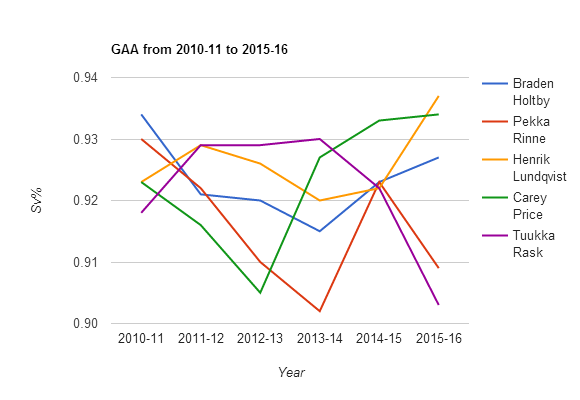 As you can see from the graph, Holtby has been fairly consistent around the 92% mark. The margin between these goalies is small, but it just goes to show Holtby has stood his ground and played very closely to the league's best since his injection into the spot light.
The 26-year-old is also the youngest goalie in this group, and with Price and Rask both being 28 and first round picks, Holtby has been a wonderful surprise. With a record of 16-4-0 this year, he's really taken the reigns in Washington. With coach Barry Trotz getting to play a more complete game, and with the T.J. Oshie trade, the Capitals are a force. Free agent signings from 2014, Brooks Orpik and Matt Niskanen, have paid dividends as well.
Last season, Holtby broke the Caps' record for consecutive starts by a goalie when he started his 23rd consecutive game in early January. By season's end, he tied more Caps' records in most games played in a season (73), wins in a seasons (41), and shutouts in a season (9). 73 games played was the most in the league last year, proving Braden is a work horse. His nine shutouts were good for second and tied with Carey Price, just one behind Marc-Andre Fleury. His win numbers were also tied for second in the league, just three behind Price, but also starting seven more games. Those numbers are phenomenal and a big reason why he inked a five year $30.5 million contract. He's getting paid elite money, because he's playing elite hockey.
Braden's glove hand is phenomenal and is a big asset to his game. He plays a very confident game, for good reason, and has the size that every goaltender covets. He handles the puck well, helping the defenseman get the puck out of his own zone and up to the forwards. His blocker side is a bit of a flaw, as he gets beat there regularly, and his side-to-side speed could be better. Once he locks down on rebounds and increases his speed in the crease, he'll be almost unbeatable.
Braden Holtby is simply a stud, and the kid will continue be a catalyst in Washington's continued search for the Stanley Cup.