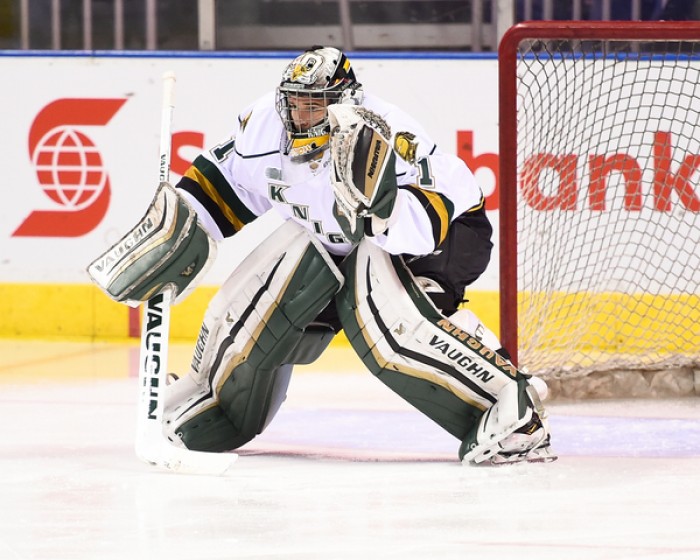 The London Knights have a reputation of producing some of the best talent and most NHL ready prospects in the world. They have an impressive track record and can recruit some of the most sought after free agents on the market.
Tyler Parsons is a prime example. In his second seasons he is slated to be the highest drafted goalie from the OHL in the 2016 NHL Draft. Parsons currently sits fourth in goals-against average at 2.42 and in 26 games he has a 0.917 save percentage.
He secured his first two OHL shutouts this season in back to back games no less. His improved play over last season has given himself and his team a big boost. He has cut his goals against average down by 1.11 goals. His record is sparkling at 20-3-2-1 and he is just getting better as the year rolls on.
On Tuesday afternoon, this writer got a chance to dive into the world of Tyler Parsons for a brief segment. Pre-game routines, off-season training, choice to play in Canada and goalie gear selection were points touched throughout the interview.
The off-season is a huge time for goalies. Their bodies take a beating from bending, twisting and throwing themselves in front of slap shots night in and night out. While rest is needed, staying limber and stretching are key to prevent injury. Groins are a problem area for goalies so keeping it loose is key and pro-active into preventing injury. "Going into a season I do a lot of hip stuff and lower body in general to strengthen it up." Working in some leg exercises and upper-body conditioning also help Parsons get game ready before the season starts.
Game day starts before the drop of the puck or warm-ups. Hours before game-time the preparations start. "I get to the rink and the trainer stretches out my legs, we use the rollers, throw lacrosse balls, use resistance bands for lunges, side shuffles." After loosening up his legs, the team gets on the bikes and take part in a team stretch. All this happens before the gates open and the many fans that make London an exciting place to play pour in to watch their Knights take battle.
Having many options at his disposal, the Chesterfield, Michigan native decided London was his best option. Leaving behind USHL teams and college hockey opportunities, the reputation and vibrancy in the "Forest City" was evident and led Parsons to joining the OHL ranks.
"Once I started talking to London (Knights) it was just a better option for me. I came for a visit and right when I came here I knew this was where I wanted to play because of the atmosphere and it's a great place to play hockey." Parsons said on choosing to play in London, Ontario.
A big part of any goalies game is his equipment. Pads are as personal to goalies as it gets. Everyone wears them different. They like different brands, models and every difference in between, no matter how big or small. Tyler uses Vaughn equipment. A big benefit is having the Vaughn factory nearby in London. "If I have any issues or need anything new I just get in contact with them and they send me something or I go over there and try something on." Sounds like every young goalie's dream.
With the 2016 NHL Entry Draft is getting closer, Tyler is focused on playing the best he can for the London Knights, hoping to take them the distance and win a Memorial Cup. They have a really well put together team and an always steady coaching staff, so it's never out of the question. The 2016 World Junior Championship Invitee has a solid play style. Rarely out of position, tracks the puck well and makes the tough saves look easy. Parsons has taken leaps over last year and is only getting better. His rebound control is improving and he looks poised to take his team on a run this year. With a goalie idol like the Washington Capitals' Braden Holtby to model your game after, you have to like Tyler's chances a glory.