The Toronto Maple Leafs are in their second major slide of the 2015-16 campaign. Scoring just 11 goals in their last 10 games losing nine of them. Many of the Maple Leafs players are feeling the pressure as they fail to put much pressure on opposing teams. "We're making things happen and we're not scoring so that's kind of hard to swallow," said a struggling P.A. Parenteau who has a mere 11 goals this season. Parenteau is only one of the many Leafs struggling to score in this latest drought. He is without a goal in his last 10 games which is his longest as a member of the blue and white.
Toronto has been blanked seven times in 48 games this season, including a 1-0 defeat in their last outing versus the Tampa Bay Lightning. Struggling with puck luck and the loss of their second highest goal scorer James Van Riemsdyk who isn't expected to be back until the end of February missing approximately 17 games. Scoring on less than four percent of their shot attempts, puck luck could be a contributing factor. Similar problems were the root for their October slide when they averaged just two goals a game and lost nine of their first 10 games of the season. They are sending 30.8 shots at the opposing goalie per game which is good for sixth in the league but only scoring 2.29 goals per game which is good for 26th in the NHL.
Slumping Stars
"I think our scoring chances for, we`ve had a lot of them and we don`t finish," said coach Mike Babcock. That trickles down throughout the line up. Leo Komarov, the Leafs leading scorer, has just one goal in his last 18 games. Tyler Bozak is tied for second on the team with 29 points, hasn't scored in 14 games. Daniel Winnik has 18 straight games without a goal and Byron Froese, a Babcock favourite, centering the fourth line has scored just once this season.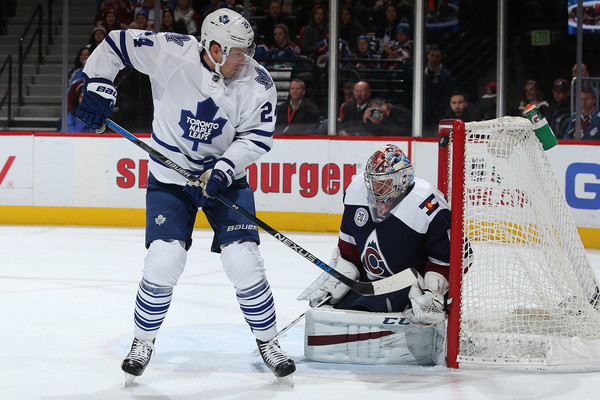 Doug Pensinger/Getty Images North America
Peter Holland, who shares the team lead for power play points, has failed to register a single even strength goal in 18 games.
"I don't think luck has anything to do with it. I think you've got to work harder to get your bounces," Froese said. "Maybe we're not getting enough guys in front of the net. Maybe the goalies are seeing too much."
Before this slide the Leafs were clicking. Scoring at almost a four goal a game pace they went 8-2-2 in the 12 games before this down turn. The lack of fire power has something to do with it. When your big guns are on the shelf injured, or not producing, it takes a toll and puts pressure all the way down the lineup. Debatably their best player, Van Riemsdyk has missed the past 8 games due to injury and still sits second on the team in goals with 14 and points with 29.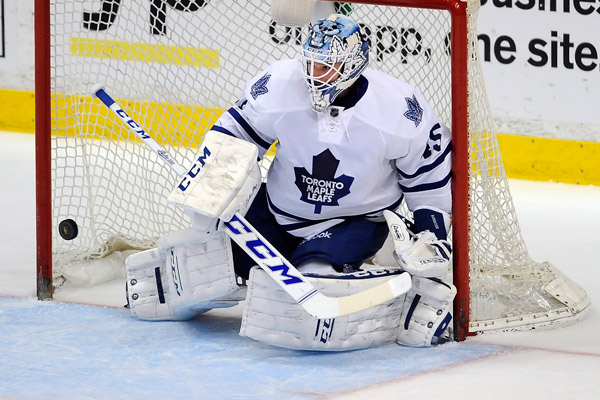 John Cordes/Icon SMI
Leaky Goaltending
The goalies haven't saved the day either. Between Jonathan Bernier and James Riemer, a roller-coaster season of injuries and brutal play have plagued the early season Toronto squad. Riemer has played lights out before injury, since coming back he hasn't been the same. He was leading the league in save percentage but has since fell. Bernier has been rocky at best. Being sent down to the minors for the conditioning.His stint in the minors didn't change much as he got pumped for five goals in his return. Looking to bounce back his season, Bernier put together a solid performance against the Lightning allowing just one goal on 29 shots while Riemer got blown out the night before against the Florida Panthers surrendering 5 goals on 27 shots. The tandem has allowed 18 goals in their last six games before the Tampa Bay game. The Leafs sit 21st in goals against per game with 2.69 goals against per game.
Powerless Power Play
Not only struggling at even strength. Their power play has sputtered to a halt as well. Nine straight games without a single goal and just two goals in their past 49 attempts. Babcock, like Froese, thinks the Leafs could use more bodies in front of the goalie. Limit his vision and try to beat away at some loose pucks. That is the recipe that had success with this squad in November and December.The team sits 29th in the league with the man advantage with a 15.5 percent success rate.
Babcock put the team through the paces and worked on improving some areas after everyone returned from the NHL All-Star break. Getting everyone on the same page and improving certain areas will give the team a boost going into the back half of the season.