 As the 2016 NHL Trade Deadline continues to loom, the Montreal Canadiens have been doing everything they possibly can in order to hold on to some key pieces, though many teams are keeping tabs on several players currently on the active roster.
This being said, the club managed to lock up one of their new additions in forward Paul Byron as he formally agreed to sign a three-year extension on Tuesday evening.
According to a report from Pierre LeBrun of ESPN, the deal is for a total of $3.5M while the 26-year-old is set to earn an AAV of $1.166M per season.
Byron was eligible to become an unrestricted free agent in July, and the club was receiving many calls early on regarding his status. However, GM Marc Bergiven wanted to keep him and see what he can do to help them win in the future.
Montreal claimed Byron off waivers from the Calgary Flames back on October 6 as he was struggling to perform under the management of head coach Bob Hartley.
So far this season, Byron, who is an Ottawa native, has played in 40 games with the Habs while having scored eight goals to go along three assists and a -2 rating. He currently averages 13 minutes and 11 seconds of ice time per game.
As for where he stands with regards to league records, the five-foot-eight 158 pound winger is tied with for second in short-handed points with five.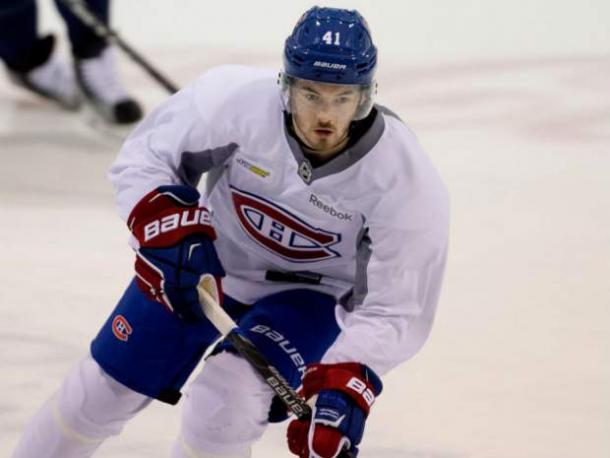 Could Byron become a key piece going forward?
Throughout the course of the month, the Canadiens have told other clubs that there is a list of players who are available for looking at, including Lars Eller, Tom Gilbert, Tomas Fleischmann and Dale Weise. However, Gilbert has been removed since he will miss the season's remainder to recover from left knee surgery.
Given the fact the club has made majority of their players available for trades, Byron could indeed become a star on the ice at Bell Centre as he has impressed with his main feature, that being the speed which is present at all times that can always come to great use.
In a statement from Bergiven discussing bringing back Byron, he said, "A fast-skating and versatile forward, Paul has been an important addition to our team. He can contribute on the offensive side while being responsible defensively. Furthermore, he demonstrates an exemplary attitude and the qualities of a true professional."
Looking at his overall career statistics, Byron has appeared in 178 NHL games in six seasons with the Canadiens, Flames, and Buffalo Sabres. Over that time span, he has collected 59 points while scoring 25 goals to go along 34 assists. He has served a total of 45 penalty minutes and owns a +3 differential.
What's up next for the struggling Habs?
Montreal currently holds a record of 29-27-5 while standing in the sixth place in the Atlantic Division. They head back home to prepare for a Saturday night match against the Toronto Maple Leafs, who hold a record of 20-28-10 while standing in eighth place in the Atlantic Division. Puck drop is scheduled for 7:00 PM ET and is available for viewing on CBC, TVA Sports and CityTV. The game can be heard on 98.5FM and TSN 690.