 The Florida Panthers have acquired Jakub Kindl from the Detroit Red Wings in exchange for a sixth-round pick in the 2017 National Hockey League (NHL) Draft, according to George Richards of the Miami Hearld. The clubs announced the deal just minutes after the initial report.
"Most significantly, it opens up cap space for us going into the off-season," general manager Ken Holland said. "It's a good day for Florida, and it's a good day for Detroit because we created cap space. Jakub needed new scenery. He hasn't been able to be in the lineup consistently enough."
As a matter of fact, the Red Wings will retain 15 percent of Kindl's salary, but they will gain $2.04 million in space for the 2016-17 season. The 29-year-old has one year left on his contract.
The 19th overall pick by the Red Wings in the 2005 NHL Draft has struggled to pan out as a defender, going up-and-down between the American Hockey League (AHL) and the NHL during his career.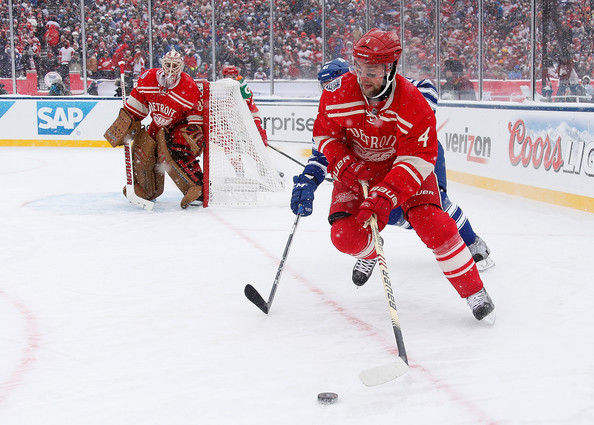 The 29-year-old has recorded six points (two goals, four assists) in 25 games for the Red Wings this season. Kindl has appeared in 273 NHL games and 19 postseason games, which the defenseman has totaled 68 points in the regular season and five points in the postseason. With the Grand Rapids Griffins this season, Kindl has picked up four goals in 10 games.
For the Panthers, the deal for Kindl with the Red Wings is nothing more than defensive depth. He will join Willie Mitchell, Brian Campbell, Aaron Ekblad, Erik Gudbranson, Steven Kampfer, Dmitry Kulikov, Michael Matheson and Alex Petrovic as defensemen in Florida.
"We like the development of our young guys," Holland said. "Where we can, we are going younger. We're happy to have the $2 million in cap space."
The NHL trade deadline is on Monday at 3:00 PM ET. The Red Wings could have a shot at a big time player with a big time impact, but only time will tell in the Motor City.