 The Philadelphia Flyers are fighting for a playoff spot, residing in the eighth and last position tied with the Detroit Red Wings, but with two games in hand.
The Arizona Coyotes are still in the hunt, but only by the slimmest of margins. They trail the Minnesota Wild, who hold the eighth and final playoff spot in the Western Conference by 12 points, with eight games left on the slate.
First Period Highlights
The first period was fairly even with both teams not able to score on power plays they each were awarded. Mike Smith had a spectacular save when a shot by right wing Wayne Simmonds was kept out by a sprawling Smith.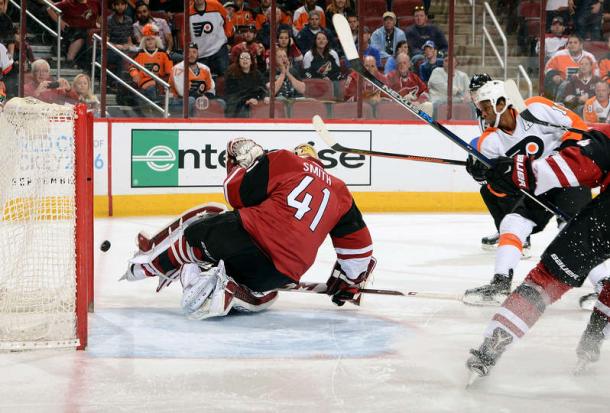 The Coyotes showed the Flyers they can play a physical game by out hitting them 13-4, with Klas Dahlbeck and Sergei Plotnimov each credited with three hits.
Exciting Second Period Ending
For the first 10 minutes of second period, the Flyers were bringing the play to the Coyotes, by outshooting them 10-2.
The Flyers needed a win much more than the Coyotes to stay in contention for a playoff berth. They showed it in this period, but yet could not solve Mike Smith.
Conversely, the Coyotes took advantage of a power play provided by Flyers center Ryan White when Antione Vermette broke in on the left wing blasting a shot on Steve Mason. The puck conveniently rebounded right to Shane Doan's stick, who made no mistake by planting the puck by Mason for his 26th goal this season.
Doan's goal marked the eighth time that he had scored 26 or more goals in a season during his NHL career spanning 20 years.
Shane Doan took a high sticking penalty at 16:20 and when he exited the penalty box he broke in free on Mason, but shot it wide.
Nearing the end of the period, Max Domi and Brandon Manning were battling for position near the left of Flyers' goalie Mason. This seemed to distract Mason for just long enough to allow Coyotes' defenseman Michael Stone to shoot a wrist shot to a practically empty net. He was assisted by Anthony Duclair and Alex Tanguay. The team is 4-0-1 when Tanguay scores a point.
The play was reviewed and the question was if the puck passed the goal line before the period expired. The league office ruled the goal was valid with .5 of a second remaining.
The Coyotes, who were outshot 21-13 through two periods, took a pivotal two-goal lead into the third period, due partly to Mike Smith's exemplary play in between the pipes.
Final Period Action
In the third period, Connor Murphy showed why he is an up-and-coming young defenseman for the Coyotes. He battled to clear any Flyer player out of Mike Smith's crease, and did it with authority.
Nearing the end of the period, at 17:45, a brawl broke out after Martin Hanzal checked the Flyers' top scorer, Claude Giroux, into the boards. Two or three Philadelphia players led by Wayne Simmonds tried to get at Hanzal to retaliate. Simmonds was accessed a 10 minute misconduct, and Hanzal got a game misconduct for his behavior. It wound up being a three minute power play for the Flyers, who also pulled Mason for a 6-on-4 advantage.
At 19:20, the Flyers finally solved Mike Smith who made 35 saves and was named the number one star of the game. Sean Couturier got a shot from the point by the screened Smith to ruin his shutout.
Still, the Arizona Coyotes were fortunate to come away victorious seeing as they were outshot by a two to one margin, 35-17 in the wild game.
Tempers didn't end there. Oliver Ekman-Larsson took exception to Ryan White swinging his stick carelessly near Smith's head, and he let White know that wasn't a good idea. Both players were given 10 minute misconducts.
No Bullies Allowed
In a game in which the Flyers couldn't gain two points for a tough playoff race, the Coyotes had to take this victory as a sign they are turning the corner and playing competitive hockey to end this season.
If they had not lost seven games in a row recently, their fate to secure a playoff spot might have turned out differently.
Saturday they showed they will not be bullied by a team whose specialty is to intimidate their opponents. The Coyotes stood their ground (or ice) to defeat a tough Eastern Conference team, and they did it with solid defense, and exceptional goal-tending.