After a total of just 15 games played, Montreal Canadiens goaltender Ben Scrivens is headed out after having been placed on waivers around noon hour, as according to a club announcement on Wednesday morning.
The news comes as a result of other transactions that took place within the organization which include the activations of Carey Price, Brendan Gallagher, Brian Flynn, Daniel Carr and P.K. Subban who will all join the club as they head to Sunrise where they will take on the Florida Panthers. The St. John's IceCaps have also gained another team member as Montreal also brought aboard top college goaltender Charlie Lindgren on a two-year deal.
Scrivens' time in Montreal
Scrivens was acquired from the Edmonton Oilers back in December as the replacement for Price following his injury which sent Zack Kassian the other way in exchange. At the time, Scrivens was with the club's AHL affiliate in Bakersfield, California.
During the brief stint he had in Montreal, Scrivens appeared in a total of 15 games while having posted a record of 5-8-0 as well as a 3.07 goals-against average and .906 save percentage which are close to his career totals of 2.96, .905.
Looking at his overall career statistics, Scrivens has played in a total of 144 NHL regular-season games to go alongside a 47-64-17 record while marking seven shutouts, however, has never appeared in a playoff match.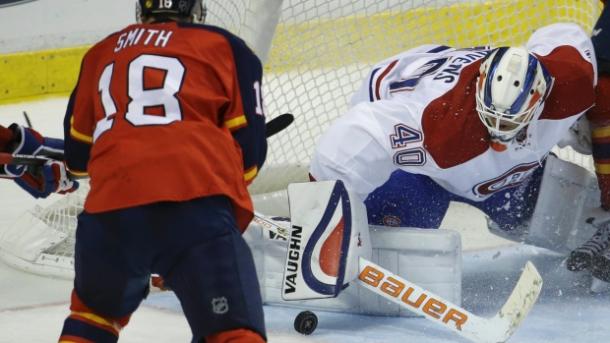 Are other transactions looming as the Habs close out 2016?
Given the substantial amount of players who remain on the IR at this time, the front office is expected to stay as is given the considerable amount of concern there is with certain guys such as David Desharnais who is yet to make his return.
What exactly does that mean?
As his club looks to close out the 2015-16 season on a strong note, captain Max Pacioretty is taking full credit for what wasn't done properly and what needs more work for the future which seems to be the career saver of head coach Michel Therrien.
In the event that things take a turn for the worst with the small amount of time left to play, there is a relatively short list of potential candidates to take over the everyday managerial duties. As a result, former Tampa Bay Lightning head coach Guy Boucher could be brought along if needed which could make for a rather comfortable fit for both sides as a Canadian organization would be bringing in a former coach of team Canada.