 It's time for the NHL Playoffs, and in the Western Conference, the matchup between the #1 seed Dallas Stars and the Wild Card Minnesota Wild is one that on the surface seems like a mismatch, as the Wild are coming into the series on a five game losing streak, while Dallas is cruising in as the top seed. To make things more interesting, the Stars used to play in Minnesota as the North Stars before moving to Dallas.
About The Wild
The Minnesota Wild have struggled this season, as seen earlier in the season when they fired head coach Mike Yeo, who had led the team to multiple playoffs during his short tenure. To make things harder for Minnesota, they will be without Zach Parise and Thomas Vanek for the first two games.
With Parise and Vanek not playing in the first two games, it will put more pressure on goalie Devan Dubnyk, who already was going to have to be at his best during the series. Dubnyk was acquired last season, and was an instant star, as he quickly became the top goalie for the Wild, but his stats this season are not what they were last season.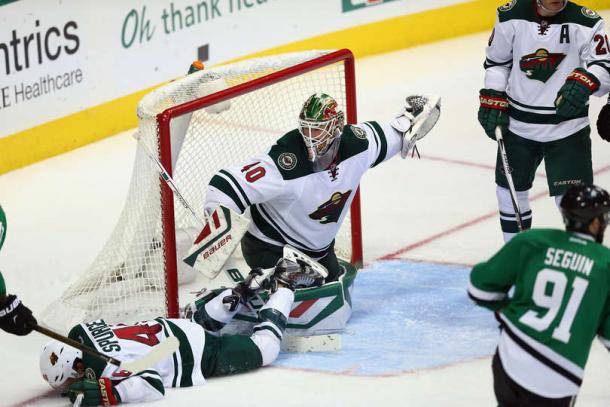 Last season, he went 27-9 with a 1.78 goals against average, while this season he went 32-26 with a 2.33 goals against average. He is going to have to play like the Dubnyk of last season if Minnesota has any chance of advancing to the second round.
About The Stars
Dallas enters the series as the heavy favorites, thanks to not only being the top seed, but because they are the highest scoring team in the conference, add to that the fact that they have killed 63 of 69 penalties, and they are a tough team to beat. The only way the Wild can beat them is if Dallas can't get the right lineups on the ice.
Dallas has an injury to deal with as well, as Tyler Seguin is questionable for the series as he is recovering from a torn Achilles. Seguin did practice on Tuesday, which makes it more likely that he will be available for game one, but is still listed as questionable. Look for a final decision to be made shortly before puck drop.
Matchup
The big matchup in this series is going to be the goaltending. The Wild will most likely be starting Dubnyk, who was their rock last season, while Dallas has not had a consistent goalie throughout the season.
They have split time between Antti Niemi and Kari Lehtonen. Niemi has gotten more playing time, as he has started 43 games with a goals against average of 2.67, but Lehtonen has started his share of games, as in 39 starts he has a goals against average of 2.76. Look for Dallas to start one of them, but head coach Lindy Ruff will be quick to make a change if things start going downhill for Dallas.
Season Head-To-Head
These two teams have played five times this season, with Dallas winning four of the games. The lone Minnesota win was on January 9, when they defeated the Stars 2-1. Dallas has won all three games against Minnesota that have been played in Dallas, while Minnesota went 1-1 in games played in Minnesota.
Prediction
Minnesota is going to do better than a lot of writers are predicting, but Dallas will win out in six games and take the series 4-2.