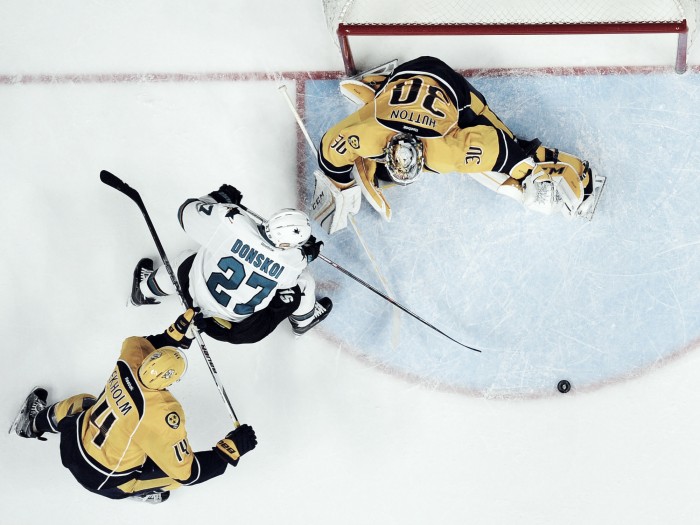 The Nashville Predators defeated the Anaheim Ducks in game seven to force their matchup against the well-rested San Jose Sharks in the Western Conference Semi-Finals. The Sharks enter the series with home-ice advantage after finishing third in the Pacific Division while the Predators earned the first wild-card spot.
San Jose is the lone Pacific team left in the playoffs and are poised as the favorite in this second-round series. There are several key factors that will affect the outcome of this Silicon Valley and Music City Showdown.
Forward depth contributions
The Sharks flat out have the better depth. This is the most depth that a Sharks team has ever had. Everyone expects Joe Thornton and Joe Pavelski to lead the way for the forward group, but even if Shea Weber and Roman Josi can shut them down, there are plenty of other scoring threats down the lineup.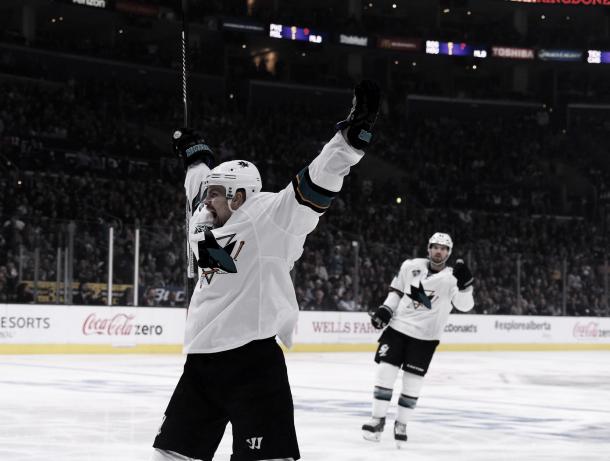 Logan Couture, Patrick Marleau, Joel Ward, and rookie Joonas Donskoi are all going to provide a tough matchup for the Predators. Donskoi is proving to be a huge pickup by Sharks' GM Doug Wilson. Donkey, as his teammates call him, looks like a future top-line winger and really started to turn it on towards the end of the season. If Donskoi gets going, then the Predators will be in trouble.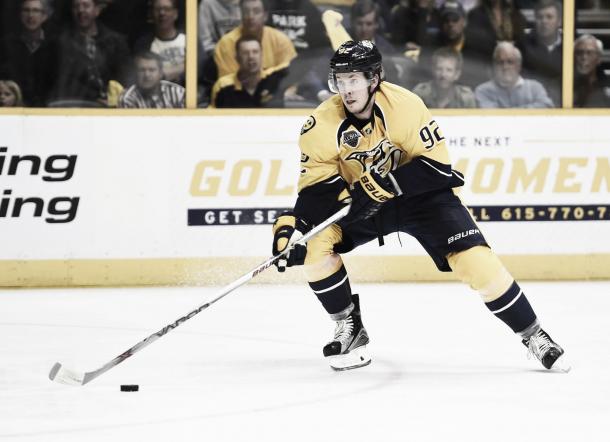 The Predators forward group is not as deep, but they have some high-end talent to boot in Ryan Johansen, Filip Forsberg, and James Neal. This is a team that won't win the series unless their big guys are going. That may prove to be a tough task against the Sharks defense. The Predators, from the Columbus Blue Jackets, acquired Johansen back in January in exchange for defenseman Seth Jones. Johansen is the first-line center that that the Predators have always wanted, and he needs to raise his game if they want to win this series. He's a big-bodied highly skilled player that idolized Thornton when he was growing up. He even wore number 19 in honor of Thornton but was forced to change his number when arriving in Nashville due to Calle Jarnkrok already wearing 19 for the Predators.
The depth comparison is heavily in the Sharks favor, but having players that are capable of playing well isn't always enough. The Sharks will need all of their depth players to play simple mistake-free hockey, and they will be in good shape.
Defense
It's hard to find a better defensive pairing in the NHL than Weber and Josi. They are both great in the defensive zone and offensive zone. They play against the other team's top players every night. Weber brings the physicality that no other defenseman in the league can bring. Sure, he didn't lead the league in hits or anything, but he was in the top 50, and his hits hurt more than others. He's a massive man at 6'4" 236 lbs.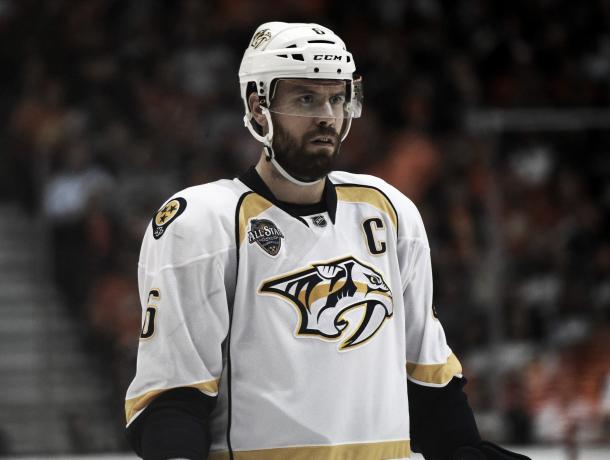 These two will be playing around 25 minutes a night each against the Thornton line. After the top pairing, the Predators have a solid second pairing in Mattias Ekholm and Ryan Ellis. This duo will fair well against the Sharks' second-line led by Couture, but they better watch out for Donskoi's playmaking ability.
The Predators' third pairing is not so great. It could be worse, but head coach Peter Laviolette should be worried if Barret Jackman and Anthony Bitetto end up against the Thornton line.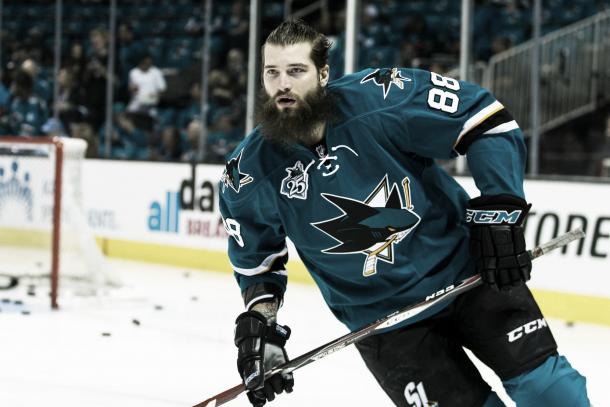 The Sharks defense is as deep as ever. They have essentially two first-pairings. The top four of Brent Burns, Marc-Edouard Vlasic, Paul Martin, and Justin Braun is one of the best in the league. Vlasic and Braun are the team's go-to shutdown players while Burns and Martin pack more of an offensive punch. Roman Polak and Brenden Dillon make up the bottom pairing for the Sharks and are more than capable of playing against Johansen if they get stuck on the ice against him. They are the Sharks' bruisers and are at Weber's level of power when it comes to hitting.
The defense battle sways into the Sharks' favor as well based on past accomplishments and how well they handled the Los Angeles Kings during the short five-game first round series.
Goalies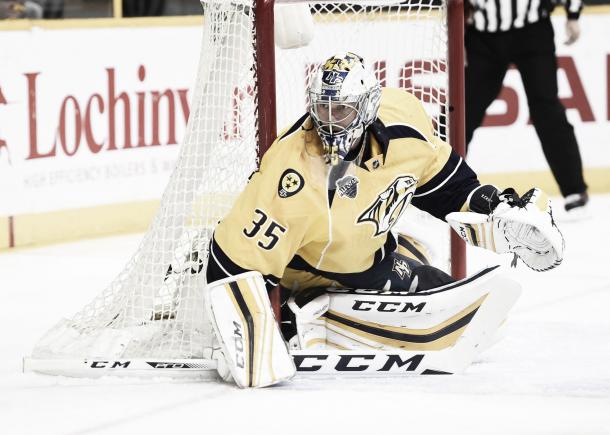 If there's one thing that the Predators have on the Sharks, it's the goaltending battle. Pekka Rinne is world-class, and if he plays like he did in games six and seven of the first round, then the Sharks could be in trouble. It was a relatively down year for the star goalie, but he's shown that when he is on he can be unbeatable. A lot of Sharks fans were hoping Anaheim would win because they would have rather avoid a hot Rinne than start the series at home. The cards have been dealt though, and the Sharks will have to find a way to get the puck past the 6'5" athletic goalie.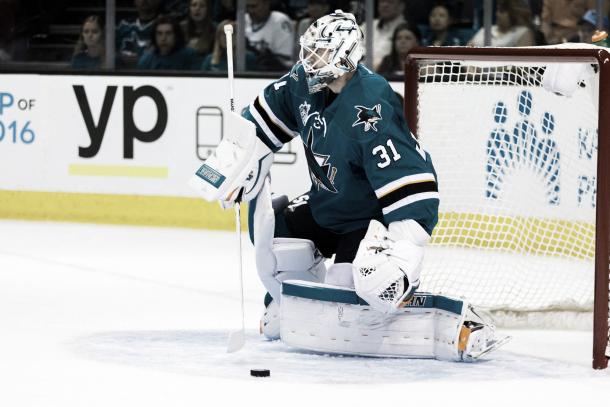 The Sharks have quite a good goalie themselves in Martin Jones, but the jury is still out on him. He's still a first-year starter and lacks the experience in the NHL that Rinne has. He put on a good showing against LA, but some thought he never got tested that much. Jones is fully capable of stealing a game, but Sharks fans have yet to see that out of Jones in the playoffs. If the rest of Jones' team plays like their capable of in front of him, then he won't have to outplay Rinne. He will just have to play well and not let any softies in. Rinne, on the other hand, needs to play the whole series like his last two games to give the Predators a chance at winning this series.
Rinne takes the advantage over Jones based on his prior experience of dominating a game and frustrating his opposition. Just ask the Ducks how they feel about Rinne.
Projected Lineups for Game One
Nashville
Calle Jarnkrok – Ryan Johansen – James Neal
Filip Forsberg – Mike Ribeiro – Craig Smith
Colin Wilson – Mike Fisher – Viktor Arvidsson
Mikka Salomaki – Paul Gaustad – Cody Bass
Roman Josi – Shea Weber
Mattias Ekholm – Ryan Ellis
Anthony Bitetto – Barret Jackman
Pekka Rinne
Carter Hutton
San Jose Sharks
Joe Pavelski – Joe Thornton – Tomas Hertl
Joel Ward – Logan Couture – Joonas Donskoi
Matt Nieto – Patrick Marleau – Melker Karlsson
Nick Spaling – Chris Tierney – Tommy Wingels
Justin Braun – Marc-Edouard Vlasic
Brent Burns – Paul Martin
Roman Polak – Brenden Dillon
Martin Jones
James Reimer
Prediction
Sharks in six games.