The Frank J. Selke Trophy finalists were named yesterday, and there was one name left off that leaves many people around the league baffled. The finalists named were Anze Kopitar of the Los Angeles Kings, Patrice Bergeron of the Boston Bruins, and Ryan Kesler of the Anaheim Ducks. The Selke is an award for the forward in the NHL that best displays a 200-foot game, also known as a two-way forward. Not to take away from these three nominees, but Kesler being receiving a nomination over the San Jose Sharks center, Joe Thornton, is asinine. It seems these days that the NHL sticks to nominating the same players over and over again.
Same Old, Same Old
Bergeron has been nominated for five years straight, Kopitar has been nominated for three years in a row, and Kesler won the award in 2011. He was well-deserving of the Selke back in 2011, but this isn't 2011. Kesler had a great final stretch of the season, but he wasn't doing much early on and for most of the season. Kopitar and Bergeron are the right choices for finalists, but Thornton should have been the third name. He had a dynamite season when everyone thought he was in decline. Thornton was third in the NHL for Fenwick-for percentage at 57.81. Kesler didn't even crack the top 50. Bergeron and Kopitar are right behind Thornton. Bergeron and Kopitar are facing other team's competition every night, just as Thornton is. Kesler, on the other hand, is facing other team's second-best. He'll never draw his opponent's top competition with Ryan Getzlaf running the offensive show for the Ducks.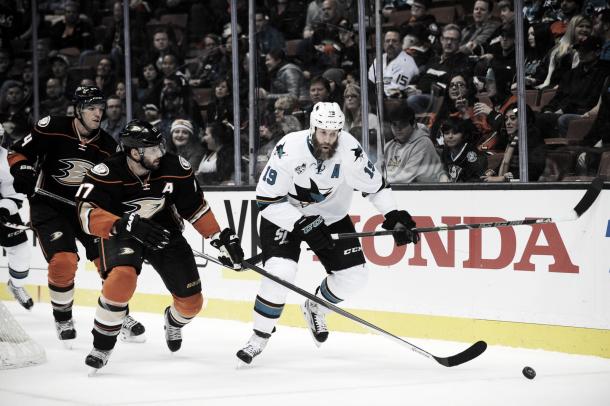 The Selke places a focus on defense, but the award never goes to someone who didn't also have a good offensive season. Why have just a defensive forward when you can have a just as good defensive forward plus at a point-per-game rate? Thornton had 82 points in 82 games this year while Kesler had just 53 points. Thornton was also a whopping +25 to Kesler's +5. Anything in the plus is respectable, but clearly being at Thornton's level is much more superior. It's not a matter of Kesler not having a good season. He did have a good season, but he didn't have a better season than Thornton. It's a shame that the league rarely wants to vote a guy in who hasn't been on the radar for the award before in his career. Hopefully, Thornton gets a deserving nomination for the Hart Memorial Trophy for MVP and leads the Sharks to their first Stanley Cup this year.