 The Arizona Coyotes did indeed name John Chayka, Assistant GM/analytics to the General Manager's position as reported here recently.
Tippett gets what he wants
Also announced at the news conference held at Gila River Arena, was a new contract extension for Dave Tippett of five years, and a promotion to Executive Vice President of Hockey Operations/Head Coach. Gary Drummond will take over as President of Hockey Operations for the Arizona Coyotes.
Who's really in charge?
Let it be duly noted that John Chayka made it crystal clear that he will still have the last decision on most moves the team makes, but it will be a collaborative effort between himself and Tippett.
What he may need to get some help from Dave Tippett on is who remains on the roster with so many player's contracts expiring in 55 days. Tippett has been in Arizona much longer than Chayka, and his input will be valuable. In that respect, Tippett will get the final say on player decisions. Chayka admitted that on a local sports radio talk show.
What all this means is that Chayka may have gotten all the press in this announcement, but it is Tippett who gained more power than he has ever had in the organization. We will all be allowed to see how he does with his new responsibilities, and how he can shape this team into his team.
The captain's future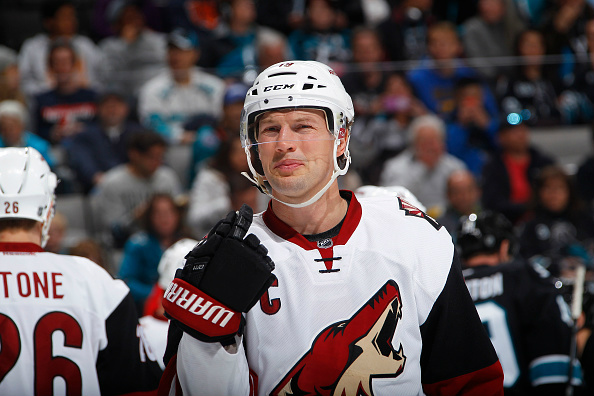 One big goal will be to see what Captain Shane Doan's intentions are as far as playing on the team next season. Both Tippett and Chayka want Doan back, and Chayka has already met with Doan to get an idea of where he stands on his decision.
It's also clear that Dave Tippett wants to win, and sooner rather than later. He may have had his disagreements with former GM Don Maloney on player moves, but now he will be very involved in that process.
This move to keep Tippett for another five years is also a stability factor the team desperately needs to show they are a classy organization who wants to not only get to the playoffs, but win.
In the end, it is hoped that Chayka's analytic abilities as well as Tippett's on ice abilities, will combine to make a partnership which propels this team to the next level. It may take a couple of years, but it appears they are on the correct path to success.
OK, Dave and John your five year turnaround project has officially begun.
Let's see what you both do with it.