As soon as the Toronto Maple Leafs won the Draft Lottery it became fairly clear that the organization would land the consensus first overall pick, Auston Matthews.
After the first overall pick, Toronto possesses eleven more picks, spanning from a Penguins first-rounder to a seventh round pick. Twelve new Leafs -- if Lou Lamoriello & Co. decide to cease trade operations on draft day -- will emerge from the 2016 draft class.
In an interview with Sportsnet's Tim and Sid on May 2, the Leafs General Manager noted that there is much more to this draft than the first overall pick.
"Right now we're just focussing on the rest of the draft because we do have a lot of picks," Lamoriello said. "Having the eleven other picks, we're ecstatic…we're excited about where we're picking after the No. 1 pick."
2016 Leafs Draft Picks (as of June 2nd, 2016)

| | | |
| --- | --- | --- |
| Round | Pick | Trade (if applicable) |
| 1 | 1st | |
| 1 | 28th-30th | via Pittsburgh, Kessel trade |
| 2 | 31st | |
| 2 | 56th | via Washington, Winnik trade |
| 3 | 61st | |
| 3 | 71st | from New Jersey (Hynes compensation) via Pittsburgh, Kessel trade |
| 4 | 91st | |
| 4 | 100th | via Colorado, Matthias trade |
| 5 | 121st | |
| 6 | 151st | |
| 6 | 177th-178th | via St. Louis, Jokinen trade |
| 7 | 181st | |
(Information via General Fanager)
Other than the absolute first overall pick -- do not justify the Leafs picking Laine, they are taking Matthews -- here is a look at some prospects the Leafs should be looking to target going into the draft on June 24 in Buffalo, N.Y.
Nathan Bastian, RW/C, Mississauga - (OHL)
A big bodied (6-foot-4, 207 pounds) winger, Nathan Bastian possesses the make of a true power forward. In his second season in the Ontario Hockey League, Bastian posted 19 goals, 40 assists, and 59 points in 64 games played. It should also be noted that he skated alongside top prospect (ranked 13th NA Skater by NHLCS) Michel McLeod this past season. Aside from raw stats, NHL Central Scouting (NHLCS) originally ranked him 19th of North American (NA) Skaters in its midterm ranking but took a dive to 35th in the final ranking. If Bastian sticks around long enough, the Leafs could have a couple of chances to grab him in the late first round, early second round. With the majority of Toronto prospects being on the smaller side, it would make sense to draft bigger this time around.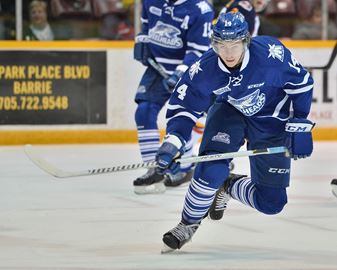 Carl Grundstrom, LW, MODO - (SHL)
It seems as though the Leafs have been keen on their Swedish prospects as of late. Carl Grundstrom is a Swedish-born winger that put up 7 goals, 9 assists, 16 points, and 53 penalty minutes in 49 games for MODO of the Swedish Hockey League. Despite the above average stats for an 18-year-old playing his first full season in a men's professional league, his grittiness is what draws attention. The 6-foot, 194-pound Grundstrom also posted 4 goals, 4 assists, 8 points, and 16 penalty minutes in 20 games for Sweden at the World Juniors. Ranked 5th among EU Skaters in midterm rankings, then 6th in NHLCS's final rankings, Grundstrom will play for Frölunda of the SHL next season. He is a player that leaves it all on the ice and will not be rushed in the developmental process, something Mike Babcock preaches.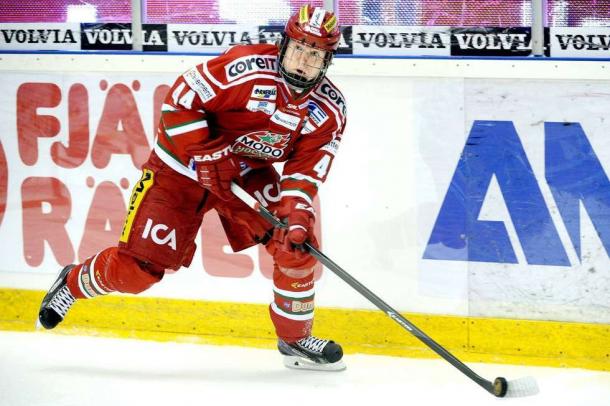 Brett Howden, C, Moose Jaw - (WHL)
Brother of current NHLer, Quinton Howden, Brett is a near twin to his fraternal predecessor. In Quinton's draft year, he posted 28 goals, 37 assists, and 65 points in 65 games played for Moose Jaw of the Western Hockey League. Similarly, Brett's final statistics come out to 24 goals, 40 assists, and 60 points in 64 games played for the WHL's Warriors. Obviously, we can't assume he will pan out exactly like his brother, but from the looks of it, Howden is a dependable two-way center that excels especially on the defensive end of the puck. The Leafs will most likely have to trade up a few spots if they are seriously pursuing him, but adding another big bodied center (6-foot-2, 192-pounds) can never hurt.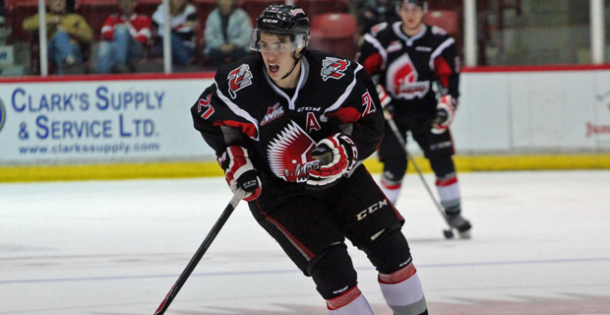 Rasmus Asplund, C/LW, Färjestad - (SHL)
A smaller (5-foot-11, 176-pounds) Swedish-born forward, Rasmus Asplund, had a consistent ranking of 4th among EU Skaters throughout NHLCS midterm and final rankings. While he played for Färjestad BK of the Swedish Hockey League, Ashland stepped up in the World Juniors (3 goals, 2 assists, 5 points, 7 games played) after teammate William Nylander was injured. His ability to play a solid two-way game is impressive for a young player at a high level of play. While it's more likely the Leafs may look to target Grundstrom based on their position in the draft, if Asplund is still available, he could be a player to watch for.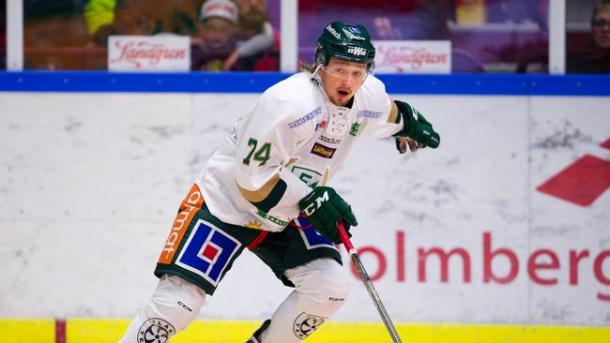 Cam Morrison, LW, Youngstown - (USHL)
17-year-old Ontario-native, Cam Morrison, lead the way for the Youngstown Phantoms of the United States Hockey League this past season putting up 34 goals, 32 assists, and 66 points in 60 games played. His combination of size (6-foot-2, 207-pounds) and skill makes for an attractive player to draft. Ranked 46th in NHLCS's final rankings among NA Skaters, Morrison has a lot of time to grow and has committed to the University of Notre Dame for the upcoming season. The Leafs targeted another College Hockey bound forward in Jeremy Bracco (5-foot-9, 172-pounds) last season — who ended up leaving for the OHL) —, however, the lack of size in last year's Leafs draft class may result in bulking up this draft. Morrison will spend a lot of time developing, something the Leafs may look for in a late second round pick.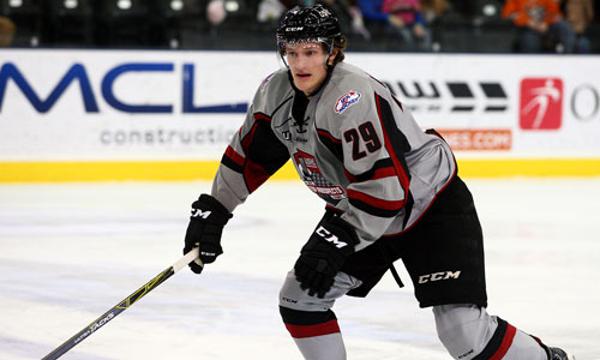 Joey Anderson, RW, U.S.A U18 - (USDP)
Another impressive winger that is locked up to play College Hockey (University of Minnesota-Duluth) next season is American, Joey Anderson. Despite not being an ideal height (5-foot-11, 190-pounds), Anderson plays bigger than he is. His speed and ability to get to the front of the net and cause havoc is far beyond his years. The 17-year-old was originally ranked 52nd among NA Skaters by NHLCS, but took a small dip in the final rankings to 56th. While he managed to score 27 goals, 30 assists, and 57 points in 64 games, it should be taken into consideration that he may have gotten a boost playing on a line with top prospects Clayton Keller (9th NA Skaters) and Kiefer Bellows (10th NA Skaters). Nevertheless, with a late second round pick and early third round pick, Anderson should be considered as a possibility.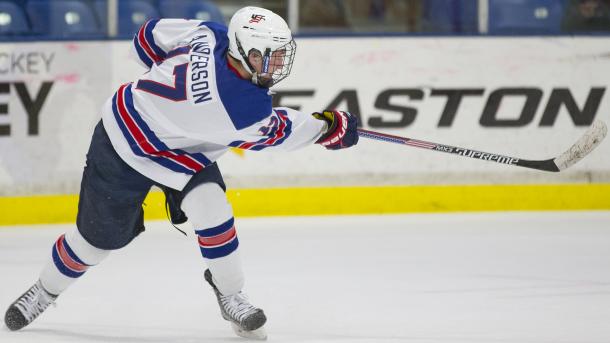 Sean Day, D, Mississauga - (OHL)
Once granted Exceptional Player Status to enter the OHL draft as a 15-year-old, now 18-year-old Sean Day hasn't necessarily lived up to expectations. Nonetheless, Day is still ranked 59th among NA Skaters in NHLCS's final rankings, projected to be a mid-second round, early third round pick. This past season, the 6-foot-3, 230-pound defenseman totaled 6 goals, 16 assists, for 22 points and was a -13 in the regular season for Mississauga of the Ontario Hockey League. His advanced stats show that he had only 11 primary points, something not too attractive for scouts to see. For Day, it seems as though he will turn into a stay at home defensive type (a kind of d-man that is slowly losing value in today's NHL). It's a gamble picking a player that has already declined as a teenager, but maybe his lowered expectations are a good thing. This is all part of the mystery behind Sean Day.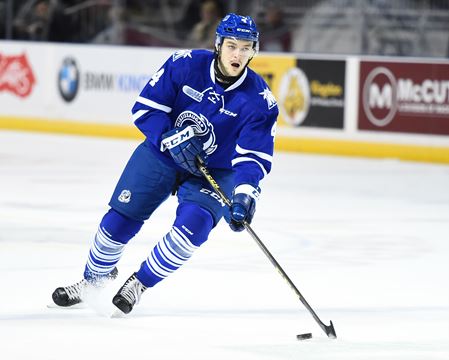 Cliff Pu, RW, London - (OHL)
Another Ontario-native, Cliff Pu, jumped from NHLCS's midterm ranking of 83rd to 75th (NA Skaters) for final rankings. The speedy winger has a good sized frame (6-foot-1, 187-pounds) and scored 12 goals, 19 assists, and 31 points in 63 games for a season to remember on an amazing London Knights team. Not only does this player seem to be growing steadily over his short junior career, but the Leafs have ties with London through Director of Player Personnel, Mark Hunter, as seen in last year's draft with Mitch Marner. It wouldn't surprise me to see the Leafs use their mid-third round pick and gamble on this kid.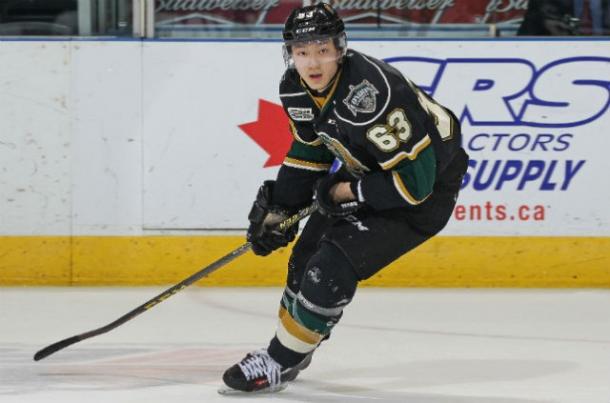 Matthew Cairns, D, Georgetown - (OJHL)
A mature defenseman for his age, Matthew Cairns, is a defense-first type of player. His large frame (6-foot-2, 190-pounds) gives him ideal size for an NHL defenseman. Ranked 86th in NHLCS final rankings, Cairns posted a combined regular season and playoff totals of 12 goals, 40 assists, and 52 points in 68 games for the Raiders of the Ontario Junior Hockey League. The Ontario-native is committed to Cornell University, giving him plenty of time to evolve through College Hockey level of play. Based on his ranking, the Leafs first fourth round pick would be the slot Cairns likely lands.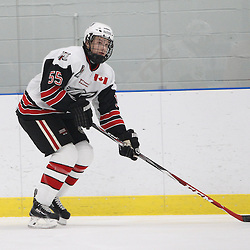 Henrik Borgstrom, F, HIFK U20 - (Liiga Jr. A)
A 6-foot-3, 170-pound forward, Henrik Borgstrom is a big forward that has a lot of time to bulk up before professional hockey. Next season, he plans on playing at the University of Denver giving him at least a few years of significant development in North America. Ranked 11th among EU Skaters by NHLCS at its midterm ranking, Borgstrom hopped to 9th after a dominant season in Finland's Junior A league. The crafty forward potted 33 goals, 28 points, and 61 points in 44 combined regular season and playoff games for HIFK's U20 team. Borgstrom could be another candidate the Leafs look for with their early fourth round pick.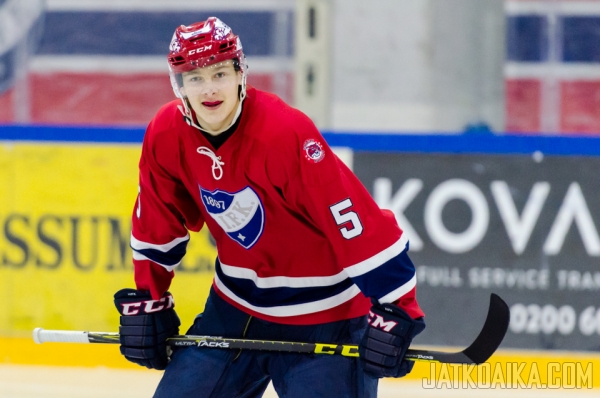 Chase Priskie, D, Quinnipiac - (ECAC / NCAA)
Ranked 183rd among NA Skaters by NHLCS in its midterm ranking, defenseman Chase Priskie shot up 57 spots to 126th in the final rankings. An offensively gifted right-handed defenseman makes him an attractive mid-round prospect going into the draft. While Priskie has excelled on the offensive side of play, earning a spot on the Quinnipiac's second power play unit, he remains a consistently sound defense player. His lack of ideal defensive size (6-foot, 190-pounds) could be seen as a setback moving forward, but Priskie has plenty of time to perfect his game at the College Hockey level. Posting impressive stats for a freshman (4 goals, 22 assists, 26 points, and 2 PIM in 43 games played) it will be interesting to see where this defenseman goes in the draft. While the Leafs have depth at D, they lack an abundance of right-handed prospects on the blue line. The Leafs could look to target a player like this in the fifth or sixth rounds depending on how the draft pans out.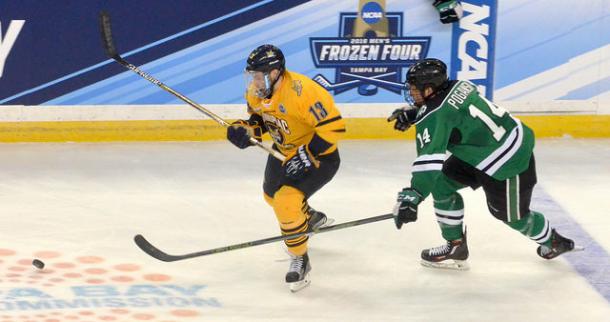 Tyler Soy, C, Victoria - (WHL)
In his third season with the Royals of the Western Hockey League, Tyler Soy has been steadily improving his game each year. This past season, Soy recorded 46 goals, 39 assists, and 85 points in 72 games played for Victoria, good enough to be ranked 150th for NA Skaters by NHLCS. While his ranking projects him to go late fifth, early sixth round, the very talented, Soy, could easily move up after a notable 2015-16 season.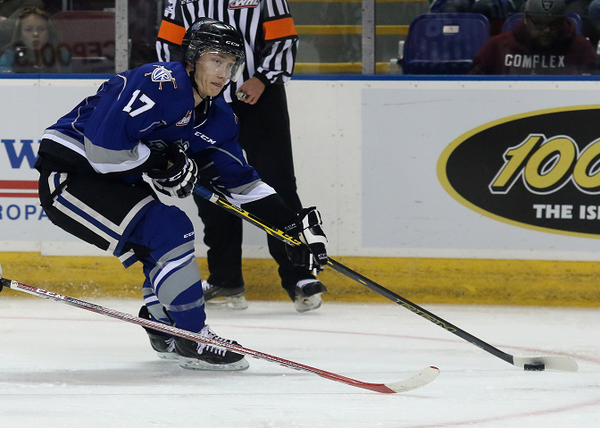 Nicolas Mattinen, D, London - (OHL)
A massive (6-foot-4, 220-pounds) 18-year-old defenseman, Nicolas Matinen has struggled to solidify his spot on a stacked Knights roster. In the 39 games he has been a part of this season, Matinen has registered 4 goals, 6 assists, and 10 points; of the 6 assists 4 of which were primary. Once again, having the London ties is what makes this pick make even more sense for Toronto; a player they will target with their early sixth round pick.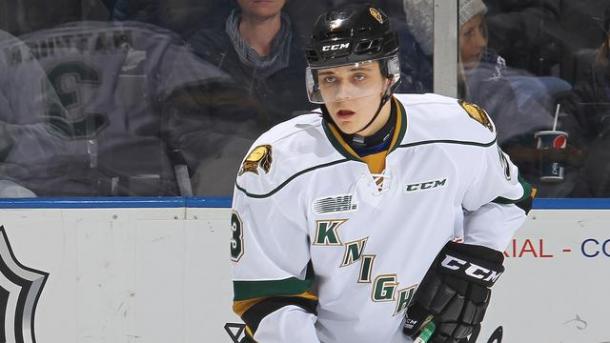 Reid Gardiner, RW, Prince Albert - (WHL)
After being ranked 40th among NA Skaters by NHLCS in the 2014 draft, Gardiner has yet to hear his name be called through two NHL drafts. Now older and ranked 173rd, Gardiner could hear his name called late in the draft, this time around. Although 20-years-old, Gardiner scored 43 goals, 49 assists, and 92 points in 72 games played for the Western Hockey League's Raiders. With a lack of size (5-foot-11, 170-pounds) but high in skill, he is a low-risk high reward kind of player the Leafs could be looking for with a late sixth round pick.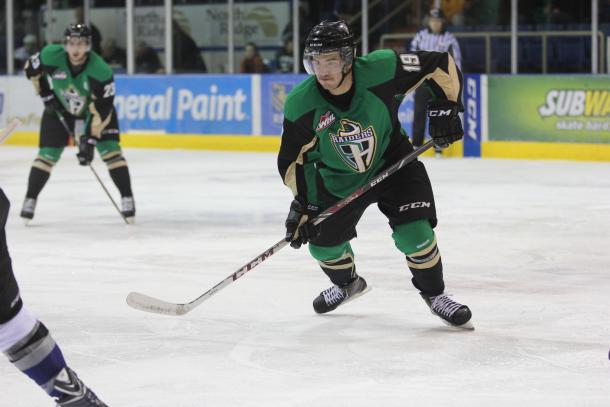 Alexander Polunin, LW, Lokomotiv - (KHL / MHL)
While extremely undersized (5-foot-8, 161-pounds), Alexander Polunin could be a diamond in the rough, late round pick in the draft. His skill and mind for the game is unlike many others in his draft class, but his size is really what is holding him back. Potting 12 points in 25 games played for Lokomotiv Yaroslavl's big club in the Kontinental Hockey League, Polunin racked up 16 points in 20 games for the Junior club as an 18-year-old, good enough to be ranked 52nd among EU Skaters by NHLCS. With the Leafs possessing a late sixth and early seventh round pick, this could be a player to look out for later in the draft.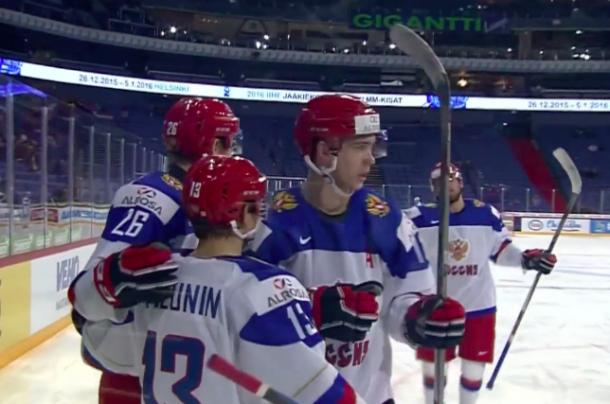 Brandon Crawley, D, London - (OHL)
Another prospect out of the London Knights organization, American-born Brandon Crawley has made a name for himself on a great Knights team. A rock solid defenseman (6-foot-1, 205-pounds), Crawley plays a pugnacious game, while still contributing a fair amount offensively (6 goals, 12 assists, 18 points, 99 PIM, +16) for Dale Hunter's club. Again, the bridge between Toronto and London makes it likely for the Leafs to target players that they are familiar with. Crawley, being ranked 182nd in NHLCS's final rankings could be the Leafs final pick in the draft.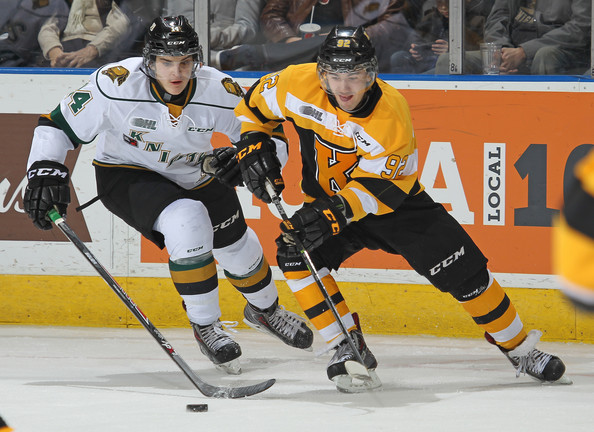 Just under a month away from the draft, the Leafs look to add to the rebuild through the platform they lacked in the past.
"There's lots of good players in the draft," Leafs Head Coach Mike Babcock said to TSN's Darren Dreger in early May. "There's also somebody in the draft who's gonna go 23rd or 40th that's gonna be better than the other guys."
Finding that "somebody" is something the Toronto Maple Leafs have focussed on and will aim to be successful with come June 24th, 2016.