Michael Bournival has had countless opportunities with an organization which is special, given a history of which remains engrained in the heads of city locals for years to come.
As history looks to repeat, the 24-year-old winger is hopeful of speaking with GM Marc Bergiven soon as he is hopeful of signing a new contract with the Montreal Canadiens in the near future, according to a report from Richard Labbe of LaPresse.ca on Monday evening.
As of now, Bournival remains a free agent following the completion of a one-year deal which he had signed with the club back in July of 2015, however, there have been no discussions between the two sides ever since.
In a statement from his agent Christan Diagle, during an over-the-phone, he said, "To date, we have not had one discussion with Marc Bergevin. Whether positive or negative, I expect that we have a discussion soon. For Michael, it was a dream to play for the Canadiens, but now it's out of our control."
"There is still time. What is certain is that whether it is with the Canadian or otherwise, Michael still wants to play in the NHL," Daigle said.
Bournival originally came up with the Canadiens back in 2013 after having been acquired by the Colorado Avalanche in exchange for defenceman Ryan O' Byrne on November 11th. Colorado drafted the Shawinigan, Quebec native in the third round (71st overall) in the 2010 NHL draft.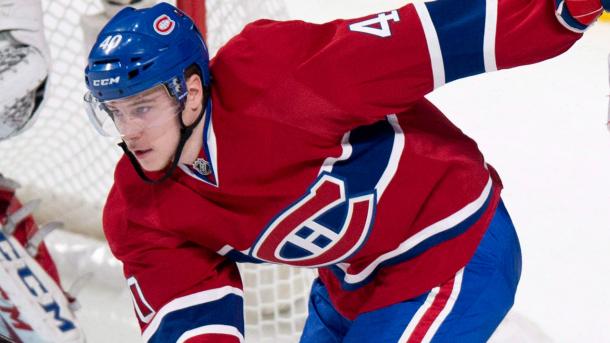 Could Bournival finally be ready to break out?
Bournival spent the 2015 season with the team's newest minor league affiliate, the St. John's IceCaps of the American Hockey League where he played in only 20 games as he missed majority of the season due to a concussion which he suffered in January, however, was later cleared for action by Dr. Jeffrey Kutcher who is a neurologist located in the Detroit area.
There is a possibility of which Bournival can become an unrestricted free agent in the summer if his representative Christian Daigle is not able to work something out by a time of which is considered to be reasonable. As of now, he has not yet received a qualifying offer which suggests his future could be in doubt.
Looking at his best season which was in 2013, Bournival managed to score 14 points in 60 games played as he made most of the season successfully without a need to sit.
He followed that up in 2014 with another short season in the books as he only appeared in 29 games played as he was out for another stretch of time with concussion-like symptoms.
As for his career as a whole, Bournival has played in 89 regular season games at the NHL level, all of which have been with Montreal where he has scored 10 goals to go alongside nine assists. As for the playoffs, he has made appearances in 14 games.