 It was reported from a reliable source, Elliotte Friedman of CBC's Hockey Night in Canada, that the Arizona Coyotes have asked Martin Hanzal to contact his people to gather a list of potential teams he'd like to be traded to.
This is a courtesy to Hanzal since he does not possess a no-trade, no-movement clause in his $3.1 million contract which expires after the 2016-17 season.
Hanzal's health card
While many NHL teams would covet the huge (6' 6", 230) forward, his downfall is his lack of staying healthy. His record there, due to his physical style of play being pitted against the bigger forwards in the NHL, is not too impressive.
He has missed at least 15 games or more in five of the six seasons he has played. That could be a caution sign to other teams wanting to sign him, but nonetheless, the interest level is there, or the Coyotes wouldn't be reacting to it.
In fact, when you take a look at his health record for the first three seasons in the NHL, he had participated in 92.2% of the games he could have played.
Turning to the next six seasons (including the shortened 2012-13 season where only 48 games were played) it becomes apparent that his health took a dive downward. He only was in the starting lineup for 75% of the games. His back surgery which took half a season away in 2014-15 didn't help that low average.
Hanzal's trade value is...
Now, with all that being said, what could the Coyotes get for Hanzal if they did decide to trade him? If you read this writer's recent article on how the team needs to acquire either Tyson Barrie or Kevin Shattenkirk, you'll realize that a trade for either of these talented defensemen could become a reality.
We all know that most NHL trade deals don't happen due to the salary cap hits being too far apart. In a scenario where Barrie would be traded for Hanzal, their cap hits are in close proximity of each other with Barrie's hit coming in at $2.6 million, and Hanzal's totaling $3.1 million.
The Arizona Coyotes are in need of a good defenseman, and the Av's may be very interested a huge forward with great defensive ability, who scored 41 points last season. His faceoff win ratio of 51.2%, including 2.36 hits a game can't hurt.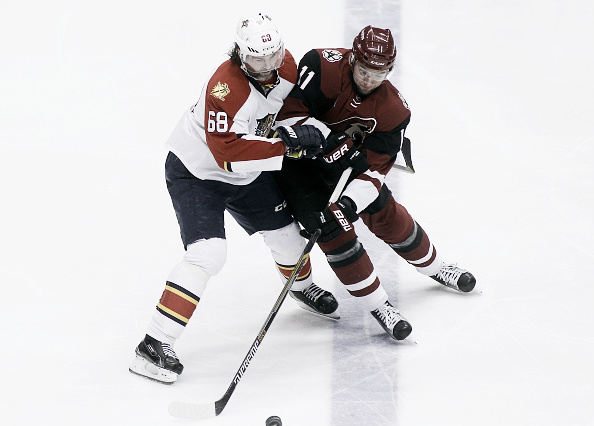 Hanzal may get an extended contract from the Coyotes, at least that was former GM Don Maloney's intention. Now, with a change in the front office regime including new GM John Chayka, and Head Coach Dave Tippett being promoted to V.P. of Hockey Operations, all bets could be off.
New front office wants results
Both Chayka and Tippett have implied that there will some changes made to this team to help reach their goal of qualifying for the post season, which hasn't happened since the 2011-12 season.
Taking into consideration that the team has seven RFA's, and eight UFA's, (excluding Jiri Sekac who signed with the KHL) there could be some draft day trades going down then or before the July 1st deadline to sign players whose contracts are expiring.
Otherwise, the only news you hear out of the Coyotes' front office is that Shane Doan will be getting a new contract for perhaps one year to stay with the team.
The only question will be who will be left on the team as he knows it?
Hanzal could be one casualty.
Who else is yet to be determined.
Stay tuned.