 National Hockey League Hall of Famer Gordie Howe has died at the age of 88, according to multiple reports.
Howe had been in frail health recently
The hockey legend had been in frail health ever since he suffered two strokes back in October of 2014. He recovered from those thanks to an experimental stem cell treatment in Mexico but was also battling diabetes and dementia, among other ailments.
He looked well in March when he appeared at a sold-out Joe Louis Arena to celebrate his birthday. At that appearance, he smiled and waved at the crowd as they sang him "Happy Birthday."
Howe was a legendary hockey player
Howe began his career in 1946 with the Detroit Red Wings. He played a total of 25 years with the Red Wings, amassing 1,687 games played, 786 goals scored, and 1,023 assists.
He led the league in scoring five times and led the league in games played 10 times. He was a part of four championship teams, all with the Red Wings in the 1950s.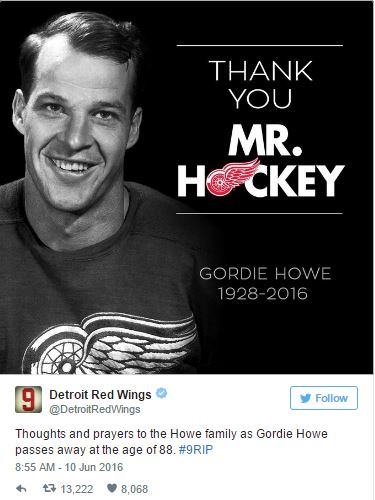 He won the Art Ross trophy six times, and the Hart Memorial Trophy six times. He played in a total of 23 NHL All-Star games, with the last being in 1980.
"Gordie Howe was an incredible ambassador for the game of hockey," Red Wings general manager Ken Holland said in a statement. "He was as fierce and competitive as they come but away from the rink he was truly engaging and personable and always enjoyed his interaction with the fans.
"Gordie set the standard for this franchise during the Original Six era, winning four Stanley Cups, capturing numerous awards and setting an abundance of league records. We will miss Mr. Hockey, who was the greatest Red Wing of all time. Our deepest sympathies go out to Mark, Marty, Murray, Cathy and the rest of the Howe family during this difficult time."
Team owner Mike Ilitch echoed similar sentiments, saying in a statement "Today is a sad day for the Detroit Red Wings and the entire hockey world as together we mourn the loss of one of the greatest hockey players of all-time.
"The Red Wings organization and the National Hockey League would not be what they are today without Gordie Howe. There is no nickname more fitting for him than "Mr. Hockey. He embodied on and off the ice what it meant to be both a Red Wing and a Detroiter. He was tough, skilled, and consistently earned success at the highest level. His achievements are numerous and his accomplishments immeasurable. It is truly a blessing to have had him both in our organization and our city for so many years. He will be deeply missed."
Howe is the second sports legend to pass away recently, as it was just a week ago that boxing legend Muhammad Ali passed away of Parkinsons Disease.