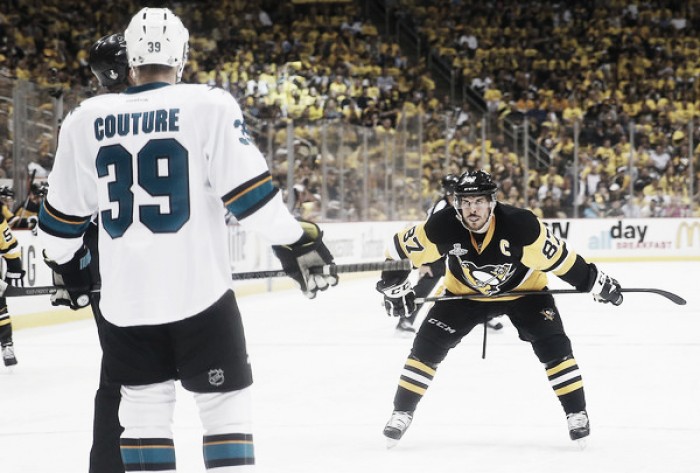 Third period (:00): It's over! THE PENGUINS ARE THE STANLEY CUP CHAMPIONS!!!
Third period (:09): We have a penalty by Eric Fehr. Sharks power play.
Third period (1:02): Hornqvist scores the empty netter and that should do it.
Third period (1:42): Goalie is pulled.
Third period (2:55): A hand pass stops the clock. Just one shot on goal for the Sharks here in the third.
Third period (4:02): Time keeps ticking away on the Sharks. If the Penguins hold on, the Conn Smythe should go to either Murray or Kessel. Perhaps Malkin.
Third period (5:45): Kessel just got stonewalled at point blank range by Jones! If the Sharks manage to come back and win the series, he's the Conn Smythe for sure.
Third period (6:22): We have a stoppage in play. Peter DeBoer has to ponder how much longer he's going to leave Jones in.
Third period (6:58): Penalty killed off.
Third period (8:58): Kessel with the steal on Burns, he had a two on none going down the other way so Burns just took the penalty to prevent what would have been an excellent chance for the Penguins. Two minutes for slashing.
Third period (10:13): Pavelski had a shot in front of the net, passed it up and it was deflected away. Story of this series.
Third period (12:27): No shots on the power play. The potent Sharks power play has been quiet in this series.
Third period (14:34): We have our second penalty of the night. Conor Sheary guilty of a hook, two minutes. Penguins have won 28 of 41 faceoffs so far tonight.
Third period (16:39): Leading pass for Karlsson does not connect, play is stopped.
Third period (18:21): Matt Nieto makes a great move in the offensive zone but cannot get a shot off. Did successfully run into Murray and knock him out of the crease.
Third period (20:00): We are underway in the third, this is the last stand for the Sharks.
Second period (:00): A much more even second period has come to a close. The Penguins are 20 minutes away from raising the Cup.
Second period (3:55): Burns makes another good play with a steal in the Penguins zone and shoots but Murray makes a save. Vlasic is back on the bench.
Second period (4:51): Oh my goodness! Malkin had a two on one with Kunitz and they could not get score! Kunitz passed when he should have shot and Jones makes another incredible stop.
Second period (7:13): Patrick Marleau had a great shot on the short side for San Jose but Murray made another great save. Marc-Edouward Vlasic is not on the bench for the Sharks. Big loss there.
Second period (9:47): Pavelski had a great shot but Murray got just enough of it to keep it out of the net.
Second period (12:14): That didn't take long! We have another goal as Sidney Crosby sets up Kris Letang from behind the net and Letang drills it home!
Second period (13:33): GOAL! Logan Couture gets his 30th point of this postseason with a wristshot that gets past Murray. Burns made the play though by keeping the puck in the neutral zone and then finding Couture on the left side to set up the rush.
Second period (14:24): Icing on San Jose.
Second period (18:07): Oh my goodness what a save by Jones! Bonino had a wide open net but Jones got his pad on it just in time. Grand Larceny.
Second period (18:35): Sharks had a great chance but Karlsson couldn't convert in front of Murray.
Second period (20:00): We are underway in the second!
First period (:00): We have come to the end of the first, the Penguins lead in shots 9-4 and on the scoreboard 1-0. Once again the Penguins were the better team in the first.
First peroid (1:51): Jones just made a great save on Kris Letang and we have a stoppage in play. This game started kinda slowly but has really picked up now. This pace seems like it would favor the Penguins, but the Sharks are holding up.
First period (3:49): This game is starting to speed up. Brent Burns just got a great chance and on the other end Martin Jones is standing on his head right now. The kid is incredible!
First period (4:45): Kunitz had a great chance to score, perfectly set up by Evgeni Malkin. But it went wide. Also, good news for the Sharks as Karlsson is back on the bench.
First period (7:25): What a play by Chris Kunitz! Joel Ward had a breakaway and Kunitz dove to prevent a shot attempt.
First period (11:22): That should have been a penalty for sure. Olli Maatta ran Melker Karlsson into the boards, and he went off the ice. But it was not called.
First period (11:44): Well that didn't take long! Brian Dumolin blasts one from the blue line and it goes in for the first GOAL! It's 1-0 Penguins! Justin Schultz and Chris Kunitz picked up the assists.
First period (12:10): We have our first penalty of the game as Dainus Zubrus gets called for tripping, a two minute power play for the Penguins.
First period (13:43): Sharks get their first shot of the game as Matt Nieto gets a defensive zone steal and was off to the races but Murray made the save.
First period (15:13): This has been a bit of a slower first period, but the Penguins are generating more offense so far--they have the only two shots in the game.
First period (16:18): Phil Kessel had a great shot but Carl Hagelin couldn't quite connect on the cross crease pass.
First period (16:44): Our first stoppage of play as the Sharks ice it.
First period (17:23): Great chance for San Jose is blocked by Murray.
First period (19:12): We are underway in San Jose! Joonas Donskoi joins Joe Thornton and Joe Pavelski on the top line. Once again Sidney Crosby leads the Penguins, flanked by Patric Hornqvist and Conor Sheary.
We are very close to the opening faceoff.
The ice in San Jose has been somewhat slower than that in Pittsburgh, meaning that San Jose will be ready to force the first winner take all game seven in the Stanley Cup Final since 2011. But the Cup will be in the building and the Penguins will be ready to take home their first Cup since 2009.
Two players that could be surprise difference makers in this game are Joel Ward for the Sharks and Conor Sheary for the Penguins. Both of them have scored in this series and have both brought an element of speed and physicality to their teams. Ward is 35 years old and playing for his first Stanley Cup in his eight year career—making the playoffs twice with the Nashville Predators and three times with the Washington Capitals. Meanwhile Sheary is new to the NHL, playing in 44 regular season games with ten points. But in these playoffs he has emerged with nine points in just 22 playoff games. His speed has elevated him onto the top two lines of the Penguins. The 24 year old has brought a greater element of speed to already fast team, making them one of the hardest teams to match up against.
This game will come down to who can dictate the pace of the game. If the Sharks can slow the game down and use their size to their advantage they will be able to win this game. But if the Penguins can keep the speed up.
Matt Murray has been mostly brilliant throughout these playoffs, posting a .923 save percentage throughout the playoffs, allowing the three goals in both of the losses in this series and have a save percentage under .900 in both of those losses.
The Penguins third line of Carl Hagelin, Nick Bonino and Phil Kessel has been the best throughout this postseason, with a total of 56 points between them. Evgeni Malkin has 18 points, tied with Bonino with second throughout these playoffs.
It is surprising that without Tomas Hertl in the last three games the Sharks have won two of them. Hertl has been one of the top contributors throughout this postseason and played most of the time on the top line. Other than Logan Couture, Pavelski, Burns and Joe Thornton which are all in the twenties in points, Hertl is part of a group of five players that have between 11-13 points this postseason, with Hertl having 11 in three fewer games. The lower body injury will keep him out for game six, meaning that Karlsson will stay with Pavelski and Joe Thornton on the top line.
The Penguins need to get back to their game which won them games one and two, which is play with speed and out skate the Sharks. That's what got them to this point and what worked for them early on in this series.
The Penguins speed has caused problems for the Sharks all series, which engendered an uptake in the physicality of the Sharks. In games three and four San Jose recorded 47 and 46 hits. They outhit the Penguins in games 2-4 after being equal in game one. Pittsburgh got more hits in during game five, perhaps responding to the increased physicality of the Sharks.
Instead of the usual suspects, the Sharks have gotten offense from some of their most unsung players in Justin Braun, who has scored two goals in this series—his first two of the playoffs. Melker Karlsson has goals in each of the last two games—netting his fifth goal of the playoffs in game five.
Two of the Sharks best players finally got on the board in game five as Brent Burns scored the first goal in game five and Joe Pavelski scored the empty net goal in the third to clinch the win.
Martin Jones has been absolutely fantastic in this series, with a .933 save percentage in these five games. In the two games that the Sharks have won, he has posted a save percentage over .950. He has allowed twleve goals in this series, simply due to the amount of shots he has faced. It is not his first postseason run as he was the backup for the Los Angeles Kings in 2014 when they defeated the New York Rangers to win the Stanley Cup. This is Jones' first season starting and he has not looked at all like a backup as he has been the anchor for the Sharks throughout this postseason.
The Sharks will need their home crowd behind them if they are to force a winner take all game seven in western Pennsylvania. They have been outplayed by the Penguins pretty much all series, being outshot in four of five games. The Sharks staved off elimination in game five by winning 4-2 in Pittsburgh, despite being outshot 46-22.
Hello and welcome to Vavel USA's LIVE coverage of Game Six of the Stanley Cup Finals. The Pittsburgh Penguins lead the series 3-2, but missed a chance to close out the San Jose Sharks on Thursday night in game five on their home ice. The series has shifted to Northern California for the final game on the west coast this year.