 The 2015-16 NHL season is officially over, with the victorious Pittsburgh Penguins drinking from Lord Stanley's Cup.
It's every NHL player's dream to win the Cup, but the past season for the Arizona Coyotes, while showing improvement from the 2014-15 disastrous outcome, still fell short of every team's goal to make the playoffs.
Thus, no chance to win a Cup.
The home season for the Coyotes started out admirably with a victory against the Cup-winning Pittsburgh Penguins by the score of 2-1. But, after winning three straight games, they went on to lose four in a row.
Inconsistency can hurt
The start of their season wasn't much different than the remainder would be, as things turned out. Inconsistency was their downfall.
In the crucial months of January, February, and the beginning of March the team did a tailspin which was difficult to recover enough to contend for the playoffs. They rattled off losing streaks of five, seven and four games to pretty much eliminate any chance of post-season competition.
Of course, one must factor in that the Coyotes lost starting goalie Mike Smith in January, and even though all teams must fight through injuries, this one hurt.
One game against the nemesis Detroit Red Wings seemed to break their backs. After that crucial 3-2 overtime loss, the Yotes dropped their next eight out of 10 games, and things started to fall apart at the seams.
Key Players
Going into the season there were all kinds of expectations for the new young players to lift the team. Indeed they did.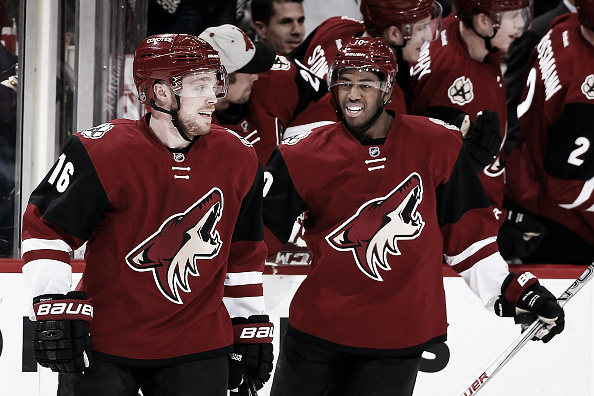 Max Domi finished second in scoring on the team with only Oliver Ekman-Larsson edging him out. Max had 18 goals, 34 assists in his initial NHL season.
Anthony Duclair was also expected to give the team more speed and scoring, and he did just that. "Duke" came through with 20 goals, 24 assists, and his lightning rushes towards the net were exciting and took opposing teams by surprise.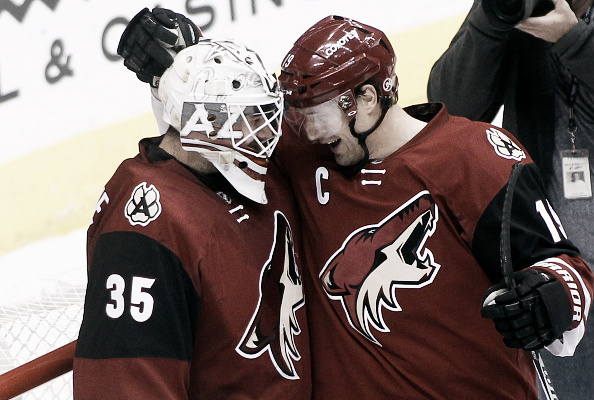 It goes without mentioning that Shane Doan had a turnaround season scoring 28 goals, 19 assists in 72 games. Other players are asking about the youth serum he took, but he is so vital to the team that his play helped revitalize the younger players.
Louis Domingue came in to take over for injured Mike Smith and did an adequate job for a young goalie. His stats pretty much match those of veteran Smith, and the team has a very qualified goalie who will only get better with time.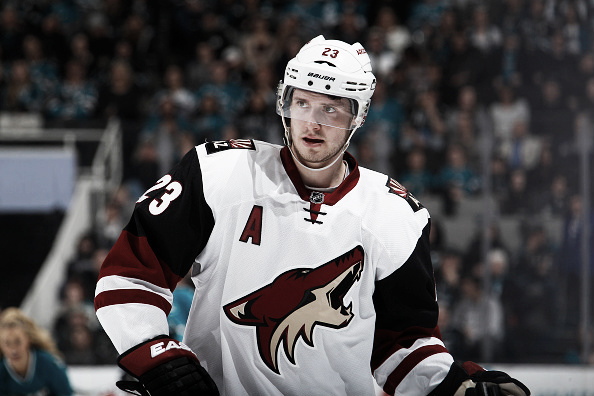 Oliver Ekman-Larsson continues to show why he is an elite defenseman in the NHL by leading the team in scoring for the second straight season. His 21 goals, 34 assists were exceptional.
Team grade
This is a tough evaluation since the team did improve immensely from the previous season but still fell short of their goal to be playing in the post-season.
Therefore, the grade which comes to mind is a C+.
The team is exciting to watch, and if they can improve their defense, and have Mike Smith back in form, they stand a chance to improve their grade for next season.
2016-17 season outlook
Much will depend on if the Yotes can obtain some help on the blue-line. They will probably be active in the free agent market, or with all the draft picks they possess will be able to make some deals for an established defenseman or two.
New GM John Chayka will be in the spotlight to fill former GM Don Maloney's shoes and attempt to build the team into a playoff contender.
The issue he faces over the next couple of weeks before the draft and free agent deadline is to sign some players or decide to trade them to get some value from the assets he has.
It looks like unless they can get a deal worked out with Martin Hanzal, he will be traded. Chayka's outlook on letting a player know ahead of time that the team may be looking to deal a player is up front and leaves no guessing. He told Hanzal to get a list of potential teams he'd be interested in joining if a new deal can't be consummated.
With all the draft choices the Coyotes have and the youth movement they are pushing, this team will still be very exciting to watch.
They still must figure out where they are going to play after this next season while a new arena can be built. Playing another two years in Gila River arena is a possibility, but the relationship with the City of Glendale is less than conducive.
Will this team be able to make the playoffs next season? It all hinges on whether analytics expert/GM John Chayka can work some deals, and draft some future talent.
To wager a guess, it wouldn't be too much out of the question for the team to qualify for the playoffs.