 Not only will the hockey world be monitoring newly appointed Arizona Coyotes' General Manager John Chayka to see what he does as far as drafting players for the team's future at the NHL Entry Draft on Friday-Saturday; they will also try to determine what he does to mold the team into his vision of moving the team back into the playoffs once again.
Seems like a huge task for someone who just turned 27 years of age on June 7th.
Tippett's review
Not if you talk to newly appointed Executive V.P of Hockey Operations and Head Coach Dave Tippett. He thinks Chayka is intelligent, and a perfect fit for the job. He also thinks he gets along well with the players, some of whom are older than him. His skills to evaluate talent will be tested, and it will make or break him as a General Manager.
He also needs to start signing some players who are unrestricted free agents or restricted free agents before the July 1 deadline.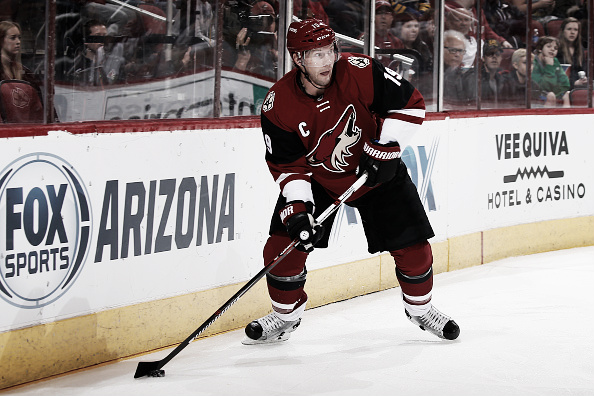 One of those and perhaps the most important signing will be that of captain Shane Doan. The two have met and discussed the details of another contract, which will more than likely be a one-year deal. He is a Coyotes' institution, and if he says he can play one more year -- he probably can.
Coming from an analytics background, Chayka does his homework on which players to keep and which to allow to go to free agency.
Has Martin Hanzal played his last game as a Coyote?
Another question mark is Martin Hanzal. Chayka was very up front with Hanzal in advising him that if a new salary deal cannot be worked out, he should start gathering a list of teams he may want to join. Hanzal's contract expires after the 2016-17 season, and he will be 30 years old next February.
While a good player when he plays, the issue is he is injured far too often, which lowers the success ratio of the team. If Chayka can work a deal, it will give us all an insight as to how talented a negotiator he is.
What does Chayka expect to do with the seventh pick?
When asked how he may lean on draft day for the seventh overall pick, he said, "we'll have an emphasis on defense, but at the same time we're going to take the best player available. It's hard enough to find good players without trying to find the players in the right position."
Chayka will need to step it up if he intends to outdo former GM Don Maloney at the draft board. Maloney was the one who drafted Max Domi (2013 no. 13), Dylan Strome (2015 no. 3), Christian Dvorak (2014 no. 58), Ryan MacInnis (2014 no. 43, and Christian Fischer (2015 no. 32).
So far Chayka has traded a fifth-round draft pick for the rights to sign defenseman Alex Goligoski, and then acquired the San Jose Sharks' 2016 4th round draft choice & 2017 3rd round draft choice in exchange for Max Letunov & 2017 6th round draft choice.
There will surely be more to come... stay tuned.
He also was responsible for acquiring Anthony Duclair when he traded Keith Yandle to the New York Rangers.
Something tells me John Chayka will do alright.
At least that's what the Arizona Coyotes are hoping.