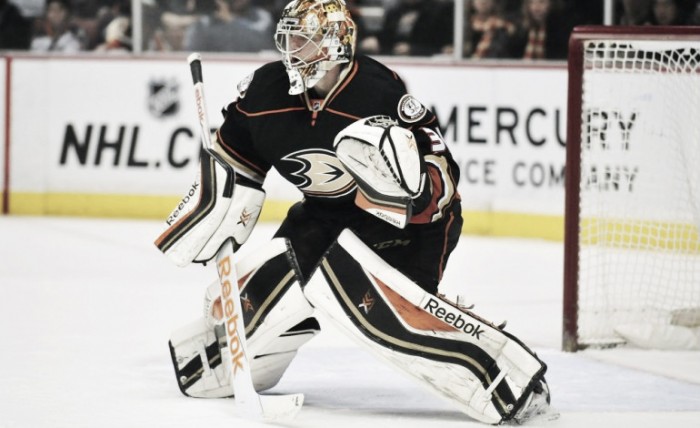 The Toronto Maple Leafs added another goalie to their active roster on Monday afternoon as the club acquired Frederik Andersen from the Anaheim Ducks in exchange for a first round pick (30th overall) and a second round pick in 2017.
Not long after the deal took place, Pierre LeBrun of ESPN.ca reported that the two sides had agreed to terms on a five-year extension, confirming Andersen's plans for the long-term which would ultimately replace Jonathan Bernier as the starting goaltender between the crease.
As per Bob McKenzie of TSN.ca just minutes later, he noted that Andersen would receive a total of $5MM per season, $25MM overall to go alongside an AAV of $5MM.
Taking a look at his season statistics for 2015, Andersen, 26, owned a record of 22-9-7 to go alongside a 2.30 GAA and .919 SV% in 43 total games played, 37 in which he started.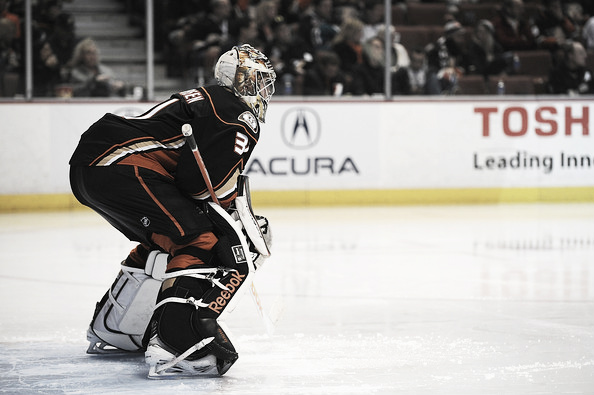 What impact does this have on the team going forward?
Given the fact of which James Reimer was traded to the San Jose Sharks with only weeks to go before the start of the playoffs, team president Brendan Shanahan had the idea in his head of which something had to be done to get his boys ahead for the upcoming season and in order to do that, he looked where he could and got an essential piece in the end as Garrett Sparks would not be the answer, urging for him to be optioned to the AHL's Toronto Marlies.
As per a report from James Mirtle of The Globe and Mail, it is said that there was some competition for the 26-year-old which is why the asking price for his acquisition was so high.
In a statement from general manager Lou Lamoriello with regards to Andersen being brought over to Toronto, he said, "He has to know that he's our No. 1 goaltender. Acquiring him was the most important thing. The price was secondary." He also said, "You need two goaltenders to play." As for Andersen's thoughts, he said, "It's going to be fun developing with this young team that's very hungry for success."