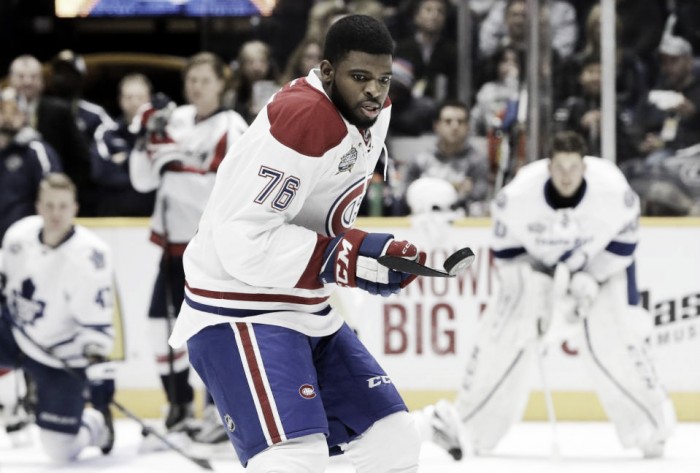 With the 2016 NHL Draft just hours away in Buffalo, it has become a topic of trending discussion that P.K. Subban of the Montreal Canadiens could be finding his way out of the city in the very near future as many teams are said to be interested in acquiring his veteran services, according to multiple reports on Thursday evening.
Talks first started on Thursday afternoon when Pierre LeBrun of ESPN reported that interest in the 27-year-old defenseman's services had picked up, however, this goes without saying the only thing holding fans back from their sudden urge to worry is the confidence of general manager Marc Bergevin who states that he is positive nothing will come of it in the end.
Not long after, Renaud Lavoie of TVA Sports confirmed the rumor as something of which has been discussed, however, is currently thought of as unlikely to take place. As of now, Bergevin remains confident in keeping the Toronto native, however, he will continue to listen in on offers as there very well could be something attractive heading in his direction.
Taking a look at one of those currently making a rather strong push, the Vancouver Canucks are said to be in talks with Montreal to acquire Subban, as general manager Jim Benning confirmed to TSN 1040 on Thursday evening, however, there is a no-trade clause in place which could put the whole thing off as that continues to be the hope with each minute that goes by.
In the event of which such a transaction does take place, the Canadiens have taken a look at Steven Stamkos of the Tampa Bay Lightning given that it is a subject of which has been discussed as a potential fit to a certain extent. Should such a move take place, it would be a replacement that certainly adds another veteran to the mix as well as that boost of talent and experience to the team both on and off the ice as needed.
There is a July 1 no-movement clause quickly approaching which is partially the reason for the many inquiries, however, it would have to be an overwhelming offer in order to be considered as many teams are desperate to add on key pieces to their lines which could possibly lead them towards playoff action when the new season is officially underway.
When asked about the potential of which a transaction suddenly comes into the works during a Thursday afternoon press conference, Bergevin told the media, "I wouldn't even want to go there." As for the many questions he has been asked day in and day out, he said, "You never say never. If someone offered me half of their team, you know, you gotta make it work. But it's not my intention."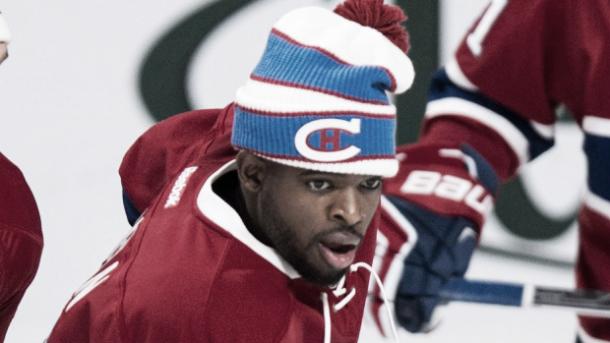 Has any negotiating actually taken place?
As per a report from Georges Laraque of TVA Sports on Thursday evening, Montreal actually has gone further than just casual conversation with one team, that being the Edmonton Oilers who were being asked to give up Leon Draisaitl and their 4th pick in exchange for the former Norris Trophy winner, however, Bergevin downplayed that when asked for further details.
Taking a deeper look at what exactly it is Bergevin is doing, he described the inquiries as something of which heads in a direction of this sort, "It's not even listening to offers. It's taking calls. When a GM calls me, I don't know what he's calling me about. So I answer the phone. Yes, I've received calls on P.K. But I'm not shopping P.K. Subban, I can tell you that."
As for the duration of these talks which contain multiple questions of interest, Bergevin says, "They're pretty short." When asked about a potential summer deal coming together, Bergevin said, "I would say no."
Has Subban's behavior lead him elsewhere?
The 2015 regular season was a challenging one for Subban as he was not in agreement with the organization, however, these were eventually overcome after several conversations with head coach Michel Therrien who has made it known that there are no ill feelings and would like him to remain a member of the Canadiens as he would like to continue working with the man he molded into the sensation he is today so he can continue to be happy while also continuing to pay it forward to the locals of Montreal as a thanks to those who have had his back since the very start.
How did Subban fair the 2015 season?
Over the course of the 2015 season, Subban appeared in a total of 68 games played while recording 45 assists, 6 goals, 51 points and 75 penalty minutes. Reflecting on his career as a whole, Subban has played in a total of 434 games while recording 215 assists, 63 goals, 278 points and 532 penalty minutes.
When fully recovered from the neck injury in which he sustained near the season's conclusion against the Buffalo Sabres, it should be just a matter of time before Subban carries on his past success which will someday be added to the team's remarkable history given the exceptional way of which he plays with heart, soul and compassion each and every day.
NHL Draft
Montreal has the No. 9 pick at the NHL Draft on Friday night and could be shooting for the stars as they look to bulk up for years to come and guys such as Auston Matthews are in the mix which could definitely make for a night that most teams will not forget as impact goes a long way if gone about the right way.