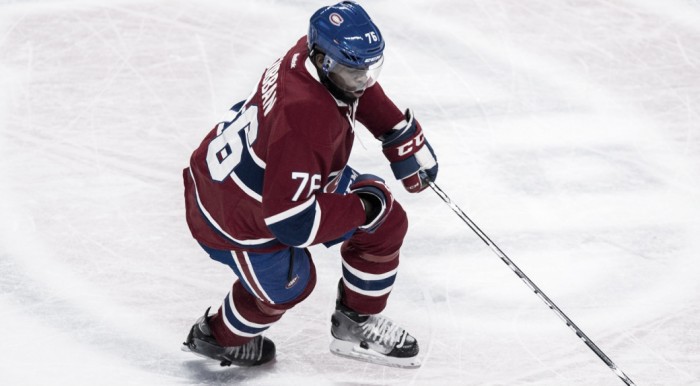 Veteran defenseman P.K. Subban has seen his time come and go with the Montreal Canadiens as he now continues his journey outwards to Tennessee after having just been acquired by the Nashville Predators in exchange for defenseman Shea Weber, according to a report from Nick Kypreos of Sportsnet.ca on Wednesday afternoon.
Pierre LeBrun of ESPN later confirmed the transaction while Elliotte Friedman of Sportsnet.ca noted that it is indeed a straight up deal that will not include any salary remaining on either end.
A club announcement has been made since to officially confirm the transaction with a press conference set for 6:15 PM ET LIVE from the Bell Centre.
The news comes just minutes following a trade between the Edmonton Oilers and New Jersey Devils which saw Taylor Hall switch ways in exchange for Adam Larsson.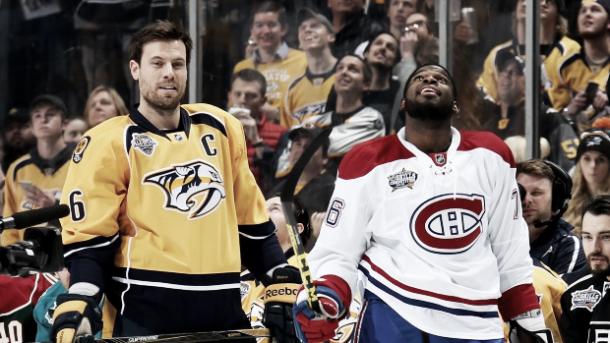 How does this deal play out?
Looking at the trade from a logical standpoint, it does not come as a complete shock that Subban was moved with many clubs having called in to check his status, however, Marc Bergevin, on the other hand, has been more than assuring in his words that there would be no such transaction as he did not want his fans to worry about the possibility which also goes alongside the fact of which the 27-year-old has continuously expressed his interest in staying put for the long-haul.
As noted by CBC, Subban has a no-movement clause that kicks in on Friday so the high levels of interest come as no surprise given all he has done for the team as well as the city in recent years.
As noted by Jeff Simmons of Sportsnet.ca, Subban currently has six years remaining on his nine-year contract which goes alongside a value of $72MM and an annual salary cap hit of $9MM.
Taking a look at things from Weber's end, the 30-year-old remains under contract for ten more seasons as it comes with a value of $81MM to go alongside an average annual salary cap hit of $7.85MM.
In a team statement released not long after, Bergiven said, "We completed today an important transaction which I am convinced will make the Canadiens a better team. It was also one of the most difficult decisions I had to make as general manager of the Montreal Canadiens. In Shea Weber, we get a top rated NHL defensemen with tremendous leadership and a player who will improve our defensive group as well as our power play for many years to come. Shea Weber led all NHL defencemen last season with 14 power play goals. He is a complete rearguard with impressive size and a powerful shot. P.K. Subban is a special and very talented player. He provided the Canadiens organization with strong performances on the ice and generous commitment in the community. I wish him the best of luck with the Predators."
How did each player fare the 2015 season?
Taking a look at the performances of both players on the ice over the course of the 2015 regular season, Subban appeared in a total of 68 games played while recording 45 assists, six goals, 51 points and 75 penalty minutes. He is a former 43rd overall pick of the Canadiens back in the 2007 NHL Draft.
As for Weber, he appeared in a total of 78 games played while recording 31 assists, 20 goals, 51 points and 27 penalty minutes. He is a former second round pick (49th overall) of the Predators back in the 2003 NHL Entry Draft.
In a short release from Nashville, general manager David Poile said, "P.K. Subban is an elite offensive defenceman with tremendous skill and contagious energy that makes the Nashville Predators a better team now and into the future. Superstar defensemen of his caliber are a rare commodity, and we are thrilled to add him to the organization."
How does this move impact Montreal going forward?
This deal simply adds another Canadian to the roster who is capable of scoring more goals, which adds more points to his yearly statistics, while also bringing on another smart player who can definitely succeed with a team who needed a change in order to win looking ahead.