 As the Arizona Coyotes' defense begins to take shape, one important ingredient was missing. Young, outstanding defenseman Connor Murphy, whose three-year entry contract had expired was still a restricted free agent... until today.
It was announced per generalfanager.com that he signed a substantial six-year deal worth $3.85 million per year. It goes without saying that the Coyotes didn't want to lose Connor Murphy.
Last season, he stepped up his play after being benched for six games by Head Coach Dave Tippett for some not so adequate play. It struck a nerve with Murphy (which was exactly Tippett's intention), and he exceeded expectations from that point forward.
At just 23 years of age, he has a ton of good years of hockey in his bright future, and now it will be with his current team who drafted him 20th overall in the 2011 Entry Draft.
Per a Coyotes' press release, it was a good decision by GM John Chayka to keep Murphy under contract.
"We are extremely pleased to sign Connor to a long-term contract," said Chayka. "At only 23, Connor has established himself as a very good NHL defenseman. He's a great skater, a fierce competitor and he has an excellent work ethic. We look forward to him taking the next step and having him on our blue line for many years to come."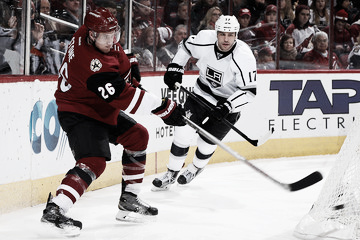 Michael Stone gets a 1-year contract
Stone, 26 was due to attend an arbitration meeting on August 4th to decide his contract when right after Murphy's signing, Stone agreed to a one-year contract worth $4 million according to Elliotte Friedman of sportsnet.com.
Michael Stone was injured in a freak entanglement with the Philadelphia Flyers' Michael Raffl along the boards back on March 26 and is still recovering from an MCL/ACL injury. He should be ready to start the season on time, depending on his recovery progress, and conditioning training once he gets the go-ahead to play from his doctor. The recovery estimation was six months, which will be a half a month after the season opener on October 15th.
Stone collected six goals, 30 assists last season, and was at times teamed up with Oliver Ekman-Larsson on the first team blue-line. With Murphy, Anthony DeAngelo, and veteran Zbynek Michalek, the team now sports four right-handed defensemen. Those are valuable assets which the Coyotes can retain for future deals, etc.
Ten defensemen? Is that overkill?
And with ten defensemen under contract, perhaps GM Chayka is not done dealing. D-men are always in demand, and now the Coyotes seem to have re-stocked their shelf in that category.
These two signings leave only forward Tobias Rieder as the only unsigned RFA on the team. It seems they are not anywhere close to signing him, but then who would have thought both Stone and Murphy would get their signatures on new deals on the same day, maybe an hour apart?
This puts the once spend thrift franchise only $6.34 million away from the cap ceiling, so if Rieder decides he wants too much, then he may decide to play in Europe instead. It would be nice to retain him, but it seems GM Chayka strikes a hard deal and is no pushover when it comes to negotiating contracts.
In any case, the Coyotes have built a more substantial and reliable defense, which should help their advancement towards the playoffs -- and beyond.