When the Arizona Coyotes chose young John Chayka as their General Manager, replacing longtime GM Don Maloney, most NHL fans thought it was an incompetent move.
Even with his attention to detail and extreme analytical abilities, everyone thought that he was way too young to run a NHL team.
Well, after some of the desert dust has settled with that theory he has shown that crunching numbers, reviewing tapes of games and evaluating players' abilities has helped him in his new job.
So, what has he done?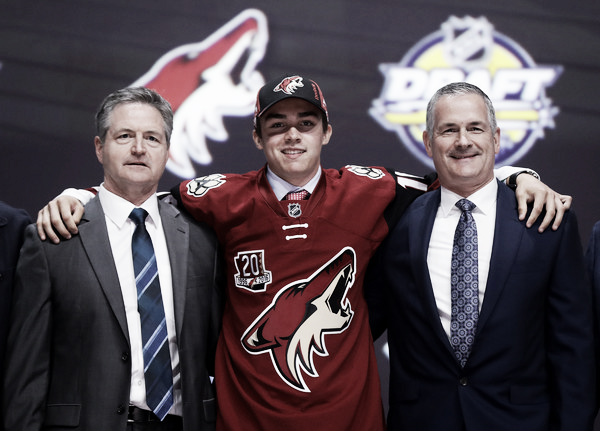 Let's start with the draft. He pulled a surprise choice by selecting Clayton Keller at the seventh overall pick. He was too small most every "expert" stated. But, just like the calls which maintained that Chayka was too young, labeling Keller as a player who couldn't become a NHL player may be a mistake.
When Keller participated in the rookie development camp, he showed everyone that his skating and passing abilities will progress him into the NHL as a key play-maker. As this writer viewed him at camp, he reminded me of Ray Whitney with his play-making abilities being very similar.
Keller himself seems to like to compare himself to Patrick Kane (in stature at this point), and with that in mind, his confidence in his ability will go a long way.
So, what did Chayka see in Keller to select him?
Chayka made it known (maybe to himself and his staff) that he wanted Keller all along, and even resisted drafting a defenseman with this pick to fill a void on the blue-line.
Chayka told Bob McManaman, azcentral sports:
"He's a guy we wanted all along. It's no secret we're trying to build our team with speed … and he's an exciting player, a dynamic player. He's smart, creative. He's going to be a real joy for our fans for a long time."
At 5' 10", 163 pounds Keller can fly, but will he be able to take a hit from a huge NHL defenseman? He claims if Kane can succeed being about the same size, why can't he?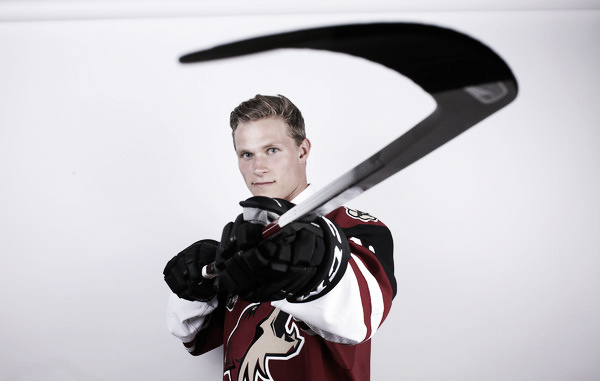 Chayka wasn't done yet, and even got Jakob Chychurn
In brilliant move more evident from a general manager like his predecessor, Chayka worked a deal with the Detroit Red Wings who wanted to unload a huge ($7.5 million) cap hit contract from star player Pavel Datsyuk. Datsyuk decided to go back to play in Russia.
So, with the Coyotes having excessive cap space, and needing at the time to get over the cap basement, the deal was ideal for both parties. What Chayka was able to pull off then, was drafting Jakob Chychurn using the Red Wings number 16 pick and swapping it with the Coyotes' 20th selection in addition to taking on the cap hit only of Datsyuk's contract.
To be clear here, they will not be paying a cent to the player, just taking the cap hit numbers. To make the deal even sweeter for Detroit, Chayka threw in utility forward Joe Vitale (and their 53rd pick), who will not affect the Red Wings salary cap, since he is still recovering from concussions issues he sustained in the very first game last season.
When you sit back and evaluate that move, it defines Chayka's will to win, and his ability to work with general managers much more his senior in age and experience.
Free agency went well, very well
Then, to further display Chayka's success thus far in his new position, he went out and signed top four defenseman Alex Goligoski to form a much better blue-line. Goligoski was wooed by captain Shane Doan along with Head Coach/V.P. of hockey operations, Dave Tippett. They were able to convince Goligoski that Arizona was a good landing place for him. He overwhelmingly agreed, and signed a lucrative contract five-year contract earning $5.475 million a season.
For some reason, mostly tied to the financial issues the franchise experienced under Don Maloney, the team is finally showing they are interested in competing for a Stanley Cup, by spending some money.
Chayka went on to sign free agent defenseman Luke Schenn to a two-year $2.5 million contract further supplementing a weak blue-line. Weak, that is before Chayka took over.
He didn't only help the defense, he added forwards Jamie McGinn and Ryan White to the fold. McGinn looks to be an excellent acquisition who collected 22 goals, 17 assists along within 164 hits to show his physical style of play.
White is a tough cookie who tallied just 11 goals, 5 assists in 73 games and is going to fill the tough guy role vacated by Kyle Chipchura, who accepted a contract to play in the KHL. White had 101 penalty minutes along with 208 hits. He will definitely add toughness to the forward group.
How would one evaluate Chayka's performance?
With his stamp on HIS team, Chayka has turned some heads with the way he handled himself at the draft, and followed it up with some key additions in free agency.
He may be young, but according to Tippett he has the tools to be a top GM.
"What people are going to find out about John as he becomes more well-known is he's a very smart guy, a very intelligent guy", Tippett said.
So far, the move to replace Don Maloney with Chayka has been one which may have been long overdue.
The proof will be when they drop the puck on opening night against the Philadelphia Flyers on October 15th at Gila River Arena.