 While the season is still some ways away, the battle between goalies Mike Smith and Louis Domingue is already heating up.
The case for/against Mike Smith
It can be stated without much debate, that the Arizona Coyotes have invested quite a lot in goalie Mike Smith.
Try $34 million for six years, through 2018-19.
After a disabling core muscle injury which left him off the ice for nearly three months, Smitty is ready to show he still has what it takes to be the number one netminder on the team.
Following the recovery from his injury, Smith came out like gang-busters. He played some of his best hockey since his large contract signing days of 2011-12. He accomplished a .944 save percentage for those 10 games and an overall 15-13-2 season record with a 2.63 goals against average, and a .921 save percentage for a partial season's work.
But, will it be enough?
Or better yet, is he worth that kind of money?
Not according to some who believe Smith's days of being a dominant starter are long gone.
Before he came to the Arizona Coyotes, Smith was with the Tampa Bay Lightning, and wasn't impressing them. In fact, he was sent down to the AHL.
He has let in some controversial goals, which most goalies would have stopped, while making spectacular looking saves at other times.
His great 2011-12 season was the product of Dave Tippett's defensive style hockey, when the team had a much more solid blue-line.
Most top tier NHL goalies have a goals against average of .920 or better, yet Smith's lingers below that at .912.
It could be argued that the team wasted a buyout on Antoine Vermette when they could have used the money to buy out Smith.
So, the Coyotes are in a pickle with his outrageous contract, courtesy of former GM Don Maloney. It's totally impractical to buy him out, due to the fact that it would take an $11,666,667 buyout, according to spotrac.com.
What may be more practical is to not protect him in the expansion draft and see if the new Las Vegas team bites.
In the end, the starting net-minder job is Smith's to lose.
Stay tuned.
The case for/against Louis Domingue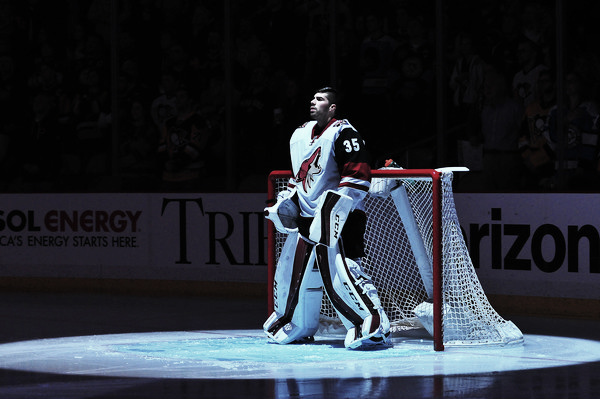 Louis Domingue came in when Smith went down with his injury and played admirably. He finished with a 15-18-5 record and a goals against average of 2.75. His save percentage of .912 was decent as well.
He pretty much kept the Coyotes in playoff contention with his play in net. He was forced to play more than expected due to Anders Lindback also having a serious season-ending injury in mid Februray.
But is he still the backup?
Some say he should be the starter based on Smith's slow decline since his stellar 2011-12 season where he stood on his head and won 38 games, with eight shutouts.
That was then, and this is now.
Is Domingue the Coyotes' goalie of the future? He seems almost ready to show the team's management and coaching staff that he is indeed set to move up to that status. He's still young, and will only get better in time.
So, on June 27, 2016 the team gave him a nice 58 per cent increase in salary taking him from $605,000 to $1,050,000 per year for a two-year period.
When a player gets a contract for more than one season, it's an indication that the team has confidence in their ability.
Let's face it, Domingue earned the raise, but is he ready to compete with a gritty veteran like Smith for the number one goalie spot?
He has youth on his side, and Smith is not getting any younger as he turns 35 next March. Smith still has that huge contract until the 2018-19 season ends, and that is his wild card.
The silver lining in all of this is that competition for the starter's job is healthy, and will motivate each player to excel in order to elevate to that title.
Domingue is the future right now for the Arizona Coyotes in net. If he and Smith share starts, it can only keep each player stronger as the season progresses, and allow the team to have TWO starters.
And if the Coyotes are fortunate and talented enough to get into the playoffs for the first time since Smith's great season in 2011-12, then they will possess two goalies who are both rested and ready to go.
The starting goalie job will more than likely be decided by who is playing well at the time, justifying Head Coach/V.P of Hockey Operations Dave Tippett's theory that you go with the "hot" player at the time.
So, will it be Mike Smith or Louis Domingue in net?
Your guess is as good as mine.